What is a Hair Weave and Where to Get a Hair Weave in Sydney
I Whip My Weave Back and Forth
I woke up one morning about a month ago and looked in the mirror. I thought two things: 1. Yay, no new pimples! 2. What is going on with my hair?
It had been 12 weeks since my last colour (forgive me for I have sinned), and because I was growing out a once rocking bob, my hair was all one length and very one dimensional. Layers have always scared me but so too did my current hair situation.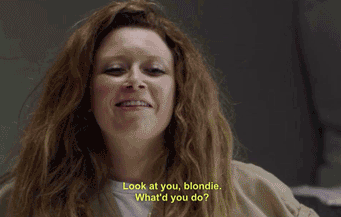 Source: Netflix
I'd toyed with the idea of extensions for a while, but judging by my lack of commitment to getting my hair foiled on time, it never seemed like a good idea. That was until I met Rachael from RW Hair Extensions. Girl does weave, and girl does weave good.
A hair weave (of weft) requires no glue. The hair is literally woven using a "track and sew" method across a braid created with your own hair. As your hair grows, the weave moves down with it. Just like you need to get regular extensions moved up, you need to get a weave tightened every eight or so weeks.
Now please listen to me carefully: You can have that Victoria's Secret Angel hair. Extensions have a bad reputation because both men and women automatically associate them with length. And too much of it. My weave is the same length as my hair and what it provides is thickness. Depth. Dimension. It also holds a curl longer than my natural hair. Here's Rachael with more.