Whitney Port's Skincare Secrets
Whitney Port Talks Braids, Beauty Icons and Being Blonde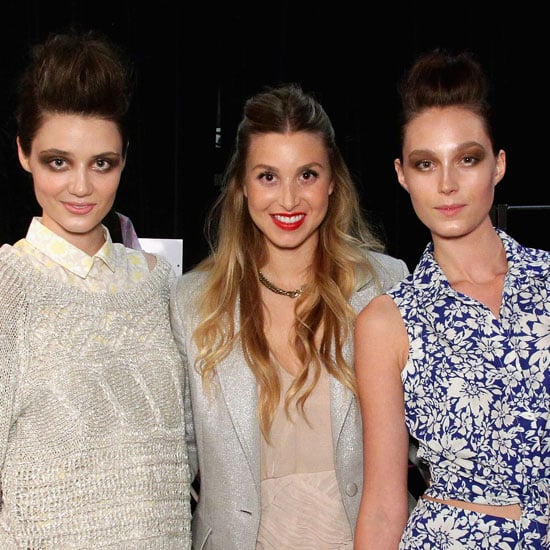 Whitney Port was recently in Australia as a guest of NW magazine and to show her Whitney Eve & We by Whitney Port collection at MBFWA. We caught up with her for a quick chat to talk braids, beauty essentials, ditching her blonde colour and much more. So to find out which Victoria's Secret Angel she thinks is beautiful, what her biggest beauty blunder to date has been and her everyday can't-leave-the-house-without-em beauty items are, just keep reading.
We loved the hair at Whitney Eve & We, can you tell us more about it? I'm always a sucker for a French braid and any of my friends who know how to French braid I'm always hitting up to do my hair. So I wanted to do something with the French braid aesthetic but make it a little more modern, a little more rocker-esque, with a bit more texture. So I just told that to our lead hair professional at TRESemmé [Joh Bailey] and that's what they came up with. It looked so cool! I want to know how to do that. Apparently it was really easy.
Now what about your hair. How do you care for it? I try not to wash it everyday — although I have been recently because I've been getting it done! I'm using this product right now that's called It's a 10; I use their shampoo and conditioner and then I spray in a leave-in conditioner by the same brand. Then I put some MorrocanOil just on the ends. And then dry shampoo — I really like the Klorane one.
Would you ever consider changing your hair colour? I have! I would love to do something with it, I'm just not sure quite what.
What are you everyday beauty essentials? I start with eye drops, then a SkinCeuticals moisturiser and I mix it with Fresh High Noon Freshface Glow. I then put on a Make Up Forever Bronzer, an Illamasqua cream blush and Lucas' Papaw Ointment on my lips. And my mascara that I'm using right now is the Fresh Supernova mascara.
What has been your biggest beauty blunder? One time I was getting my makeup done and the makeup artist just put white powder all over my face and it showed up in pictures and it made me look like a ghost.
Who are your beauty icons? Brigitte Bardot, Alexa Chung always looks so pretty and Rosie Huntington Whiteley — she's beautiful