Win a VAIO Duo 11 From Sony and Gizmodo!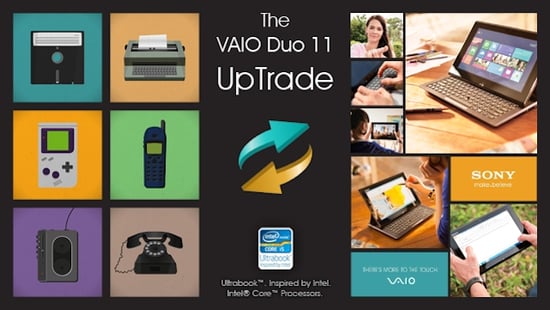 You've heard of recycling clothes and upcycling homewares, but how about uptrading your technology? Our colleagues over at Gizmodo are lucky enough to be teaming up with Sony Australia and Intel Australia to giveaway almost $6000 worth of stylish new tech, and all you have to do to enter is grab an old piece of technology and explain why you need an UpTrade to a VAIO Duo 11!
Powered by an Intel Core i5 processor and 4GB of memory, the VAIO Duo 11 features a unique 'Surf Slider' design for smooth transitions between tablet and laptop modes, which means you can alternate between touch operation for slate mode and regular PC operation for keyboard mode. It's a sleek and stylish tablet and Ultrabook rolled into one. Best of both worlds? You bet.
Want a chance to win one of four VAIO Duo 11 hybrids from Sony, valued at $1,499 each? All you have to do is skip on over to Gizmodo, gather any old piece of technology you have that dates back before the year 2000 — computers, cameras, heck, even an old hairdryer will do — write "I want to UpTrade this/these for the #VAIODuo 11 from Sony" in any way on your product, send in a photo, and voilà! You've successfully put your entry out to the UpTrading Gods. Simple!