Zoe Foster Blake Beauty Interview 2018
Australia's Beauty Go-To Is Taking Her Brand Global, and We Are So Here For It
Zoë Foster Blake, is our dream girl. She's funny, smart, can wear a curly fringe like it's nobody's business and she's taking her unique brand of awesome and her brand of skincare, Go-To, global . . . where it belongs.
Because there's not enough space on the internet to talk about all the ways she has changed our lives (Here. Have a brief snippet: she was the only beauty editor we'd listen to, her book Textbook Romance and then amazing app, Breakup Boss, gifted us pearls of wisdom that stopped us pining over deadbeats; her face masks have helped us fake that "I'm totally alive" look. Heck, even something as simple as her social media captions, usually about her insanely adorable family, make us want to be better at life!) we decided a chat in person would be the best way to express our feelings. We did that, and then what came after (the 467-minute mushy exchange) was our very civilised interview, where we asked important, journalisty questions.
We spoke to Zoë about beauty (duh?), Lipsmackers, transparency in the beauty industry and how her not-so-little-anymore skincare brand Go-To is heading to the US, where it will be stocked in over 400 Sephora stores around America, like it's no big deal.
Don't stop now! Read!
POPSUGAR Australia: You must be a pro at this interview business now, right? You've been on both sides!
Zoë Foster Blake: You know what, this is the first time I've had to do this. I've done a lot of Go-To press but I've usually been on the phone in my tracksuit pants.
PS: Do you remember what your very first memory of beauty was?
ZFB: Yes! I remember my mum didn't wear much makeup, but she had a Helena Rubinstein palette and it was horrible. She never wore shadow, she was just a mascara, perfume and lipstick woman and didn't wear foundation or anything (I've changed all that don't worry) and she had this one eyeshadow palette and it was gross shimmery greys and browns and I was just obsessed with it, I would just go in there and play with it — even though she didn't use it, she still didn't like me trashing it. But then Lipsmackers were probably my first foray that was my gateway product. I'd collect them and have one in every pocket and every school bag and my best friend and I would take trips to the big city to buy new flavours and sparkly flavours. This was like pre-internet and pre-travel because if I'd known I could buy Chanel back then I wouldn't have been buying Lipsmackers with my money, so I had a huge collection of Lipsmackers. I swear, my love of lip balms helped create Lips. Then of course through school I had my signature scent which was Oui-Non from Kookai — I don't think they make fragrances anymore, and with good reason. And then on my 15th birthday I got CK One and I thought I was so cool. It had a little roller ball thing and I just took it to parties and I was so awesome, I was so '90s with my Vans and my cords and sh*t. I didn't really wear makeup or anything through school just mascara and I just destroyed my eyebrows thinking that's just what you do. Why do we do that? Why do we turn 12 and go I'm going to destroy my face?
PS: And our mothers didn't stop us . . .
ZFB: I think that's where we pick up a lot of our beauty cues and my mum is not qualified to be giving me beauty cues. My daughter better bloody listen. She won't. She won't, she'll go goth and won't listen to anything. She won't cleanse at night she'll drive me crazy.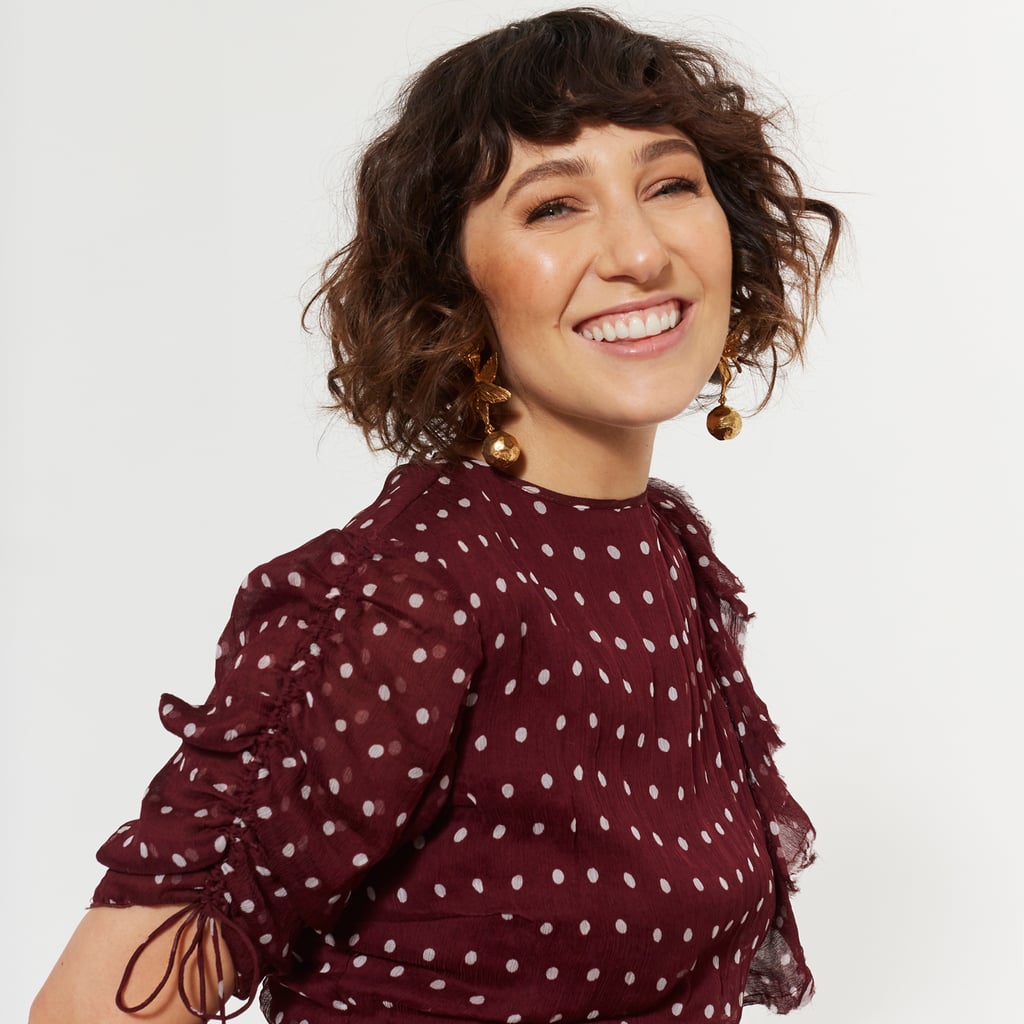 PS: Did you ever think you'd be here now? As successful as you are?
ZFB: No, no, I didn't, it wasn't a goal. I certainly didn't go I must make a skincare brand and it should be peach and it will take over the world, no I didn't at all. I still get a little twinkle when I see it because it feels nuts. I used to look at products and think, how did you get to that stage, from here to here? I know now, and it's hard and it's long and a really rewarding process, especially when the take-up is so positive, and our customers are so loyal.
We have the best customers, they're just so into it, they just do all our marketing for us because they're so happy to talk about it and share it and I love that about women — when they find something good they tell their friends — so we're very proud of the product because it brings that out organically. But I never thought I'd have a brand or a business, I just thought I would write books and that would be it.
PS: What would you say has been your biggest challenge?
ZFB: The initial stages were hard but there was a crazed momentum, I was having a baby, so I had a deadline that was non-moveable — I should pretend I'm having babies all the time that might get our products out a bit faster [laughs] — and I had just done a book tour and I was like, "Guys, we have to launch in April!" and we just got there, I don't know how. I remember we were sliding under the door grabbing our hat at the end and we just made it from customs, as we still do, the day before we went on sale. It's the thrill of that and when you're a small little garage company that stuff is fun and exciting but after a few years it just gets a bit tiring when you're in start-up mode, so now we have a really good infrastructure and 30 staff and a big beautiful team of very talented individuals with superpowers in all different areas, I love it! It's not a one-woman show it's a 30-woman show, most of them are women. But I think the biggest challenge is SPF and it's still not finished but it's going, we'll get there. No secret that we're working on it.
PS: For a brand that's still so young it's doing so well . . .
ZFB: Yeah, we're going into Sephora in the States! That's been almost a year in the works of being very flattered and excited and then going, "Oh my gosh!" We have to change all our packaging to fit US regulations. Some of our humour is obviously a bit Aussie-centric and too much swearing, so yeah, we're thriving on the challenge by knowing we're a totally new brand there. No one knows us, no one cares about me or my credentials, I'm loving the idea of starting fresh and going this is who we are, and this is what we stand for — we're good and fun and you should use us.
PS: Was Go-To receiving a lot of attention in the States?
ZFB: No, Sephora came to us. It was super awesome and flattering and great. They're pushing into clean and wellness and with this whole clean initiative they've done we fit really well into that. But I like to think we were a sassy, little, fun brand with a point of difference, also just apart from being Aussie I just think [some brands are] a bit more earnest than us and so having a brand in there that's like, "Woo hoo! Let's have fun while we do our makeup and skincare and let's not take it all too seriously" could be really refreshing.
PS: Talk to me about transparency in beauty? It's so obvious that's what Go-To is about . . .
ZFB: Yeah, everyone is so knowledgeable now, and it's our job from our side in manufacturing to be. We're big on transparency always have been and that takes work and time and effort, and you have to care but I'm a big believer in the long-term game. So, from the very start it was palm oil, it was our biggest issue because of my alignment with the Orangutan Project. Palm oil is insidious it's in everything and even when your supplier tells you it's coconut oil you have to then go one step further and talk to their supplier, and so things like that for us were meaningful and important to be transparent to our consumer. We have a huge list of nos and nasties and it's not something that we really talk about because I feel like that's not our chief story, our main story is being uncomplicated and effective, but we live for being transparent we're very proud of everything. We want our ingredients to be easily pronounced and if it's not we've got a full glossary. I love that we could, we wouldn't, make a product and lie about it and somebody could call us out on it and hold us accountable, so we would always front foot that and never be that guy. [Brands need to] do the right thing from the start and save yourself so much headache and don't ever think for a minute to take customers for granted because we are lucky that they're going out there and spreading a positive word. We don't bang on about it but we're quietly very proud of our stance, and we've got work to do. We're carbon neutral now, we're working on our packaging and using bio-degradable products and things like that and it's hard work. It's a lot to think about on top of just doing good products and marketing but we aim to be more of a friend who's open about everything [instead of] telling you what to do.
PS: Would you say your previous life as a beauty editor helped you decide Go-To's direction?
ZFB: Yeah! I became a beauty editor at 23 so I went from one Covergirl palette, a cheap foundation and a very damaging hair straightener to everything! On my first day I got a big shipment from Stila and Mecca and Nars and I was like, "Do I get to keep this and use it?" I could not believe it. It starts to get overwhelming and you start to lose focus a little bit I think. I don't think it was until I got out of the game and wasn't having 10 bags of things thrown at me every week that I could really focus and get back to the consumer mindset, which is: I buy things, I use them, I get annoyed when they don't work. When you travel a lot and have young kids you expect things to work harder and be more useful, you've only got one kit because your kids' sh*t takes up the whole suitcase, so yeah, it's made me better and more relatable in terms of what our customers want.
PS: What beauty product are you into right now?
ZFB: I'm really into the brow focus that's happening now, I think it's long overdue and we should have been paying attention to our brows for a lot longer. I love the introduction of lights because I'm a big fan of LED and Omnilux and I love the idea of being able to do that stuff at home, anything that's something you used to have to go to a salon for and can do at home I'm into, hence my mask, which is basically a facial in a packet. So, I love that stuff. Makeup-wise I'm very much a doe-eyed deer who walks into Mecca or Sephora and just goes, "Tell me what to do and what to buy!" Because I'm reading along with everybody else. Hair: I'm just having a really fun time right now, it's just no work and I think when you get older you just give less f*cks, so I'm just going to do the curly fringe now, it's just happening and there's no stopping it.
PS: Can you share with us your beauty ride or dies?
ZFB: Yeah, of course! I'm a lo-fi lady. Mind you, I have draws, draws and draws of stuff, so I have Tom Ford shadows and Nars and Tilbury and I love it, I'm not using it very much, but I love it that it's there if I every happen to do my own makeup for something special. But I have about 100 brow products because I think they're all better than the last one, so I oscillate between the textas, the pomades and the waxes — it's safe to say I have a Benefit product in there of some description, so brow products I can always be excited about. I use tubular mascara, I use PONi Cosmetics because it's the only tubular mascara that gives volume. I will always have Nars Sheer Glow Foundation — I think Nars do great base. I live for the Tarte Creaseless Concealer because it just undoes all the bad stuff and I'm using a YSL palette of bronze washes, I just love a creamy wash of bronze. I got rid of my lash extensions because I thought with my hair it was a bit much, so yeah, I'm back to natural lashes, it's the struggle I live with every day. Lipsticks I have 400, every day is a different personality!