Zoom Teeth Whitening at the Dental Lounge Sydney Review
Every Question You Have About Zoom Teeth Whitening, Answered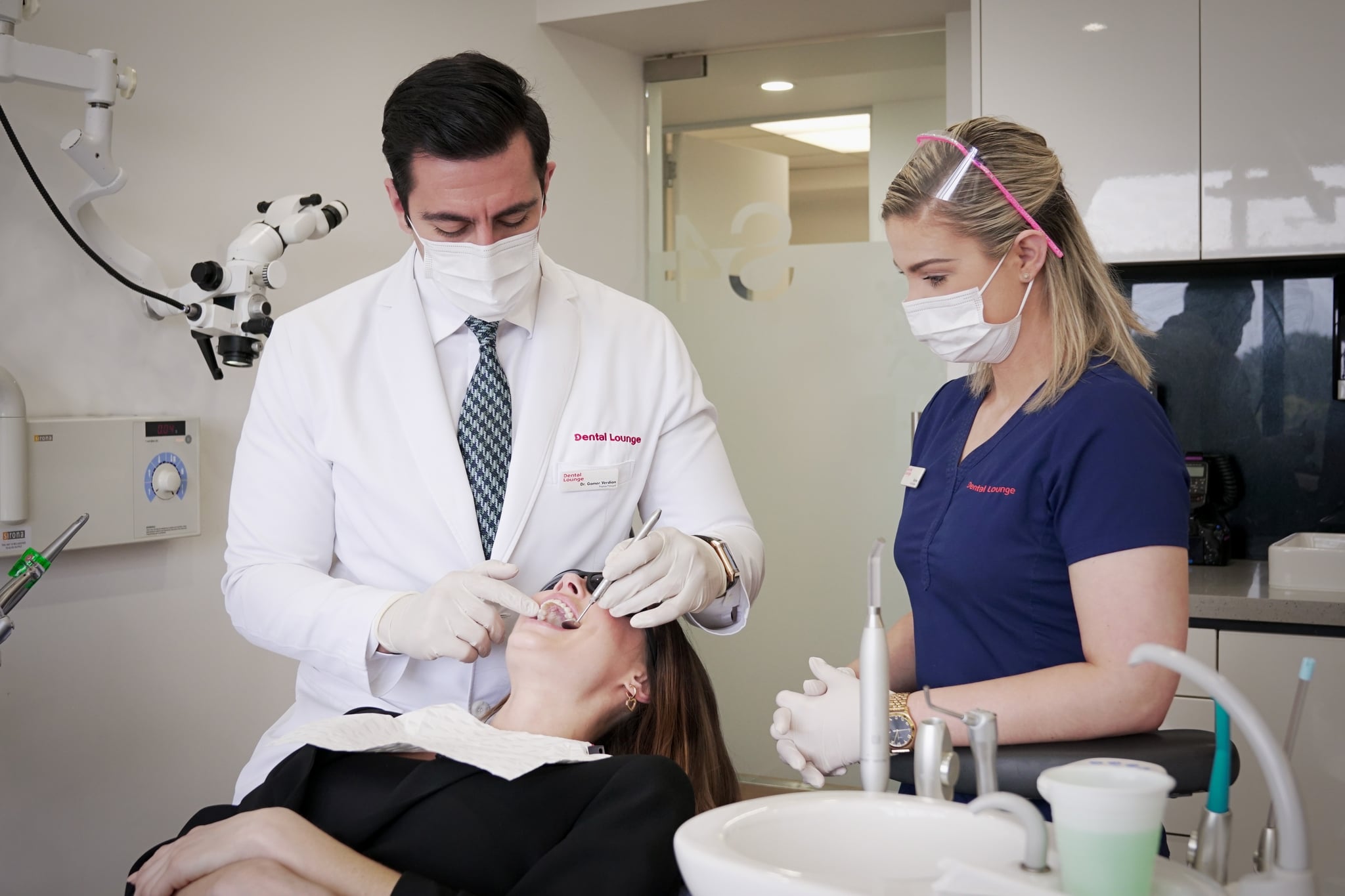 Of all the teeth whitening treatments available to us, Zoom Teeth Whitening has long been hailed as the most popular. It's the one you often see tagged on the Instagram accounts of top-tier influencers, the one beauty experts swear by, and more often than not, seems to be the product of choice for best in class dentists. And for good reason . . .
In preparation for my wedding earlier this year — which has since been postponed due to COVID-19 — I had Zoom Teeth Whitening done with Dr. Gamer Verdian at the Dental Lounge. It's something I've wanted to do for a while, but have always put off for fear of it being painful.
But the closer we got to tying the knot, I figured it was time to bite the bullet — a big white wedding calls for a big white smile, right?
With the benefit of hindsight, I can safely say I am so glad I did it.
I sat through three rounds of bleaching (you can do up to four) and only felt discomfort in the third round. The sensation was uncomfortable, but it was bearable, and while everyone is different, I'd liken the feeling and level of discomfort to laser hair removal. Like with most beauty treatments, though, the result was worth it. My teeth were noticeably whiter after each round and five months on, look as white as they did when I walked out. If you've been tossing up whether or not you should do it, I highly recommend it.
Below, Dr. Verdian answers every question I had pre and post-treatment. Read on!
POPSUGAR Australia: What exactly does Zoom Teeth Whitening involve?
Dr. Verdian: Zoom whitening involves bleaching the enamel of teeth with a peroxide-based bleach and activating the bleach with the Zoom light. Patients can expect to have their teeth whitened between eight and 12 shades lighter.
PS: How long does the appointment take?
Dr. Verdian: The appointment takes one, hour which is why it is so popular!
PS: Is the treatment painful?
Dr Verdian: 25 percent of patients experience some form of sensitivity and in most cases it is mild sensitivity, similar to the sensation that may occur with hot and cold drinks. All sensitivity goes away within 24-48 hours.
PS: Can you still get the treatment if you have sensitive teeth?
Dr Verdian: Having sensitive teeth does not exclude you from having Zoom whitening and there is no indication that your sensitivity will be made worse from Zoom teeth whitening.
PS: Is there any preparation involved?
Dr Verdian: No at-home preparation is required. For best results, we recommend a thorough check-up and clean prior to having the whitening treatment so that all plaque and tartar is removed from the teeth and there aren't cavities in the teeth — holes in teeth and whitening bleach don't mix very well!
PS: How should you care for your teeth post treatment?
Dr Verdian: The first 48 hours are crucial where we do not want any colourful food or drinks to be ingested. In this timeframe the teeth are more susceptible to reducing their newfound whiteness. After that, there is no more home-care required.
PS: What food and drinks should be avoided post treatment and for how long?
Dr Verdian: The basic rule is to not consume any food or drinks that would stain a white shirt. Coffee, red wine, beetroot, curries, red sauces, etc. For all our patients who are coffee drinkers that can't go a day without coffee we recommend drinking it with a straw.
PS: How long do the results last for?
Dr Verdian: The results are very dependent on diet and other habits. For example, someone who smokes 5 cigarettes a day and has a bottle of red wine at night will not see the same results as a water drinker who only eats chicken and vegetables.
Most of our patients do not need to Zoom again for two—four years. We do recommend that a home bleaching kit is made at the same time as the Zoom appointment for the best long-term results as it allows our patients to do a top-up bleach at home as the results start to diminish.
PS: How often should you get the treatment to maintain results?
Dr Verdian: Every two years for best results, but that is dependent on how white you want to go.
PS: Are there any risks?
Dr Verdian: The biggest risks are associated with pain and sensitivity in the 24—48 hours following the procedure. In very rare instances when the set-up is done poorly (commonly associated with non-dentist whitening procedures) the lips, gums and cheeks can be burnt.
PS: What is the benefit of Zoom compared to at-home kits?
Dr Verdian: The biggest benefit of Zoom teeth whitening is the convenience — you can have whiter teeth in an hour — a lot of people don't want to be bleaching for week-long durations. You also get the most dramatic results with the Zoom system.
PS: What is the cost of Zoom whitening?
Dr Verdian: Zoom at our practice costs between $495—$595. In general, the price can go up to $1,200.