2011 People's Choice Awards Winners Full List 2011-01-05 21:25:00
Announcing the Winners of the 2011 People's Choice Awards!
The people have spoken! Another People's Choice Awards has wrapped, and surprisingly, it wasn't completely dominated by Twilight. Kristen Stewart did have the chance to take the stage for favourite movie actress, and was joined by her boys Robert Pattinson and Taylor Lautner for best movie, but the guys were ousted by the likes of Zac Efron and Johnny Depp for the individual male awards.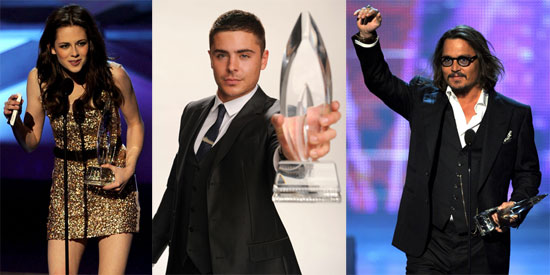 Other favourites of the night were Katy Perry and Taylor Swift (no surprises there) in the music realm, while Glee and House won big in the TV categories. Be sure to check out all of the red carpet looks and vote in Fab and Bella's polls, but first, check out the full list of winners after the jump.
Keep reading . . .
MOVIES
FAVOURITE MOVIE
Eclipse
FAVOURITE ACTION MOVIE
Iron Man 2
FAVOURITE DRAMA MOVIE
Eclipse
FAVOURITE FAMILY MOVIE
Toy Story 3
FAVOURITE COMEDY MOVIE
Grown Ups
FAVOURITE HORROR MOVIE
A Nightmare on Elm Street
FAVOURITE MOVIE ACTOR
Johnny Depp
FAVOURITE MOVIE ACTRESS
Kristen Stewart
FAVOURITE ACTION STAR
Jackie Chan
FAVOURITE COMEDIC STAR
Adam Sandler
FAVOURITE MOVIE STAR UNDER 25
Zac Efron
FAVOURITE ONSCREEN TEAM
Robert Pattinson, Kristen Stewart, Taylor Lautner, Eclipse
TELEVISION
FAVOURITE TV DRAMA
House
FAVOURITE TV COMEDY
Glee
FAVOURITE TV DRAMA ACTOR
Hugh Laurie, House
FAVOURITE TV DRAMA ACTRESS
Lisa Edelstein, House
FAVOURITE TV COMEDY ACTOR
Neil Patrick Harris, How I Met Your Mother
FAVOURITE TV COMEDY ACTRESS
Jane Lynch, Glee
FAVOURITE TV CRIME DRAMA
Lie to Me
FAVOURITE TV CRIME FIGHTER
Tim Roth, Lie to Me
FAVOURITE TV OBSESSION
Dexter
FAVOURITE TV TALK SHOW HOST
Conan O'Brien
FAVOURITE TV SCI-FI/FANTASY SHOW
Fringe
FAVOURITE TV COMPETITION SHOW
American Idol
FAVOURITE TV GUILTY PLEASURE
Keeping Up With the Kardashians
FAVOURITE TV GUEST STAR
Demi Lovato, Grey's Anatomy
FAVOURITE TV DOCTOR
Gregory House (Hugh Laurie), House
FAVOURITE TV FAMILY
The Simpsons
FAVOURITE FAMILY TV MOVIE
Camp Rock 2: The Final Jam
FAVOURITE TV CHEF
Rachael Ray
FAVOURITE NEW TV DRAMA
Hawaii Five-0
FAVOURITE NEW TV COMEDY
$#*! My Dad Says MUSIC
FAVOURITE MALE ARTIST
Eminem
FAVOURITE FEMALE ARTIST
Katy Perry
FAVOURITE COUNTRY ARTIST
Taylor Swift
FAVOURITE BREAKOUT ARTIST
Selena Gomez & The Scene
FAVOURITE HIP-HOP ARTIST
Eminem
FAVOURITE ROCK BAND
Paramore
FAVOURITE SONG
"Love the Way You Lie," Eminem featuring Rihanna
FAVOURITE R&B ARTIST
Usher
FAVOURITE POP ARTIST
Rihanna
FAVOURITE MUSIC VIDEO
"Love the Way You Lie," Eminem featuring Rihanna
ONLINE
FAVOURITE ONLINE SENSATION
Katy Perry
FAVOURITE VIRAL VIDEO
"Single Ladies" Devastation