2012 ARIA Awards Full List of Nominations
Announcing the 2012 ARIA Award Nominations!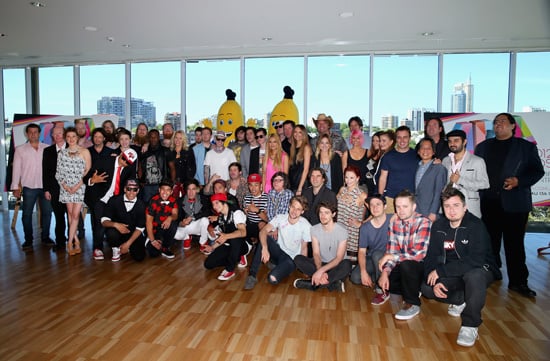 The 2012 ARIA Award nominations were announced today at an event at the Art Gallery of NSW. The room was filled with musicians such as Ricki-Lee Coulter, Reece Mastin, Josh Pyke and 360, who were also among those honoured with nominations. Melbourne hip hop artist 360 (real name Matt Colwell) led the pack with six nominations, while Gotye and rock band The Jezabels followed closely with five nominations each. The ARIA Awards will be held at the Sydney Entertainment Centre on November 29 — check out the nominees when you keep reading.
2012 ARIA AWARD NOMINEES
ALBUM OF THE YEAR
Falling & Flying, 360
Making Mirrors, Gotye
The Ol' Razzle Dazzle, Missy Higgins
Prisoner, The Jezabels
The Temper Trap, The Temper Trap
BEST MALE ARTIST
Falling & Flying, 360
Broken Brights, Angus Stone
Making Mirrors, Gotye
Battle Scars, Guy Sebastian
For You, Keith Urban
Into the Flame, Matt Corby
BEST FEMALE ARTIST
Gotcha, Jessica Mauboy
Vows, Kimbra
To the Horse, Lanie Lane
The Ol' Razzle Dazzle, Missy Higgins
Insomnia, Washington
BEST GROUP
Big Man, Boy & Bear
No Plans, Cold Chisel
Drinking From the Sun, Hilltop Hoods
Prisoner, The Jezabels
The Temper Trap, The Temper Trap
BREAKTHROUGH ARTIST RELEASE
Falling & Flying, 360
A Is For Alpine, Alpine
To the Horses, Lanie Lane
Brother, Matt Corby
Awkward, San Cisco
BEST INDEPENDENT RELEASE
Lake Air, Dappled Cities
Songs of the Southern Skies, Katie Noonan and Karin Schaupp
Awkward, San Cisco
Medicine Man, The Bamboos
Prisoner, The Jezabels
BEST ADULT CONTEMPORARY ALBUM
Secret Codes and Battleships, Darren Hayes
Forever So, Husky
Only Sparrows, Josh Pyke
Songs of the Southern Skies, Katie Noonan and Karin Schaupp
The Ol' Razzle Dazzle, Missy Higgins
BEST BLUES & ROOTS ALBUM
Broken Lights, Angus Stone
Carried In Mind, Jeff Lang
To the Horses, Lanie Lane
The Moment, Mia Dyson
Behind the Stars, Paul Green & The Other Colours
BEST HARD ROCK/HEAVY METAL ALBUM
Notorious, Buried in Verona
Bloodstreams, DZ Deathrays
Smoko at the Pet Food Factory, Frenzal Rhomb
Crooked Teeth, House Vs Hurricane
. . . And So We Destroyed Everything, Sleepmakeswaves
BEST POP RELEASE
Making Mirrors, Gotye
Battle Scars, Guy Sebastian
Gotcha, Jessica Mauboy
Vows, Kimbra
Awkward, San Cisco
BEST ROCK ALBUM
Monument, Children Collide
No Plans, Cold Chisel
Deep Heat, Oh Mercy
Prisoner, The Jezabels
The Temper Trap, The Temper Trap
BEST URBAN ALBUM
Falling & Flying, 360
Drinking From the Sun, Hilltop Hoods
Deep Impressions, Katalyst
Medicine Man, The Bamboos
Future Shade, The Herd
BEST CHILDREN'S ALBUM
Playtime, Bananas in Pyjamas
Dirtgirl Rocks the Planet, Girtgirlworld
Sing It Loud, Hi-5
I'm Not Singing, Rhys Muldoon
Surfer Jeff, The Wiggles
BEST COMEDY RELEASE
Is This Thing On?, Anthony Salame
Joy Harvest, Arj Barker
Unappropriate, Buddy Goode
Skinny Man, Modern World, Sammy J
Having a Beard Is the New Not Having a Beard, The Beards
BEST COUNTRY ALBUM
Songs and Pictures, Beccy Cole
Always Never Enough, Catherine Britt
Country Proud, McAlister Kemp
Two Worlds Collide, The McClymonts
Home, Troy Cassar-Daley
BEST DANCE RELEASE
When the Lights Go Out, Havana Brown
Hyperparadise, Hermitude
In My Mind, Ivan Gough & Feenixpawl feat. Georgi Kay
Rage Valley, Knife Party
From Here to Anywhere, Sneaky Sound System
2012 ARIA AWARD PUBLIC VOTED NOMINEES
ARIA SONG OF THE YEAR
"Boys Like You," 360 feat. Gossling
"Sitting on Top of the World," Delta Goodrem
"Don't Worry Be Happy," Guy Sebastian
"I Love It," Hilltop Hoods feat. Sia
"Galaxy," Jessica Mauboy & Stan Walker
"Boom Boom," Justice Crew
"Brother," Matt Corby
"Good Night," Reece Mastin
"Do It Like That," Ricki-Lee
"Set It Off," Timomatic
BEST INTERNATIONAL ARTIST
Adele
Bruno Mars
Coldplay
David Guetta
Ed Sheeran
Florence + The Machine
LMFAO
Michael Bublé
One Direction
The Black Keys
BEST AUSTRALIAN LIVE ACT
360
Cold Chisel
Dirty Three
Gotye
Hilltop Hoods
Hoodoo Gurus
Kate Miller-Heidke
The Bamboos
The Jezabels
The Living End