2012 ARIA Awards Full List of Winners
Announcing the Winners of the 2012 ARIA Awards!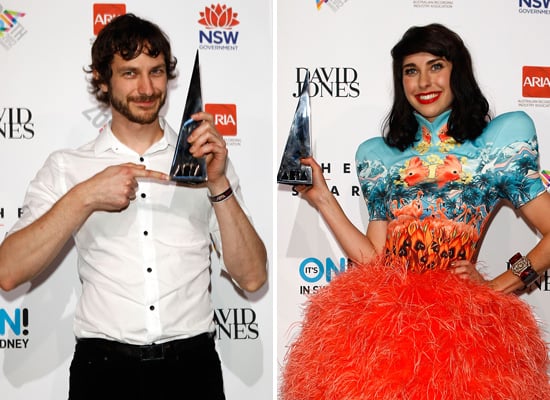 The ARIA Awards have wrapped for another year and plenty of Australia's brightest music stars were honoured in front of their peers at the Sydney Entertainment Centre. New Zealand-born Kimbra and her "Somebody That I Used to Know" partner Gotye (real name Wally De Backer) made history by being the first musicians to win best female artist and best male artist two years in a row. In fact it proved to be Gotye's night as he scooped up three awards, including album of the year. Six time-nominated Melbourne rapper 360 took home the award for breakthrough artist release, and Matt Corby's "Brother" won the public-voted song of the year. See the full list of winners after the break.
ALBUM OF THE YEAR
Making Mirrors, Gotye
BEST MALE ARTIST
Making Mirrors, Gotye
BEST FEMALE ARTIST
Vows, Kimbra
BEST GROUP
The Temper Trap, The Temper Trap
BREAKTHROUGH ARTIST — RELEASE
Falling & Flying, 360
BEST INDEPENDENT RELEASE
Prisoner, The Jezabels
BEST ADULT CONTEMPORARY ALBUM
The Ol' Razzle Dazzle, Missy Higgins
BEST BLUES & ROOTS ALBUM
Carried In Mind, Jeff Lang
BEST HARD ROCK/HEAVY METAL ALBUM
Bloodstreams, DZ Deathrays
BEST POP RELEASE
Making Mirrors, Gotye
BEST ROCK ALBUM
The Temper Trap, The Temper Trap
BEST URBAN ALBUM
Drinking From the Sun, Hilltop Hoods
BEST CHILDREN'S ALBUM
Surfer Jeff, The Wiggles
BEST COMEDY RELEASE
Unappropriate, Buddy Goode
BEST COUNTRY ALBUM
Two Worlds Collide, The McClymonts
BEST DANCE RELEASE
In My Mind, Ivan Gough & Feenixpawl feat. Georgi Kay
HALL OF FAME
Yothu Yindi
2012 ARIA AWARDS VOTED BY PUBLIC
ARIA SONG OF THE YEAR
"Brother," Matt Corby
BEST INTERNATIONAL ARTIST
One Direction
BEST AUSTRALIAN LIVE ACT
Gotye
BEST VIDEO
Natasha Pincus, director of Missy Higgins' "Everyone's Waiting"