2012 Critics' Choice Awards Full List of Winners
Announcing the Winners of the Critics' Choice Awards!
It was a big day for The Help and an even bigger one for The Artist at the Critics' Choice Awards today. The Artist scored best picture and best director for Michel Hazanavicius, while Octavia Spencer and Viola Davis took home matching actress trophies for The Help (along with best acting ensemble). As for the men, George Clooney took home best leading actor for The Descendants, while Christopher Plummer was honoured as best supporting actor for Beginners.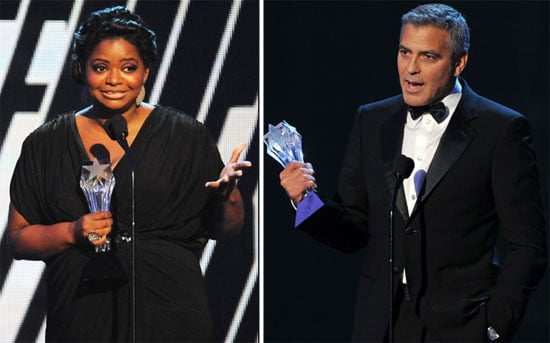 It's just the beginning of what's sure to be a very exciting awards season, which continues on Monday with the Golden Globes (fill out our printable ballot here to keep track of your predictions). Until then, check out the full list of Critics' Choice winners when you keep reading.
BEST PICTURE
The Artist
BEST DIRECTOR
Michel Hazanavicius, The Artist
BEST ACTOR
George Clooney, The Descendants
BEST ACTRESS
Viola Davis, The Help
BEST SUPPORTING ACTOR
Christopher Plummer, Beginners
BEST SUPPORTING ACTRESS
Octavia Spencer, The Help
BEST ACTING ENSEMBLE
The Help
BEST COMEDY
Bridesmaids
BEST ANIMATED FEATURE
Rango
BEST FOREIGN LANGUAGE FILM
A Separation
BEST ORIGINAL SCREENPLAY
Woody Allen, Midnight in Paris
BEST ADAPTED SCREENPLAY
Steven Zaillian, Aaron Sorkin, and Stan Chervin, Moneyball
BEST YOUNG ACTOR/ACTRESS
Thomas Horn, Extremely Loud and Incredibly Close
BEST DOCUMENTARY FEATURE
George Harrison: Living in the Material World
BEST CINEMATOGRAPHY
War Horse and The Tree of Life (tie)
BEST ART DIRECTION
Hugo
BEST EDITING
The Girl With the Dragon Tattoo
BEST COSTUME DESIGN
The Artist
BEST MAKEUP
Harry Potter and the Deathly Hallows Part 2
BEST VISUAL EFFECTS
Rise of the Planet of the Apes
BEST SOUND
Harry Potter and the Deathly Hallows Part 2
BEST ACTION MOVIE
Drive
BEST SONG
"Life's a Happy Song," The Muppets
BEST SCORE
The Artist
HONOURARY: MUSIC + FILM AWARD
Martin Scorsese
HONOURARY: JOEL SIEGEL AWARD
Sean Penn