2012 Logies Recap, Highlights and Memorable Moments
2012 Logies Recap: Highlights From the Night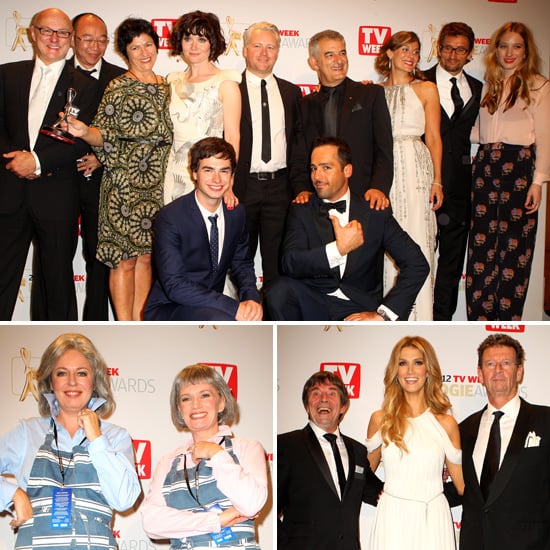 The Logies have wrapped up for another year. We've pored over all the red carpet fashion and shared some fun, candid snaps from the night at the Crown Palladium in Melbourne. We've zoomed in on the best accessories and makeup and hair looks. Now it's time to talk about the night. Here are some of the most memorable moments:
Adam Hills does Angelina Jolie's right leg: Adam Hills was the first presenter of the night and kicked things off with a reference to Angelina Jolie's infamous right leg at the Oscars. (Adam stuck out his left leg through a split in his trousers.) His opening jokes were also reminiscent of Ricky Gervais' hosting style at the Golden Globes. One of Adam's quips: "No one wants to host the Logies. It's like being one of Gina Rinehart's children — it sounds good but you don't get anything out of it."
Prue and Trude make a cameo: Jane Turner and Gina Riley, aka Kath and Kim, hit the Logies stage as their other alter egos Prue and Trude. With their matching aprons and signature drawls they had a great time saying certain words before presenting the "Silver Lurrrgie" for most popular presenter.
More highlights when you keep reading.
Adam Hills brings part of his daughter to the Logies: When Adam isn't making people laugh, he's making them go, "Aww." The Spicks and Specks host picked up the award for most popular presenter and said during his acceptance speech that he'd told his two-year-old daughter he would wear her red heart-shaped sunglasses if he won. So he did. Aww!
Sam Moran references his Wiggles dismissal: Former Yellow Wiggle Sam Moran presented an award and said, "I'm glad I made it out here without being replaced."
Molly Meldrum's tribute: Molly Meldrum was inducted into the Logie Hall of Fame and received tributes from John Paul Young, Red Symons, Delta Goodrem and Elton John (via video). As the music icon is still recovering from his fall last December, his award was accepted by Dannii Minogue and Michael Gudinski. As much as everyone loves Molly and recognises that his induction is well-deserved, comments on Twitter said the tribute seemed more like an in memoriam segment.
One Direction perform, present and perform again: One Direction had a busy night at the Logies. They opened the night with a red carpet performance of "What Makes You Beautiful" and presented the most popular new female talent award to Melissa Bergland of Winners and Losers — how many girls are a little jealous that she got a kiss on the cheek from Niall Horan? The boys also closed the show with "One Thing," which had lots of stars up on their feet.
Peter Overton is a "big cog": Peter Overton led the Channel Nine news team's acceptance speech after winning most outstanding news coverage for the Queensland floods. When trying to describe the group effort of the coverage, he said, "I'm a big cog," before correcting himself, "We have a big wheel with lots of cogs, should I say."
Melissa George's co-star accepts her Logie: Melissa George was awarded the most outstanding actress Logie for her role as Rosie in The Slap, but as she wasn't in attendance her co-star Anthony Hayes accepted her award. He jokingly acknowledged his part in her success, saying, "I'm the actor who elevated her performance to Logie-winning status."
Jacki Weaver references her drunken Logies night with John Waters: Oscar nominee Jacki Weaver took the microphone to present and warned Anthony that many Logies ago, she and John Waters accepted a friend's Logie and got so drunk at the after party it went missing. She said the Logie has never been seen since.
Shaun Micallef presents the Gold Logie: It was past midnight on TV when Shaun Micallef took the stage to present the final award of the night. He joked, "I know what you're all thinking: 'Gee, I wish this night would never end.'" He also said he didn't want to draw the Logies out like a cooking show finale.
And here are some other points worth noting:
The Logies should be live: Last night the Gold Logie winner was accidentally revealed before it had even been announced at the Crown Palladium. An article on the Herald Sun that was due to go live after the telecast was published around 10 p.m., though the paper has said Google is to blame for the gaffe. The article was quickly pulled down but not before lots of people had seen it.
And one more thing . . . We enjoyed watching The Voice last night, but didn't really enjoy the fact that the one-and-a-half hour premiere episode meant the Logies were pushed back by an hour. We waited up to see Hamish Blake win the Gold Logie and One Direction perform, but unlike school students, who make up a large portion of One Direction's fan base, we're not on school holidays.
What are your thoughts on the 2012 Logies?