2013 AACTA Awards Show Highlights, Winners and Recap
The Sapphires' Success, Puberty Blues' Big TV Win and More AACTA Awards Highlights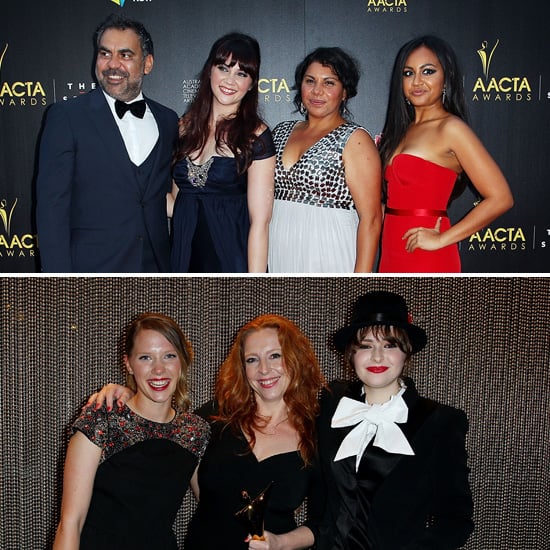 The 2013 AACTA Awards gathered Australia's leading film and TV talent last night — it was the first time Hollywood heavyweights Geoffrey Rush, Cate Blanchett, Nicole Kidman and host Russell Crowe have been in the same room at the same time — but there was one cinematic gem that shone brightest of all. The Sapphires, a favourite with international moviegoers since its standing ovation at the 2012 Cannes Film Festival and a home-grown hit, celebrated six wins in all the major film categories. The successful night started when Deborah Mailman won best lead actress and continued through to Jessica Mauboy's win for best supporting actress. After receiving the award from Nicole Kidman, a shaky and emotional Jess took to the podium and said, "I feel I really don't deserve this, I mean it. Thank you so much Deb, for being my sidekick, and [director] Wayne [Blair] for kicking my butt and making me cry on set. Thank you so much." She later returned to the stage to perform for the star-studded audience.
More highlights from the AACTA Awards when you keep reading.
The night got off to a great start as Russell put the crowd at ease by telling them, "We're going to be the first awards show to finish on time." He had some fun with introducing the presenters, especially Nicole, when he shared an anecdote about how they met at a party years before getting their big breaks. When "former Darlinghurst party girl" Nicole reached the microphone she told the audience, "He did drink champagne out of my shoe that night."
While most of the proceedings ran smoothly, there was a small mishap when Dan Wyllie took to the stage without his presenting partner Megan Gale. She joined him after the nominees were announced and said this morning that no one called her in time to get on stage. On the red carpet we asked her about her presenting duties and she said, "Things change all the time. I've been to awards show where it's like, 'You're presenting this, with this person,' and then you get there and it's changed. As far as I'm aware I'm presenting best new actor in a drama and best script in television. And with Dan Wylie, too, I believe, who's a ratbag! So that will be fun — God knows what he'll do when we're up there!"
International guests Jeremy Renner and Gemma Arterton, in town to promote Hansel & Gretel: Witch Hunters, were on hand to present best supporting actor in a feature film. Before the award was announced, they praised our talent and talked about how Aussies pop up everywhere in the film industry. "You can't throw a bottle out the window in Hollywood without hitting an Australian!" Jeremy said, before adding, "Stop it already! You guys are amazing, we get it." The award they announced went to Wish You Were Here's Antony Starr, who funnily enough was working in LA and unable to make it to the ceremony.
When we spoke to the stars on the red carpet there was a lot of love for Puberty Blues, and it was echoed during the show when it was awarded best television drama series. Producer Imogen Banks, who accepted with lead actresses Ashleigh Cummings and Brenna Harding, couldn't believe they'd beaten Redfern Now for the prize, and got the crowd excited about the show's second season, coming later this year.
Back in the press room winners including Rake's Richard Roxburgh and the team behind Howzat! Kerry Packer's War posed with their golden statuettes, and the night ended on a sweet note when The Sapphires' leading ladies entered the room to applause. When asked about the significance of indigenous stories in film and TV over the past year, with the critical successes of The Sapphires, Redfern Now and Mabo, Deborah Mailman proudly said, "We're now telling our own stories. That's the turning point. We've got that creative control. And when you've got that creative control you then you can really push the boundaries. You don't have to walk on egg shells, you can actually come from a personal point of view, from an insightful point of view. You can push it emotionally and you can tap all the issues."
Find the full list of AACTA Award winners here.