2013 ARIA Awards Nominations
Announcing the 2013 ARIA Award Nominations!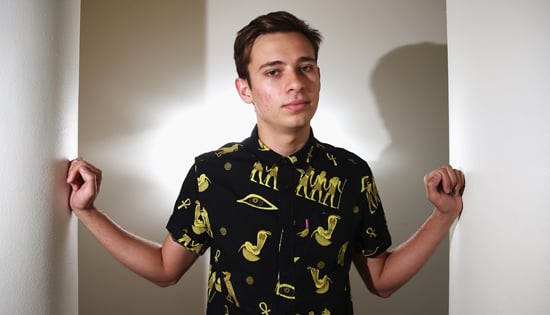 Leading players of the Australian music industry gathered at the Art Gallery of NSW this morning for the announcement of the 2013 ARIA Award nominations. 21-year-old electronic music producer Flume (real name Harley Streten) led the pack with eight nominations, including album of the year, breakthrough release and best male artist, while Perth act Tame Impala followed closely with seven. Birds of Tokyo and Nick Cave and the Bad Seeds scored six nominations each, and former reality show alums such as Guy Sebastian and Jessica Mauboy received nominations in the peer-voted categories after years of being sidelined in the awards decided by the public.
The 2013 ARIA Awards will take place at The Star on Dec. 1, and you can make your vote count in the categories decided by the public here. Find the full list of nominations after the break.
ALBUM OF THE YEAR
March Fires, Birds of Tokyo
Flume, Flume
Armageddon, Guy Sebastian
Push The Sky Away, Nick Cave & The Bad Seeds
Lonerism, Tame Impala
BREAKTHROUGH ARTIST RELEASE
Not Art, Big Scary
Flume, Flume
Atlas, RÜFÜS
The Rubens, The Rubens
God Loves You When You're Dancing, Vance Joy
BEST MALE ARTIST
Flume, Flume
Armageddon, Guy Sebastian
Little Bit of Everything, Keith Urban
Resolution, Matt Corby
Spring and Fall, Paul Kelly
BEST FEMALE ARTIST
Kiss My Apocalypse, Abbe May
vs Head vs Heart, Emma Louise
To the End of the Earth, Jessica Mauboy
Set Me On Fire, Missy Higgins
I Awake, Sarah Blasko
BEST GROUP
Harlequin Dream, Boy & Bear
March Fires, Birds of Tokyo
Ice on the Dune, Empire of the Sun
Push the Sky Away, Nick Cave & The Bad Seeds
Lonerism, Tame Impala
BEST INDEPENDENT RELEASE
Not Art, Big Scary
Push the Sky Away, Nick Cave & The Bad Seeds
San Cisco, San Cisco
Let Me Down Easy, Sheppard
I See Seaweed, The Drones
BEST ADULT CONTEMPORARY ALBUM
Familiar Stranger, Bob Evans
The Winter I Chose Happiness, Clare Bowditch
The Beginning and the End of Everything, Josh Pyke
Push the Sky Away, Nick Cave & The Bad Seeds
I Awake, Sarah Blasko
BEST BLUES AND ROOTS ALBUM
Into the Bloodstream, Archie Roach
The Magician's Daughter, Mama Kin
Melbourne Ska Orchestra, Melbourne Ska Orchestra
Sharkmouth, Russell Morris
Steal the Light, The Cat Empire
BEST CHILDREN'S ALBUM
Claw Tapping Tunes, Giggle and Hoot
Ten in the Bed, Jay Laga'aia
A Little Day Out with Justine Clarke, Justine Clarke
Play Along With Sam, Sam Moran
Taking Off!, The Wiggles
BEST COMEDY RELEASE
Live, Housos
Bin Night, Sammy J & Randy
Pauly's Shorts, Pauly Fenech
The Bits We're Least Ashamed Of, Tom & Alex
Colin Buchanan's TGIF Songs, Various
BEST COUNTRY ALBUM
If I Want To, Jasmine Rae
Wreck and Ruin, Kasey Chambers and Shane Nicholson
Beautiful Noise, Lee Kernaghan
Lovegrass, Sara Storer
The Great Country Songbook, Troy Cassar-Daley and Adam Harvey
BEST DANCE RELEASE
Flume, Flume
Howlin, Jagwar Ma
Saved In a Bottle, The Potbelleez
Pacifica, The Presets
Atlas, RüFüS
BEST POP RELEASE
Ice on the Dune, Empire of the Sun
Armageddon, Guy Sebastian
San Cisco, San Cisco
Is This How You Feel?, The Preatures
God Loves You When You're Dancing, Vance Joy
BEST ROCK ALBUM
March Fires, Birds of Tokyo
Harlequin Dream, Boy & Bear
Lonerism, Tame Impala
I See Seaweed, The Drones
The Rubens, The Rubens
BEST HARD ROCK/HEAVY METAL ALBUM
Black Dog Barking, Airbourne
Asymmetry, Karnivool
Singularity, Northlane
Chasing Ghosts, The Amity Affliction
Hate, Thy Art Is Murder
BEST URBAN ALBUM
Circus In the Sky, Bliss n Eso
King Amongst Many, Horrorshow
Bring it Back, Illy
This Was Tomorrow, Seth Sentry
Smokey's Haunt, Urthboy
ARIA AWARD PUBLIC-VOTED NOMINEES
SONG OF THE YEAR
"Party Bass," Bombs Away (feat. The Twins)
"Holdin' On," Flume
"What You've Done to Me," Samantha Jade
"Lanterns," Birds of Tokyo
"Parachute," Timomatic
"Riptide," Vance Joy
"Best Night," Justice Crew
"Hello," Stafford Brothers (feat. Lil Wayne & Christina Milian)
"Get Along," Guy Sebastian - Get Along
"Resolution," Matt Corby
BEST INTERNATIONAL ACT
My Head Is An Animal, Of Monsters and Men
Red, Taylor Swift
Birdy, Birdy
Unorthodox Jukebox, Bruno Mars
The Heist, Macklemore & Ryan Lewis
+, Ed Sheeran
Take Me Home, One Direction
Babel, Mumford & Sons
The Truth About Love, P!nk
Christmas, Michael Bublé
BEST AUSTRALIAN LIVE ACT
Paul Kelly & Neil Finn — Australian Tour: Feb - Mar 2013
Nick Cave & the Bad Seeds — National Tour: Feb - Mar 2013
Keith Urban — The Story So Far Tour: Jan - Feb 2013
Tame Impala — Lonerism Tour: Apr - May 2013
Birds of Tokyo — March Fires Tour: Feb - Mar 2013
The Drones — I See Seaweed Tour: Apr 2013
Flume — The Infinity Prism Tour: Apr - May 2013
Karnivool — Asymmetry Tour: Jun - Aug 2013
Guy Sebastian — Get Along Tour: Mar - Jun 2013
Matt Corby — Australian Tour: May - Jun 2013
BEST VIDEO
"Clair De Lune (feat. Christine Hoberg)," Flight Facilities
"Resolution," Matt Corby
"Riptide," Vance Joy
"Best Night," Justice Crew
"Fred Astaire," San Cisco
"Lanterns," Birds of Tokyo
"Parachute," Timomatic
"Holdin' On," Flume
"Firestarter," Samantha Jade
"Jubilee Street," Nick Cave & the Bad Seeds