2013 The Block All Stars: Winners Phil & Amity Interview
The Block All Stars: Tension On Set, The Harsh Truth Of Reality TV And What's Next For Winners Phil & Amity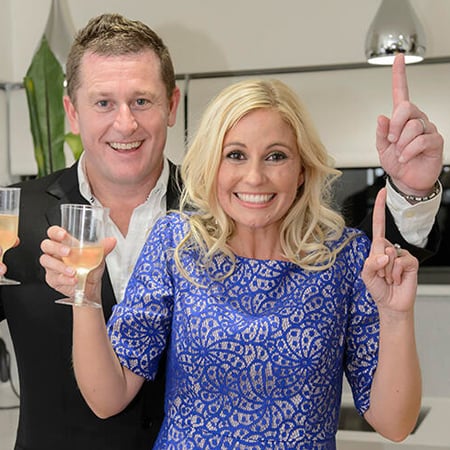 On Wednesday night, 2.119 million Australians tuned in to see who would take out the winner's title of hit reality show, The Block All Stars. After a tense wait while the three other teams — couples Josh and Jenna, Dan and Dani and best mates Mark and Duncan — held their auctions, mum and dad team Phil Rankine and Amity Dry watched in shock as their frenzied auction came to a close, selling for $295,000 over the reserve price. Add to that the $100,000 prize money for getting the highest amount over reserve and you've got yourself a young couple from Adelaide who are suddenly almost $400,000 richer after six weeks of hard work. We chatted to Amity yesterday, less than two days after her and her husband's big win, and she was still riding high. Here, she talks us through all the action.
POPSUGAR: Congratulations!
Amity: Thank you very much.
How are you feeling, has it sunk in yet?
Umm, no [laughs]. I don't think it has, and I think it won't until we see our bank account and it looks slightly improved!
Talk us through auction day — were you feeling confident, or not so much?
We were feeling confident we'd have buyers there, but we just didn't know if it would win. We were confident that there was interest there in the property and that people would turn up to bid, but whether it won... I don't think you can ever be confident going into that.
For the rivalry with Josh & Jenna, Mark & Duncan's disappointing result and what foreman Keith is really like, keep reading. . .
How did you feel about the other results — in particular, Mark & Duncan's?
We were incredibly disappointed for Mark and Duncan. It got off to such a big start with Josh and Jenna and we were all sort of thinking, "Oh, this is a good sign, it's going to be a great night for everyone", so for theirs to just be so different, it was... it was heartbreaking to watch, to see the auction stall like that and for them to only walk away with $25,000 ... Their work was worth so much more than that. But it's an auction. It's reality TV and with auctions the reality is sometimes you make a lot of money and sometimes you don't. It was really tough. We always knew their place was eclectic and quirky and we figured that they'd either find someone who was desperate to buy it and it might win, or it might struggle because it wasn't as mainstream. But yeah, it was terrible and it definitely put a dampener on everyone's celebrations. To see them sitting there in silence like that... they're never not cracking jokes and watching it back last night was so hard. They're such great guys and everyone wanted to see them do well and Mark had such a horrible time... You just want that fairytale for them.
Did their result make you more nervous since you still had to have your turn?
Yes! But just the whole night, I don't think it would have mattered what happened, I was more nervous than I've ever been in my whole life. I just really felt the pressure. We went into it with $1.50 odds and everywhere we went people were like, "You've got it in the bag!" and "You're going to win!" and it got to the point where I was like, now too many people think we're going to win and we're not going to and they'll all be disappointed.
Like you were jinxing it...
And I'm all about the jinx! With kids when you say, "Oh, gee, they're sleeping well..." Bang, they're awake [laughs]. The whole week of bathroom week, I was like, "We're definitely going to win," and then we came chumps [last]. Every time after that I never once said we were going to a win a room — ever. So yeah, I felt like the whole country was giving us a jinx! [laughs]. I felt sick, I really did, it was a lot of pressure, so once it hit a certain price, it was the relief of, "Okay, it's going to do okay, and now anything else is a bonus."
What was that certain price?
Well, look, $200,000 [profit] we said we'd be thrilled with — never in our wildest dreams did we hope for $400,000. It's amazing.
How much time is there between your last room presentation and auction day?
We finished in mid-December but there hasn't been any real life in between — it's all about The Block! Even though we weren't renovating anymore... I mean, we came back [to Adelaide] and we had Christmas and all that was kind of normal, but then it was all preparations for my musical which I'm touring in April and May, so I've been organising that tour and then suddenly the show was on air and you're doing promos and your whole life is consumed with it. You're watching it every night and reliving the drama and everywhere you go everybody wants to talk about it every day so it really is consuming.
Was there anything you watched on TV that surprised you, or were you surprised by how other teams came across?
Yeah, there was! There were lots of things there that we hadn't expected, and that was difficult to watch. We obviously found out about the power challenge trick and got over that [younger couples Josh and Jenna and Dan and Dani sneakily worked together to ensure they couldn't lose a power-saving challenge, resulting in Amity and Phil losing a point for one of their rooms]. But we didn't realise how many things were getting said behind closed doors. That was definitely disappointing. We were surprised. We thought we [all four teams] were all getting along well — I mean, we knew the others were competitive, and that they were seeing us as a threat in terms of the competition, but we didn't realise how... you know.
Was it tense on set sometimes, or would you just get on with it?
You get on with it. The last week was pretty tense, because I really missed the kids and things had come out... After the power challenge, things definitely changed. But most of the time, particularly the first three quarters, it was great.
I actually thought all four teams were getting along well, but then all of a sudden it seemed so competitive.
Well, we were! If we kept not winning we probably would've continued to get along well! [laughs]. I think it was us doing better than anyone thought that changed things.
So how are you guys now? Are you all still in contact or have you gone back to your lives?
Yeah, I guess all four teams have just gone back to their normal lives. We go back to our lives in Adelaide being mum and dad and with our friends and our family – that's what's important.
What's foreman Keith like off-screen? He kind of gets pegged as a villain...
He's great! We actually never had a run in with him, I think because we knew our place in terms of, we aren't tradies, so if he says something goes, it goes! He knows more than we do so we never had any issues with him. In fact, he was really helpful towards us and really lovely. We've become good friends with him and off camera he's a lot more gentle. He's got to be that tough guy on camera. We were watching it one day and our son said, "How comes Keith's so mean on TV when he's such a nice guy?" [laughs]. He loves Keith. Going into it having watched the series, I thought "Oh I'm going to butt heads with him," but we didn't ever, not once.
Any hard feelings toward the judges?
None! No, they were really complimentary to us most of the time, but again I respected their position and their experience. I didn't necessarily agree with every single thing they said, But I'm not going to get all angry at them for doing their job. It's not going to help your cause getting angry at them anyway.
Is it hard to leave the house once it's all over?
Yes! We're leaving for the last time in a few hours and I think I'll cry. It is your baby. We put a lot of love into this house — that sounds cheesy but we really did. We put so much of ourselves in and we built it with our bare hands. It's our dream house — the exciting thing is now we've made enough money to be able to buy a house in Adelaide and renovate that. It's still hard to leave, though — it's got a lot of good memories. A lot of not so good memories, too! But in terms of in the house, every moment we had here was fun.
Would you do it again? It's hard to say no when you've just won $400,000! [Laughs] I might need another ten years between them, though!
So what's next for you guys?
I'm touring with my musical, which is called Mother, Wife and The Complicated Life. We're doing seasons in Adelaide, Melbourne and Sydney in April and May, so that's really exciting because it's had some really successful seasons in Adelaide and been nominated for awards and things. This is a great opportunity for me to launch it in the Eastern states. And we hope to buy our own house, and renovate it... But we'll be paying painters this time! [Laughs].