2013 Golden Globe Awards Printable Ballot
Get Ready For the Golden Globes by Printing and Sharing Our Ballot!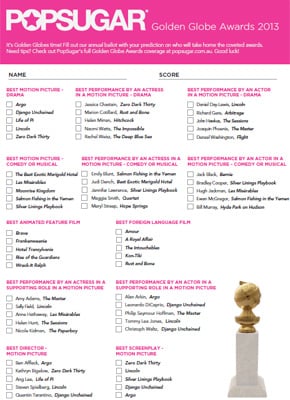 Work may have only just started for the year but awards season has been kicking on. The 2013 Golden Globe Awards are happening tomorrow and we're counting down the minutes by sharing who we think will go home with a coveted Globe.
Want to get into the mood by testing your Golden Globes prediction skills? We've got just the thing: a printable ballot you can download to keep track of who you think will win. It's also perfect for sharing with family, friends and/or co-workers!
Download the ballot here. Good luck!
For more Golden Globes buzz, like our Facebook page and follow us on Twitter.