2013 Logie Awards Nominations Full List
Announcing the 2013 Logies Nominations!
The 2013 TV Week Logie Awards nominations were announced this morning. Channel Nine led the charge with a total of 37 nominations, while the ABC picked up 32 and Network Ten scored 28. Several actors earned nominations across different shows, including Lachy Hulme and Deborah Mailman, demonstrating their popularity with the Australian TV-watching audience. It was a great year for Australian drama on the small screen, with shows such as Puberty Blues, Howzat! Kerry Packer's War and Offspring getting nods for talent and overall production. The people in the running for the Gold Logie, the most popular personality on Australian TV, include four stars from last year's race — the newcomers this year are Steve Peacocke and Andy Lee, who will try to take the Gold Logie title from his best friend Hamish Blake, the 2012 winner.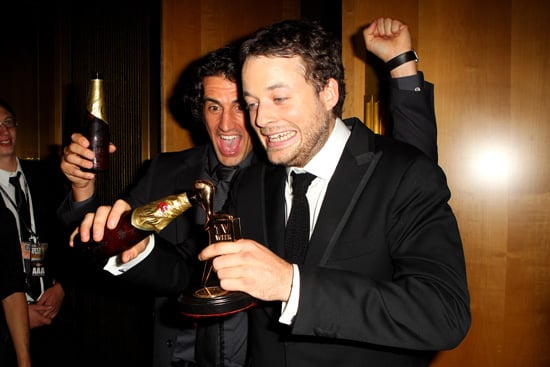 The 2013 Logies take place on Sunday, April 7. See the full list of nominees after the break.
GOLD LOGIE — MOST POPULAR PERSONALITY ON AUSTRALIAN TV
Adam Hills, Adam Hills In Gordon St Tonight (ABC1)
Andy Lee, Hamish & Andy's Euro Gap Year and Hamish & Andy's Caravan Of Courage: Australia Vs New Zealand (Nine Network)
Asher Keddie, Offspring (Network Ten)
Carrie Bickmore, The Project (Network Ten)
Hamish Blake, Hamish & Andy's Euro Gap Year and Hamish & Andy's Caravan Of Courage: Australia Vs New Zealand (Nine Network)
Steve Peacocke, Home and Away (Channel Seven)
MOST POPULAR ACTOR
Firass Dirani, House Husbands (Nine Network) and The Straits (ABC1)
Hugh Sheridan, Packed to the Rafters (Channel Seven)
Lachy Hulme, Howzat! Kerry Packer's War (Nine Network), Beaconsfield (Nine Network) and Offspring (Network Ten)
Matthew Le Nevez, Offspring (Network Ten)
Steve Peacocke, Home and Away (Channel Seven)
MOST POPULAR ACTRESS
Asher Keddie, Offspring (Network Ten)
Ashleigh Cummings, Puberty Blues (Network Ten) and Miss Fisher's Murder Mysteries (ABC1)
Deborah Mailman, Mabo (ABC1), Redfern Now (ABC1) and Offspring (Network Ten)
Julia Morris, House Husbands (Nine Network)
Rebecca Gibney, Packed to the Rafters (Channel Seven)
MOST POPULAR PRESENTER
Adam Hills, Adam Hills In Gordon St Tonight (ABC1)
Andy Lee, Hamish & Andy's Euro Gap Year and Hamish & Andy's Caravan Of Courage: Australia Vs New Zealand (Nine Network)
Carrie Bickmore, The Project (Network Ten)
Chrissie Swan, Can of Worms (Network Ten)
Hamish Blake, Hamish & Andy's Euro Gap Year and Hamish & Andy's Caravan Of Courage: Australia Vs New Zealand (Nine Network)
MOST POPULAR NEW MALE TALENT
Alex Williams, Underground: The Julian Assange Story (Network Ten)
David Campbell, Mornings (Nine Network)
Joel Madden, The Voice (Nine Network)
Robert Irwin, Steve Irwin's Wildlife Warriors (Network Ten)
Will McDonald, Home and Away (Channel Seven)
MOST POPULAR NEW FEMALE TALENT
Annabel Crabb, Kitchen Cabinet (ABC2)
Brenna Harding, Puberty Blues (Network Ten)
Catherine Mack, Home and Away (Channel Seven)
Clare Bowditch, Offspring (Network Ten)
Edwina Royce, House Husbands (Nine Network)
MOST POPULAR DRAMA SERIES
Home and Away (Channel Seven)
House Husbands (Nine Network)
Offspring (Network Ten)
Packed to the Rafters (Channel Seven)
Puberty Blues (Network Ten)
MOST POPULAR MINISERIES OR TELEMOVIE
Beaconsfield (Nine Network)
Bikie Wars: Brothers In Arms (Network Ten)
Howzat! Kerry Packer's War (Nine Network)
Underbelly: Badness (Nine Network)
Underground: The Julian Assange Story (Network Ten)
MOST OUTSTANDING ACTOR
Aaron Jeffery, Underbelly: Badness (Nine Network)
Anthony Hayes, Devil's Dust (ABC1)
Guy Pearce, Jack Irish (ABC1)
Jimi Bani, Mabo (ABC1)
Lachy Hulme, Howzat! Kerry Packer's War (Nine Network)
MOST OUTSTANDING ACTRESS
Catherine McClements, Tangle (Showcase)
Deborah Mailman, Mabo (ABC1)
Leah Purcell, Redfern Now (ABC1)
Mandy McElhinney, Howzat! Kerry Packer's War (Nine Network)
Susie Porter, Dangerous Remedy (ABC1)
GRAHAM KENNEDY AWARD FOR MOST OUTSTANDING NEW TALENT
Annabel Crabb, Kitchen Cabinet (ABC2)
Brenna Harding, Puberty Blues (Network Ten)
Jason Montgomery, Underbelly: Badness (Nine Network)
Natasa Ristic, Danger 5 (SBS ONE)
Shari Sebbens, Redfern Now (ABC1)
MOST OUTSTANDING DRAMA SERIES
Offspring (Network Ten)
Puberty Blues (Network Ten)
Rake (ABC1)
Redfern Now (ABC1)
Tangle (Showcase)
MOST OUTSTANDING MINISERIES OR TELEMOVIE
Howzat! Kerry Packer's War (Nine Network)
Jack Irish (ABC1)
Mabo (ABC1)
Underbelly: Badness (Nine Network)
Underground: The Julian Assange Story (Network Ten)
MOST POPULAR LIGHT ENTERTAINMENT PROGRAM
Gruen Planet (ABC1)
Hamish & Andy's Euro Gap Year (Nine Network)
The Project (Network Ten)
The Voice (Nine Network)
The X Factor (Channel Seven)
MOST POPULAR LIFESTYLE PROGRAM
Better Homes and Gardens (Channel Seven)
Getaway (Nine Network)
Grand Designs Australia (The LifeStyle Channel)
The Living Room (Network Ten)
Selling Houses Australia (The LifeStyle Channel)
MOST POPULAR SPORTS PROGRAM
Before the Game (Network Ten)
Paralympics London 2012 – Highlights (ABC1)
The Footy Show (AFL) (Nine Network)
The Footy Show (NRL) (Nine Network)
Wide World of Sports (Nine Network)
MOST POPULAR REALITY PROGRAM
Beauty and the Geek Australia (Channel Seven)
Big Brother (Nine Network)
MasterChef Australia (Network Ten)
My Kitchen Rules (Channel Seven)
The Block (Nine Network)
MOST POPULAR FACTUAL PROGRAM
Bondi Rescue (Network Ten)
Bondi Vet (Network Ten)
Border Security: Australia's Front Line (Channel Seven)
RPA (Nine Network)
Who Do You Think You Are? (SBS ONE)
MOST OUTSTANDING NEWS COVERAGE
"Baden-Clay", Nine News (Nine Network)
"Cabinet Leaks", Seven News Sydney (Channel Seven)
"Catholic Church Allegedly Hid Crimes of Paedophile Priests", Lateline (ABC1)
"Fukushima", ABC News (ABC1)
"Rudd Vs Gillard Leadership Challenge", SKY NEWS (SKY NEWS)
MOST OUTSTANDING PUBLIC AFFAIRS REPORT
"Abducted!", 60 Minutes (Nine Network)
"Anatomy of a Massacre", Dateline (SBS ONE)
"Captain Emad: Smugglers' Paradise – Australia", Four Corners (ABC1)
"The World According To Lance (Lance Armstrong)", Four Corners (ABC1)
"Unholy Silence (Catholic Church)", Four Corners (ABC1)
MOST OUTSTANDING LIGHT ENTERTAINMENT PROGRAM
Hamish & Andy's Caravan of Courage: Australia Vs New Zealand (Nine Network)
Shaun Micallef's Mad as Hell (ABC1)
The Hamster Wheel (ABC1)
The Voice (Nine Network)
The X Factor (Channel Seven)
MOST OUTSTANDING SPORTS COVERAGE
2012 Emirates Melbourne Cup Carnival (Channel Seven)
London 2012 Olympic Games (Nine Network)
2012 Toyota AFL Grand Final (Channel Seven)
London 2012 Olympic Games (FOXTEL)
Boxing Day Test Match (Nine Network)
MOST OUTSTANDING CHILDREN'S PROGRAM
Dance Academy (ABC3)
Didi and B (Nick Jr. )
The Adventures of Figaro Pho (ABC3)
Totally Wild (Network Ten)
You're Skitting Me (ABC3)
MOST OUTSTANDING FACTUAL PROGRAM
Go Back To Where You Came From (SBS ONE)
AFP (Nine Network)
Kings Cross ER (Crime & Investigation Network)
Then The Wind Changed (ABC1)
Who Do You Think You Are? (SBS ONE)