2013 Oscars Printable Ballot to Download and Share
Download, Print and Share Our 2013 Oscars Ballot!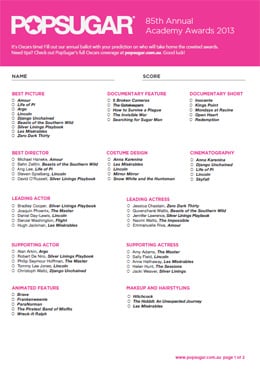 The big finale of awards season, the Oscars, is happening tomorrow, so we don't have to wait long to see who takes home the coveted statuettes.
If you're already placing bets on who will win, the best way to keep track of your predictions is by downloading and printing our 2013 Oscars ballot! Get your family, friends, co-workers etc in on the act by sharing it around to see who really knows their movies.
Just click here to download the ballot.
Keep checking PopSugar for all the latest Oscars coverage, and don't forget to like us on Facebook and follow us on Twitter and Instagram for more awards show buzz!