5 Reasons You Should Be Watching Survivor: Heroes vs. Villains 2010-04-06 21:30:37
5 Reasons You Should Watch Survivor: Heroes vs. Villains
Back in its heyday (and by that I mean 15-20 seasons ago), Survivor was at the top of my list of must-see shows. We're talking weekly gatherings with friends, all of whom were equally as obsessed with the outwitting, outplaying and outlasting as I was. After about 12 seasons, I started to drift in and out of the show (particularly when certain undeserving contestants walked away with the grand prize), but I couldn't resist watching my old favourites duke it out on the latest season.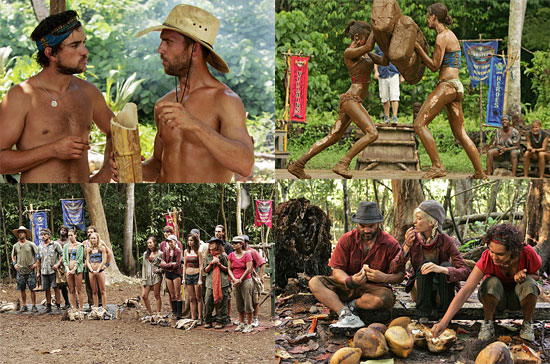 After seven episodes the show just keeps getting better—and not in a trainwreck-you-can't-look-away-from kinda way, like most reality shows. Though I'm still not over last night's elimination of the infamous Boston Rob, here are my top five reasons you should be watching Survivor: Heroes vs. Villains.
Keep reading
There's a little something for everyone: It's impossible not to find someone to root for among the two tribes. Whether you're the kind of viewer who can't get enough over-the-top drama (Coach might be right up your alley), or you're throwing your support to lovable underdog Colby (like I am), you'll quickly find someone to cheer for — and, more likely, someone to root against.
The challenges are more exciting to watch: There's so much tension between the teams and within each tribe. The games that put the competitors directly head-to-head are particularly fun because there's just no mercy whatsoever. It's like watching footy finals every week.
Every competitor is also a character: Gone are the totally useless cry babies with no personality. I'm not saying that all the survivors are equal contributors (Courtney and Sandra made that abundantly clear last night), but the contestants who lack physical prowess earn their keep in snark.
There's a lot more blindsiding goin' on: Each of these players has been around the block at least once before, which means they all think they're running the show. What's more, pretty much everyone has a target on his/her back since each contestant has proven in the past that he/she is a worthy competitor. What it all means is that there are a lot more last-minute decisions made at tribal council, making each episode exciting and suspenseful right until the last minute.
One word: Russell: Don't get me wrong, I can't stand the guy. But this conniving little weasel (or "troll," as he's usually referred to) undoubtedly makes the whole game more exciting. Yes, most of the time his antics leave me angrily screaming at my TV, but that's only going to make it all the more glorious when he finally gets his due. And if he wins, well, as much as I hate to say it, he'll have earned it.