Is It Actually Cold on Game of Thrones?
Game of Thrones: An Investigation Into How Much They Actually Freeze While Filming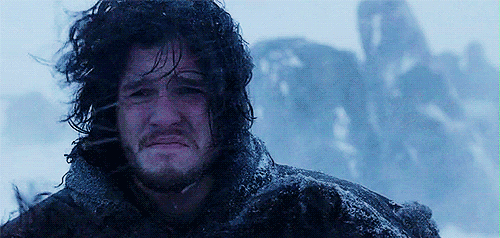 There are so many different cities and landscapes in Game of Thrones that it's sometimes hard to keep up, but no matter where the main characters are in Westeros, one thing is for sure: Winter is coming. While places like Dorne and King's Landing haven't been hit with snow and blustery winds just yet, other places, like Winterfell, the Wall, and the scary place beyond the Wall, all have. While watching some of those brutal Winter scenes, we can't help but wonder: how cold are the actors in real life? Is it really that chilly, or is it all just a bit of Hollywood magic? Well, it turns out that everyone is miserable.
Stars like Kit Harington (Jon Snow), Liam Cunningham (Davos Seaworth), Joe Dempsie (Gendry), Rory McCann (Sandor), and Kristofer Hivju (Tormund Giantsbane) are usually the ones stuck in the cold areas. They shot a good chunk of season seven in Iceland and had to deal with 100 mph winds and temperatures reaching as low as -25 degrees Fahrenheit. "Daylight is scarce here [five to six hours a day]," a set source recently told Page Six. "Super jeeps are needed to bring in equipment, and much is then transported by hand. The actors are made up and dressed in hotels and driven to location 90 percent ready to shoot. Shelter is provided by 'Russian tents' that are anchored down, and able to be heated, and [can] withstand 100 mph winds."
The show's creators, Daniel Weiss and David Benioff, also spoke about the harsh conditions on a UFC Unfiltered podcast, saying, "Winter is here and that means that sunny weather doesn't really serve our purposes any more. We kind of pushed everything down the line, so we could get some grim gray weather." Stars like Gemma Whelan (Yara Greyjoy) have also confirmed the harsh conditions with frozen fingers via social media. She posted a photo with costar Alfie Allen (Theon Greyjoy) in 2016, writing, "Here we are trying to warm up last year during the shooting of 'the moot.'"
So, to quote Leslie Knope, "Everything hurts and I'm dying."