Adrian Grenier Exclusive Interview About HBO Documentary Teenage Paparazzo and Entourage
Exclusive: Adrian Grenier on His Documentary Teenage Paparazzo and the End of Entourage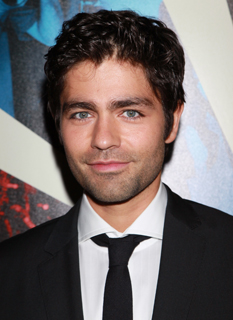 Entourage may be done for the season, but star Adrian Grenier is still showing up on HBO with his documentary Teenage Paparazzo. The project came about when he met teen photographer Austin Visschedyk and wanted to explore the cult of paparazzi and celebrity. Our US Sugar Sisters had a chance to chat with Grenier about the doc, his influence on his young subject, and his last season as Vinny Chase on Entourage.
PopSugar: Were you already going to make a documentary on paparazzi, or was it Austin you were more interested in?
Adrian Grenier: He was the catalyst. I wanted to make a film and I was looking for the right topic, and Austin fell in my lap.
PS: What about Austin piqued your interest?
AG: I saw Austin as sort of an indication that something was rotten in Denmark. To me it was just sort of this perfect setup for the story, and I saw in him his innocence; a not-yet-corrupted, not-yet-jaded opportunity to infiltrate the paparazzi and hopefully find a healing, constructive result from this whole thing.
PS: Do you feel like doing this film gave you a better understanding of paparazzi?
AG: Absolutely. That was sort of my main goal, to try to understand these people who for so long were the lurking, faceless monsters who were out to get me in some way, and I wanted to sort of defuse the demons.
To read more about Grenier's documentary and his thoughts for the end of Entourage, just read more.
Keep reading . . .
PS: Did making the movie change your perception of fame?
AG: Absolutely, I feel so much more confident and empowered in this whole experience. This is my way of processing, I guess.
PS: Did it change your perception of yourself?
AG: I guess, yeah. It really has put things into perspective for me. A lot of times celebrities known for their image or known for the way they say other peoples' lines, for these superficial things, have a hard time finding satisfaction and fulfillment because their fame is based on things they've done in the past. What I've realised is, if I want to find fulfillment and happiness, celebrity is not going to give it to me. But what will give it to me is hard work. I spent a lot of time and worked very hard on this film, and it's been a great source of satisfaction.
PS: It's very meta that you made a documentary about paparazzi when you're an actor hunted by paparazzi who plays a character on TV hunted by paparazzi.
AG: I have to say probably the most enjoyable part of this whole process was the meta indulgences. I've been in training and I've been educated for seven years about this guy on a show about celebrity. Who [is] more qualified than me to make a film that deconstructs that whole world?
PS: What impact do you think you or the film had on Austin's maturity?
AG: You can't deny that we both influenced each other. And that's the beauty of life and human relationships; we can influence each other. Hopefully we both come out of this with some positive takeaways. It is about parenting. The film is about Austin's parents and how they've raised him, about how I've mentored or attempted to mentor him; what he's taught me as well. But It's also about how media in general, tabloid media in particular, parents our culture and what it dictates through the compelling images of celebrity and the lifestyle indulgences.
PS: You play paparazzo for a day in the film; how was it?
AG: I was bored! I was so bored until we actually found a celebrity and got to go "get them." That really indulged this sort of animal instinct that isn't often indulged—this chase. And that was super exciting and exhilarating. At that moment I thought, "This is what excites them about the job." They're not sitting behind a desk, they're out there hunting as warriors of sorts.
PS: Do you still have the newfound respect for paparazzi you said you had in the film?
AG: Absolutely. They're no longer these ominous faceless human beings lurking in the bushes, they're human beings. You demonise what you don't know.
PS: So if acting doesn't work out, is this a job you'd consider?
AG: [Laughs] I don't think it's for me, honestly. But, I do make films and documentaries, and there's a fine line between what they do and what I do: capturing images and telling stories.
PS: Do you have other subjects you want to explore in your documentary career?
AG: I have some. I think I'm going to tackle the subject of love for my next one.
PS: After Entourage, will you keep acting or focus on your documentaries?
AG: I think I'm going to do both. I hope they don't tell me I can only do one, because I'd have a hard time choosing.
PS: Do you think Vince can be back on top by the time the show ends for good?
AG: I'm hoping that I'm going to be able to crawl my way out of this mess, because my job depends on it.
PS: What are your hopes for how Entourage might end?
AG: I don't know! I think it's going to be a positive thing. I hope we all do OK.
PS: Will you miss Vinny, or are you ready to move on?
AG: I've always looked forward to what's next. I don't want to become too attached. You have to keep moving.
PS: Can you give us an update on the Entourage movie?
AG: Oh it's coming, but not this year.