Aldo Ortado MasterChef 2018 Elimination Interview
According to Aldo, the Best Part of the Aussie Food Scene Is the Diversity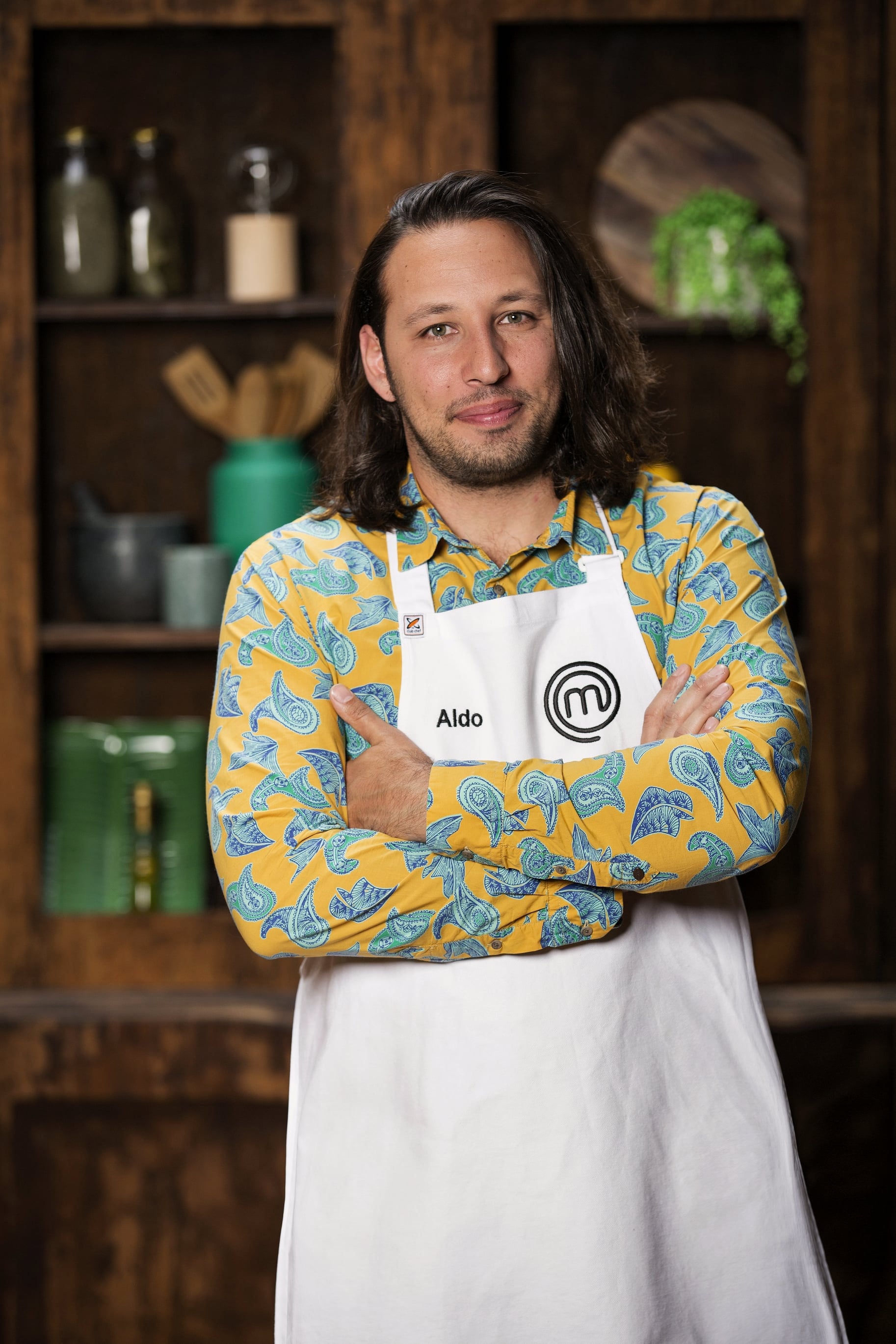 We won and lost some on MasterChef on Thursday. In a 45-minute challenge where Jess, Ben, Aldo, Sarah, Gina and Chloe had to hero prawns in their designated cuisine, it was Aldo who missed the mark. And while he had another chance to redeem himself in a cook-off with the previously eliminated contestants, the 31-year-old Italian didn't quite get there and had to bid adieu to the kitchen. But the good news is, what was lost in Aldo was gained in the return of show favourite Brendan. Hooray!
Off the back of his elimination, we caught up with Aldo to talk about his thought-process behind his elimination cook, his picks to win and how the food scene in Italy compares to Australia.
POPSUGAR Australia: Hi Aldo! How are you?
Aldo: Very well, thank you. I can't complain at all.
PS: Why?
Aldo: It's beautiful to be back to real life.
PS: Really? Aren't you upset about leaving?
Aldo: I'm not sad, it was my time, I think. I got to the point where I was missing the outside. I was missing my family, my dog, my life.
PS: Do you feel like that affected how you cooked?
Aldo: Yes and no. It's a tricky question, that one, because on the day, I felt like I was mentally ready for the cook. You've got lots of feelings coming through and putting everything on the line, but I did show the best of myself in that cook.
PS: How did you find that prawn challenge?
Aldo: I love prawns, it's one of my favourite ingredients to eat. Getting eliminated on this dish has been a little bit frustrating for myself, but I have no regrets about what I cooked or the way that I cooked. I probably would've cooked it for 30 seconds less, but that's it.
PS: Why was it frustrating?
Aldo: I knew I could cook prawns and had shown that I could cook them before, so the feedback upset me a little bit. But I was easily over it after two minutes. And just being able to cook in the second rounds with the previously eliminated contestants was great. If I was safe, I would never have had the chance to cook with them again.
PS: What made you decide on the herb butter dish?
Aldo: I was trying to combine two regions of France, the north and the south. The north is quite heavy and rich with butter, and the south is quite fresh, quite Mediterranean-style of cuisine. So I thought, I'd prepare prawns cooked in butter, with a nice refreshing salad on the side, which is the way I love eating my prawns.
PS: Looking back, would you go back and do anything differently?
Aldo: No, I'd do it again. I've got to own it and am pretty proud of my choice. Flavour-wise, the judges liked it. Matt liked it, Gary loved it . . . I think there was a big fraction in their minds of representing France in one dish. I was trying to combine the two regions of France. When Italian food comes on a plate, it doesn't matter if it comes from the north or south, you're eating Italian food. That's what I tried to do with French cuisine. It's true that the north is much more butter-based and the south is fresher, but when it comes on the plate, it's fresh.
PS: What was your mindset going into the second cook with the eliminated contestants? Did you feel more pressure?
Aldo: I didn't feel pressure at all, I felt fine going into my second round cook. I knew there was a risk in me going home, but that's a risk every day you're in the kitchen. I approached that cook the way I did every day I stepped in the kitchen: just with a positive attitude and having fun. That's been the thing that's pushed me through the competition. If I wasn't having fun in the kitchen, it would've been a bad day, for sure.
PS: What do you think of Brendan coming back?
Aldo: I want Brendan to win! I'm really happy. There's no other person who deserves to be there than Brendan. We were really upset [when he left], just because he's such a beautiful person. He's so gentle, ready for everybody, and has really great skills, he's really talented. Good on him that he got back in.
PS: Some people have been saying you've had an unfair advantage on the show from being a restaurant manager. What are your thoughts on that?
Aldo: Being a restaurant manager doesn't mean that I'm in the kitchen cooking. I'm there to manage the flow of staff and be a front-of-house representative. That was my role in the restaurant, I've never worked in a kitchen. In Australia, I've seen how hard chefs work, they work crazy hours, which I don't think I want to do, that's why I want to open my own restaurant. Even working as a manager, it's a pretty long job, you've got to compromise and sacrifice a lot.
PS: How does the Italian food scene compare to Australia?
Aldo: We've got a different way of talking about food. For [Italians], food is something that brings everything together. We're sitting around the table, having a chat, and food will be coming out, because it keeps you going. Food is joy. We wake up in the morning and think about what to have for lunch, when we finish lunch, we think about what we're cooking for dinner. Food is front and centre of our lives back home.
PS: And do you find that it's not so much the case here?
Aldo: I find it really different. Normally, back home, even if you've got two people at home, you end up cooking for 20. Here, if you've got two people, you cook just enough for two. And with leftovers, back home, I'm happy to eat them again. Here, I don't know why, but I chuck them out right away! I don't really eat them. Really, I don't know why! At home, I'm so into eating leftover pasta, warmed over, with a bit of mozzarella. Over here, I'm like, chuck it, don't worry. But I'm really happy to be in Australia. I think it's great here, there's so much to offer. I've been introduced to cuisines I've never heard of before. I remember my first experience with Chinese dumplings, it blew my mind because I've never had that kind of food back home. The food culture here is on a different level compared to Italy, and that's what I love about it — the diversity.
PS: What have you learnt from MasterChef?
Aldo: I've learnt that I've got to keep pushing myself, because I know that if I keep believing in myself, I have all the right things to achieve everything I want to achieve. I started watching MasterChef from season six and was always saying, one day I will apply, one day. I put my application in the week before it closed because my fiancé was pushing me, otherwise, I would've never applied. There was still the language barrier in the way for me, there are most things I can understand, and I feel like I can express myself in the best way, but that did stop me a little bit. But this year, I found the right frame to put it all in, and it happened! I'm pretty proud of what I've done.