Ali Oetjen and Taite Radley Interview The Bachelorette 2018
Ali and Taite on Why Being Separated After The Bachelorette Was a "Blessing in Disguise"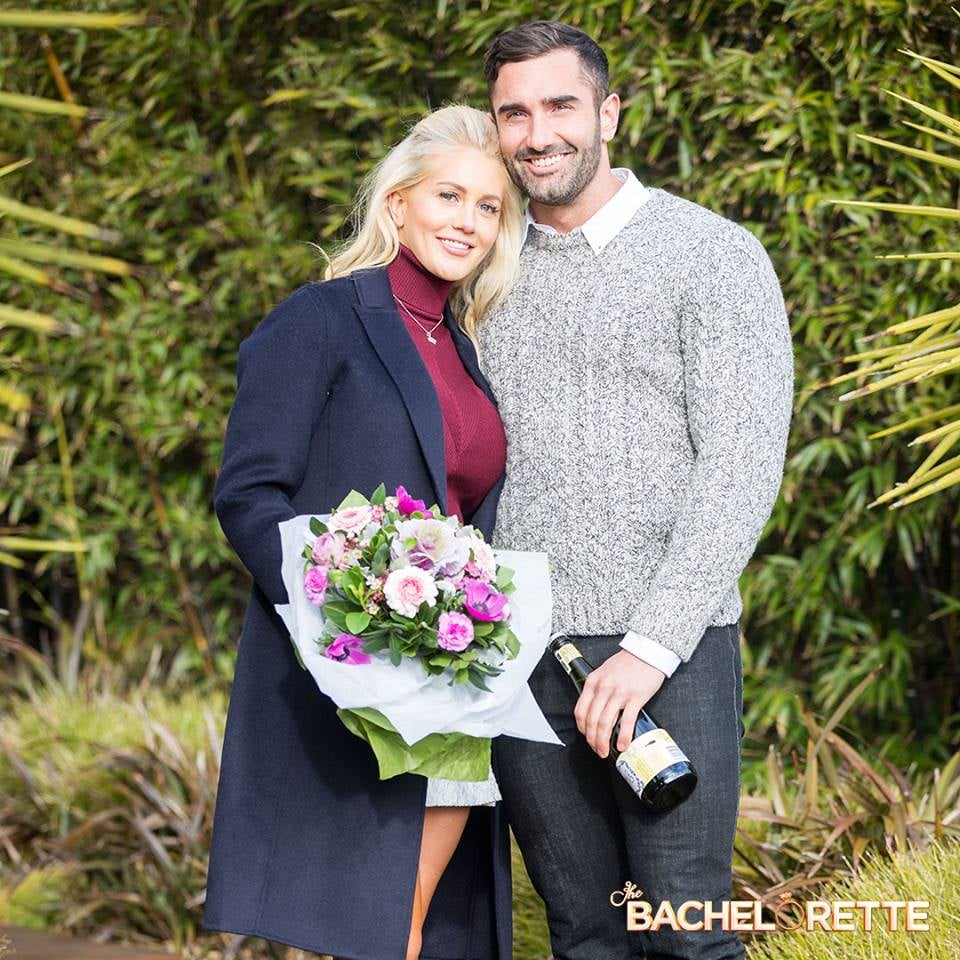 Taite Radley's romance with Ali Oetjen on The Bachelorette started off slowly, especially since his single date was controversially 'stolen' by fellow contestant Bill Goldsmith. But, once they were able to spend time together, it was obvious Ali was falling for Taite. As much as Ali struggled throughout the series with his inability to open up and their differing ideas about the future, in the end she realised their connection was too strong to ignore. Ultimately, she chose him over Todd King in an emotionally-charged finale. Below, the happy couple chat about their relationship both on and off the show, as well as what's next for them.
POPSUGAR Australia: Congratulations guys! How was watching the episode last night?
Taite: It was good! There were some tough moments we had to relive, but there were mostly amounts of beauty. I feel like I'm on cloud nine!
Ali: It was all very emotional!
PS: Taite, how were you feeling going into the finale, did you think it was you?
Taite: Not at all! I was absolutely packing it. I had no idea, and I remember walking down there and seeing this look look on Ali's face . . . I was just nervous and I knew I would have to hang on to every word Ali said to make sure that I was the one.
PS: It's funny because it was so obvious by the end to us as the viewers that it was you, but I guess you wouldn't want to be too confident.
Taite: Yeah it's funny because you never really know what's going on with the other connections Ali's having, and that's the hardest thing about being there. You're told by some people that your connection's not as strong as you might think, and you start to believe that. I knew what I had was something I'd never had before, but some times I just felt it was too good to be true. So no, I didn't think it was me!
PS: Other contestants have told me they underestimated your connection with Ali because you kept your cards close to your chest . . .
Taite: Yeah! I'm not one to really go around and brag about stuff, and I knew what I had was special, but I didn't know whether it was special enough compared to anyone else to go around boasting about it. It's such a complex situation to be in, not knowing whether you're Mr. Right or not.
PS: Ali, when did you know you were going to choose Taite?
Ali: I think it was after I introduced him to my family, that sealed it for me. Our connection definitely developed with our first date, but it started even before then on the photo shoot group date, where we were really close . . .
Taite: . . . and a lot of moments got cut out so you didn't see them, conversations at cocktail parties and what not.
Ali: Yeah! But anyway for me the relationship just grew and grew, and I couldn't stop thinking about him, I'd write in my journal about him like every second day. It became clear that he had my whole heart, and all the other puzzle pieces just had to come together. I wanted him to be close to his family, and for me to be able to see myself being with his family, and that was definitely the case after I met them. Then when Taite met my family, my dad couldn't have been happier with Taite!
PS: That's interesting, we were only really shown him seeming disapproving . . .
Ali: [laughs] Yeah, you weren't shown how happy he was!
PS: We did see your cousin happy to see him in the final two though . . .
Ali: Yeah she's a huge fan, she loves him!
PS: Ali, was it hard to compose yourself between saying goodbye to Todd and meeting Taite, considering how emotional you were?
Ali: Yeah, I actually wanted more time than I got, because I didn't want to be looking upset or sad when I met Taite. But there was only about twenty minutes between the two, so it was just a quick makeup touch up, and then I just had to snap out of it and think, "this is the moment you've been waiting for!"
PS: At what point did you realise you were willing to sacrifice the timelines you had wanted and compromise to be with Taite?
Ali: I guess it was that day! But relationships are about compromise, like I said at the time. It's not just a one-way street and three to six months for an engagement is only right if it's right for both people. It doesn't matter, as long as Taite chooses me everyday, and as long as I choose Taite everyday. That's what will make me happy.
PS: How much time you guys gotten to spend together since filming ended?
Ali: We had a couple of getaways together . . . and a lot of face timing. [laughs]
PS: Even though you couldn't be together physically, at least you could talk over the phone as much as you like . . .
Taite: Yeah, it was actually a blessing in disguise because you're getting to know each other for who you really are. You're talking everyday, and taking away that physical connection and that lust, and seeing it's real love. I met Ali in an environment where I just got to know her, and only her, and that's who I fell in love with.
Ali: Yeah, we got to know each other more on a friendship level as well after the show . . .
Taite: I feel like we were really in the reverse situation of what you'd be in in everyday life. In everyday life you might hook up with someone and then realise you hate the person, while for us we were in a situation where you get to know the person, and you fall in love before anything else happens. I look at is as like an old school love.
PS: Where to know for you guys, what's in your future?

Taite: I don't know yet, I'm open to moving to Adelaide, as long as Ali's with me I'll be happy. I've got a job I can take nearly anywhere in Australia, for us now we're just happy to be fully together finally and keen to start this relationship.
Ali: Yeah, agreed. I'm so happy, and it's all been worth it.
PS: Yay!
Ali: Yay! [laughs]