Amber Eliminated From The Bachelor Australia 2014
Blake Scraps the Rose Ceremony to Give Amber a Private Farewell on The Bachelor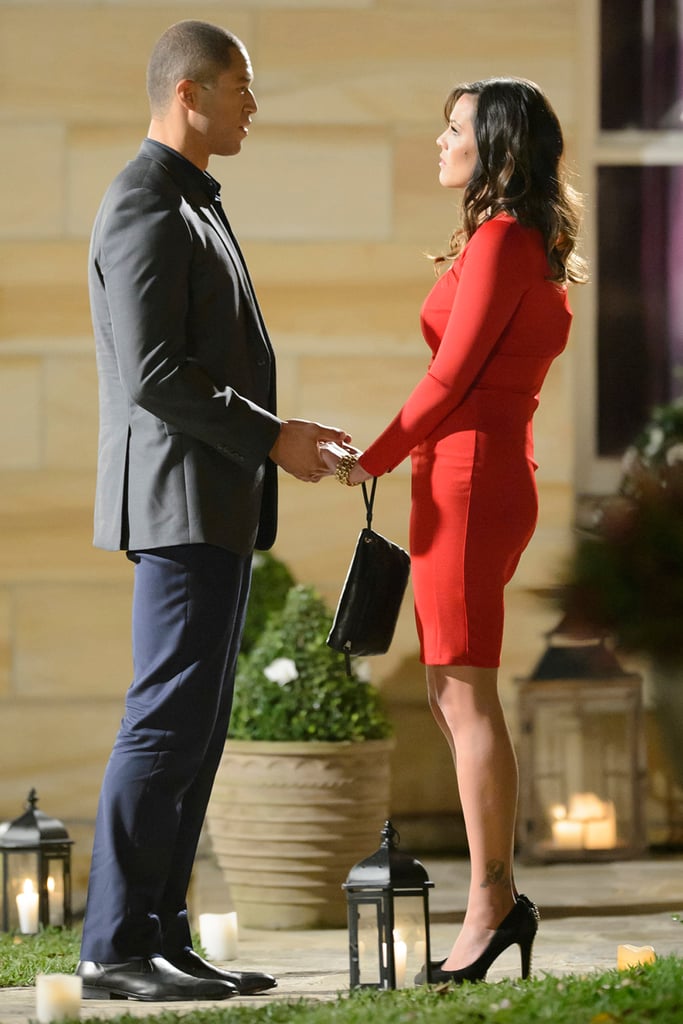 This year's most controversial bachelorette on The Bachelor, Amber, was let go from the show on Wednesday night's episode, but it wasn't through a typical rose ceremony. Instead, Blake Garvey pulled the 26-year-old Canadian aside at a cocktail party and told her how he felt about her. He had obviously prepared a big speech because he said, "I sat down this week and I thought about these three dates I had coming up ahead of me, and who I was going to take on that. And I thought long and hard over who that was going to be. This has been the first chance that I've been able to have a chat with you. I'm thinking about why I'm here, and what I'm looking for, the big picture, the long term. It's that spark, the spark that leads off to love. And that's what I'm looking for. I've kept searching for that with us. I think you are an incredible woman, I really do — I think you're strong, and you're funny, I think you're intelligent. And I've searched for that, and I've looked to see if our connection's there. At this point, I'm sorry but I don't think it is."
Amber, who missed out on the three single dates he'd prepared — they went to Sam, Laurina and Lauren, one of the intruders — and had actually never been on a single date with Blake, responded, "And I guess my biggest thing is that I just don't understand it, and I feel as though I haven't been given a chance. I feel as though you know the slightest portion of me, and I know the slightest portion of you."
Blake continued: "That feeling that you get, that you know, I don't have it, and to be honest I want to be completely fair to you. I don't want to put you through another rose ceremony. I think you deserve more. For me, it's not seeing our future together."
He walked Amber to her car and said goodbye, and it was host Osher Günsberg who delivered the news to the other girls that Amber's farewell — she didn't get to say goodbye to the other girls, at least not based on what viewers got to see — meant there wouldn't be a regular rose ceremony. As for Amber's feelings now, she told the Herald Sun, "The only regret throughout my entire experience on the show was that I didn't walk out the night of the intruders when I gave the rose back to Blake. That should have been my time. My journey was over and, in the end, it was not a healthy environment for me and I knew that leaving was for the best."
She added on Instagram this morning, of the moment Blake let her go, "This moment was the first time inside of The Bachelor mansion I felt like myself. For all of the tears, drama, and #cramber we have seen this is the first time I felt at peace. The Bachelor was a once in a life opportunity and an experience I'll never forget but it [sic] the end it became an incredibly unhealthy and emotionally abusive experience and was not the 'fairytale' most girls including myself dreamt of. Blake you are an amazing person - a ton of love and respect goes out to you and I hope you find the one." Amber has moved to Melbourne to pursue an acting career.