The American Starring George Clooney
4 Things to Know Before Watching The American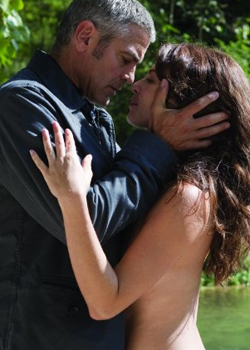 The American hit cinemas this week, starring George Clooney as a sombre assassin/gunsmith who travels to Italy for one final assignment. Despite his reclusivity, he befriends both a priest (Paolo Bonacelli) and a prostitute (Violante Placido), until increasing paranoia leaves him wondering who to trust. His suspicions are warranted: someone is on his trail. Clooney is obviously the box office draw here, and this film rests entirely on his shoulders. But does he carry it well? Read on for what you should know before buying your ticket.
Bourne film, it isn't. If you're looking for a Hollywood assassin flick that moves at swift, butt-kicking speeds, this may not be for you. The movie spends most of its energy building suspense and tension instead of focusing on fight scenes. The slow pace has some critics calling it an art film.

To hear the rest of my thoughts (including Clooney's sex scene), read more. Keep reading . . .

Warning: the picturesque scenery may stir up wanderlust. With gorgeous Italy as the film's backdrop, director Anton Corbijn takes advantage of quaint village pathways and patches of wilderness to tell his story. Each camera shot seems like it could stand alone as a glossy photo, with special attention to detail.
Clooney's sex scene may make you blush. His interaction with Placido gets a little, dare I say, dirty. Yes, it's somewhat cheap to focus on his animal magnetism as opposed to his acting talents (which I will get to later, promise), but the man can still turn on the heat when the part calls for it.
But sorry, no signature Clooney charm here. Since his character is a chilly loner-by-choice, he barely speaks, which means the wit and sense of humor that we've come to love from the actor is noticeably absent (at least the script must have been easier to memorise). That may lose fans, but rest assured he's still interesting to watch even without dialogue. If anything, it makes you pay more attention to the small nuances of his performance.