Anchorman 2 Teaser Poster With Ron Burgandy Moustache
Ron Burgundy's Moustache Is Front and Centre in the Anchorman 2 Poster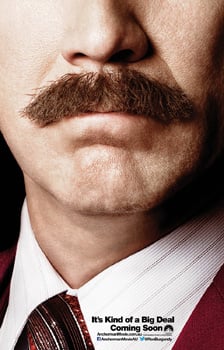 Ron Burgundy is back in the building, and he's still kind of a big deal. OK, so he won't officially be back until Anchorman 2 opens in cinemas in December, but for now, we're getting another look at his infamous 'stache. What do you think: will this be just the beginning in a series of moustache posters? How long will we have to wait until we get a Brian Fantana (Paul Rudd) moustache poster?
Since we've gotten details about the New York-set sequel's many cameos and a couple of teasers, my excitement for the film has already ascended to pretty high levels.
Check out the new poster after the jump.