Andy Allen Is the Winner of MasterChef Australia 2012!
Andy Allen Is the Winner of MasterChef 2012!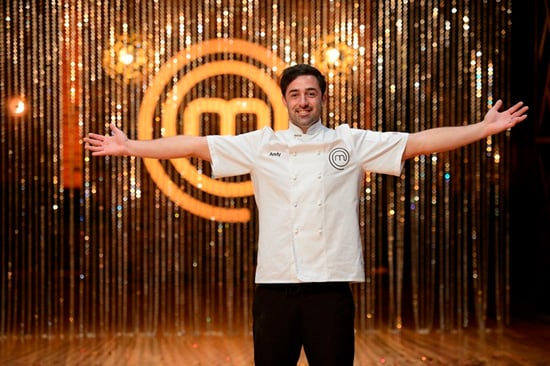 Andy Allen has won the 2012 series of MasterChef! The 24-year-old former apprentice electrician from NSW took out the competition, beating second runner-up Audra Morrice and runner-up Julia Taylor. He scored a grand total of 76 out of a possible 90 points at the end of three rounds. In the first challenge, he created an entree of seared tuna with cauliflower and squid ink puree for 35 guests; in the second challenge, an invention test, he cooked up a modern fisherman's basket after being asked to create "Australia's national dish"; and finally, he cooked a Christine Mansfield-set dessert, a 'Gaytime Goes Nuts,' in a pressure test that decided the final result.
As the winner of MasterChef 2012, Andy gets $100,000, a cookbook deal, and work experience in some of the best kitchens in Australia. But Julia and Audra didn't finish empty-handed — Julia was given $15,000 from American Express and a paid internship offer with Adriano Zumbo, while Audra also received $5,000 from American Express.
Congratulations to Andy!