Angelina Jolie and Darren Aronofsky To Adapt Ron Rash's Serena: A Novel for the Big Screen
Angelina Jolie Has Blood on Her Hands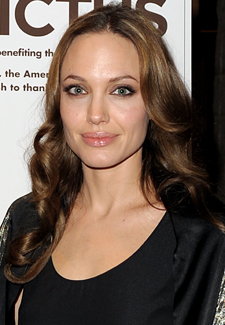 Meaty role alert: Angelina Jolie is reportedly eyeing an adaptation of author Ron Rash's Serena: A Novel, in which she would star. The story follows George and Serena Pemberton, a husband and wife who move from Boston to North Carolina for the timber business in 1929. Serena quickly proves to be one of the boys, but this is not your run-of-the-mill pioneer story—think of her more as a female counterpart to There Will Be Blood's Daniel Plainview.
Serena's tenacity has a menacing side, as she offs anyone who doesn't fall into line with her. Things go particularly awry when she finds out that she can't bear children and sets out to kill her husband's illegitimate son in retaliation. Darren Aronofsky of The Wrestler is looking to direct the drama.
Sounds like the makings of an Oscar vehicle for Jolie, provided she pulls off the Boston turned Southern accent, that is. Have you read Serena? Do you think Jolie has the chops to pull off the role?