Angus McLaren the Latest Actor to Leave Packed to the Rafters After Jessica Marais and Hugh Sheridan
What Will Happen to Packed to the Rafters After All the Children Have Left?
Packed to the Rafters isn't so packed anymore, after Channel Seven confirmed that Angus McLaren, who plays younger brother Nathan, is taking "extended leave" from the show. His move follows that of his onscreen siblings, Jessica Marais and Hugh Sheridan, who both left to try their luck in Hollywood. Before the main Rafters siblings departed, onscreen wives Jessica McNamee and Zoe Ventoura also said goodbye to the popular Australian series; while Zoe went on to Wild Boys, another local production, Jessica cracked the big time by landing a role as Rachel McAdams' sister in The Vow.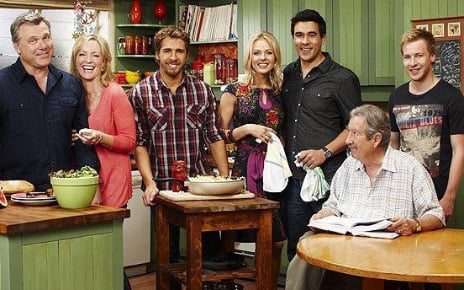 Angus' decision to take time off from the show, which returns to TV next Tuesday with a double episode, will mean little Ruby is the only Rafters child left. There are plenty of supporting characters, with the addition of Brooke Satchwell as Frankie the electrician this year, but the exit of all the adult kids will turn it into a very different show. Will you stick with Packed to the Rafters when it returns?