Anna Wins Tim Robards' Heart on The Bachelor Australia 2013
Anna Is the Winner of The Bachelor Australia!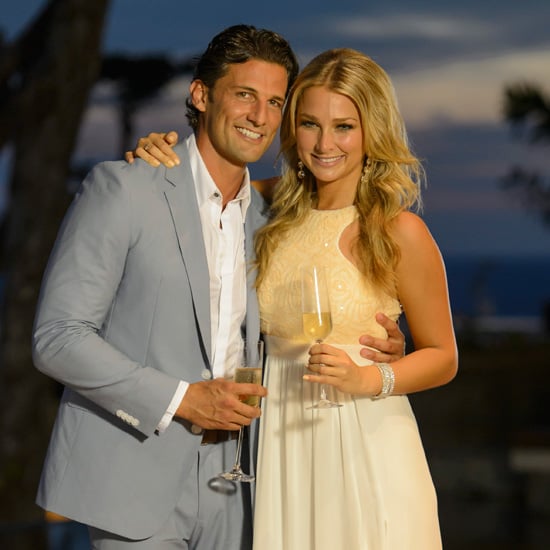 Tim Robards chose Anna Heinrich on the grand final of The Bachelor that aired tonight! The reveal came as Tim met with model Rochelle Emanuel-Smith first in Thailand to let her know that "my heart is leading me somewhere else." When he finally came face-to-face with Anna, he told her, "Anna, I love you. It feels so, so good to finally say it. I want to make you feel special every day. I can't wait to start the next part of our journey together."
Criminal lawyer Anna, who struggled with expressing her true feelings on her dates with Tim in case he didn't reciprocate them, told him, "I'm so glad you're in my life now." To mark the moment, Tim also presented Anna with a diamond ring he designed (he didn't propose), explaining, "This is a show of my commitment to us," also promising that he was done dating other girls. Anna replied, "I will be as committed to you as I possibly can, and I really do love you."
More from the grand final when you keep reading.
The final episode took place in Phuket, Thailand, where Anna and Rochelle both met Tim's family — they got grilled by his psychologist mother, Tanya — and were treated to grand final dates so Tim could discern his feelings for the two girls. For Anna's date, Tim blindfolded her as he led her from one boat to a traditional Chinese junk boat, and the two sailed through picture-perfect Phuket in each other's arms. It was so romantic that Anna even likened it to being on a honeymoon with Tim. Throughout the date, Anna hinted that she would finally tell Tim exactly how he felt, and when she kept holding back, Tim expressed some frustration (in his piece-to-camera) at her reluctance to talk. In the end, Anna prepared a box of more than 40 cards with things she loved about Tim, and as she got emotional reading through them, she finally admitted her feelings. "It was one of the nicest things anyone had ever done for me," Tim told the camera, as Anna shared with him, "Basically I'm trying to say I'm falling madly in love with you, and I really can't see you not in my life."
Rochelle's final date also involved a blindfold, but no boats — knowing how much she loved animals, Tim organised for them to ride atop an elephant along the shore. A walk through the jungle followed, and they reached a picturesque waterfall and stream. Tim suggested that they perform a Thai ritual that involved them falling back into the water together, and their date ended with a romantic dinner under the sky at night. Tim described Rochelle as "the total package," and Rochelle savoured every moment during their goodbyes just in case it was their last time together.
On the morning of results day, Tim declared, "I've found the woman of my dreams . . . I have searched my heart and I know there is only one girl I can't live without." That woman turned out to be Anna, and now the secret is out (it's been about nine weeks!) the two can go out in public together. At the Network Ten upfronts on Tuesday night, Tim told us that it had been hard to not be able to see the girl he had picked, but that they spoke every day.
Congratulations to Tim and Anna!