Anne Hathaway and Julia Stiles Rumoured to Play The Black Cat in Spider-Man 4
Which Actress Should Play The Black Cat in Spider-Man 4?
The rumour mill keeps churning about Spider-Man 4. Let's recap: First, word spread that Rachel McAdams would be playing new villain Felicia Hardy, aka The Black Cat in the fourquel — hearsay which McAdams later denied. Earlier this week Julia Stiles's name started floating around instead. And now Anne Hathaway is the latest to be added to the running.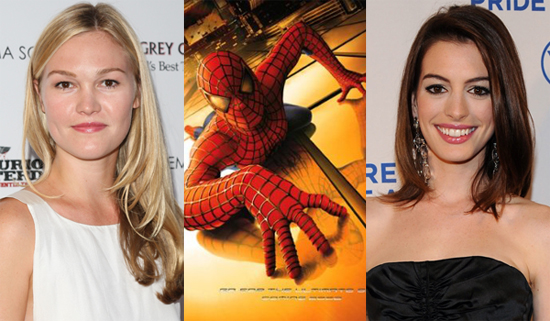 Hathaway and Spidey seem like a solid pairing — she'll up the A-list wattage of the film and I think a superhero blockbuster would be a nice addition to her resume. But what about Stiles? She's been in the Jason Bourne series, so she does have the experience of working on a mega franchise. Still, I just can't imagine her busting chops and throwing around kicks like Hathaway. Neither actress is even confirmed yet, which means other ladies could still step into the roles! Let's discuss who you would like to see take on The Black Cat part —Stiles, Hathaway, or do you have another actress that you would cast?