Arnold Schwarzenegger Comments and Quotes About Miley Cyrus
Arnold Schwarzenegger Shares How He Felt About His Son's Relationship With Miley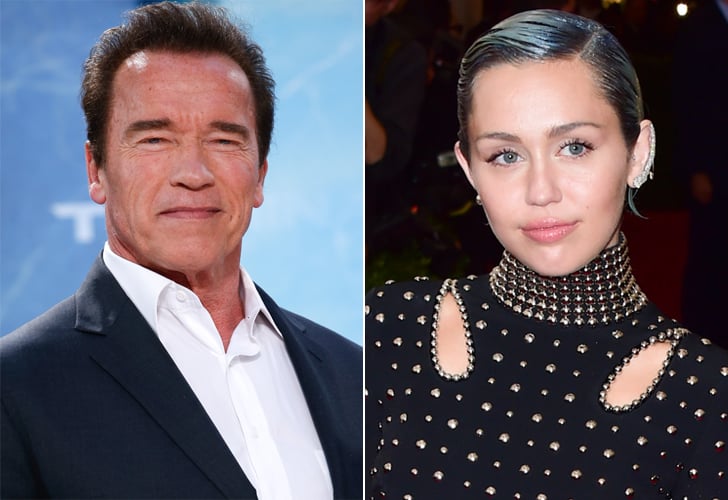 Arnold Schwarzenegger weighed in on his son Patrick's split from Miley Cyrus when he chatted with Howard Stern on Wednesday. During his candid conversation with the host, Arnold talked about everything from his split from Maria Shriver to his child with his former housekeeper. At one point, Patrick and Miley's relationship came up, and Arnold explained why he hadn't been nervous about his son dating such a high-profile star.
"Under normal circumstances, maybe I would be nervous," he said. "But I'll tell you the two reasons why not. One is my kids are very strong. They have had their upbringing. They know exactly how far they can go and they should be adventurous, they should venture out and meet different people, so I was not worried about that." Of the singer, he added, "The other thing is when I did meet Miley Cyrus, when she came up to Sun Valley skiing during the holidays, I found out that she was a fantastic person."
The actor didn't stop there, though, going on to compliment Miley's character and gush about how sweet she'd been with the family. "She has this career side where she has to be a little bit out there and maybe is a little bit different because she grew up in a music family. So what?" he said. "It didn't bother me. I think Patrick had a wonderful experience, he had a great relationship, and then the whole thing eventually fell apart."