Ashton Kutcher, Alicia Silverstone, Lindsay Lohan and Other Celebs Pay Tribute to late Brittany Murphy, No Foul Play Suspected
Celeb Tributes Pour in for Brittany as More Details Emerge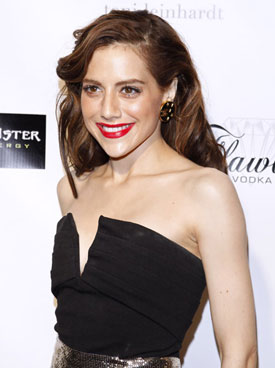 Details are emerging about Brittany Murphy's death, as the coroner prepares to carry out an autopsy "as soon as possible".
According to reports, Brittany was taking prescription medication for flu-like symptoms, in the days before her death. She suffered a heart attack and collapsed in the bathroom of her LA home on Sunday morning, where she was found unconscious by her mother. Brittany was rushed to LA's Cedars-Sinai hospital, but was sadly pronounced dead at 10.04am (5.04am AEDT Monday).
Brittany's husband Simon Monjack has reportedly requested that an autopsy not be performed. While the LA coroner, Capt. John Kades, said in a statement to the media: "Foul play is not suspected at this time because there were no outward signs of trauma or other injuries."
Brittany's publicist made this statement in the hours following her death:
"The sudden loss of our beloved Brittany is a terrible tragedy. She was our daughter, our wife, our love and a shining star. We ask you to respect our privacy at this time."
Meanwhile, tributes have begun pouring in following the tragic news.
To read how Brittany's celeb friends, including ex Ashton Kutcher paid tribute, keep reading
Ashton: "2day the world lost a little piece of sunshine. My deepest condolences go out 2 Brittany's family, her husband, & her amazing mother Sharon. See you on the other side kid."
Jessica Simpson: "Brittany Murphy was an incredible ray of Light to so many people. Her smile was contagious. My prayers are with her family and loved ones."
Lindsay Lohan: My deepest condolences go out to all of Brittany Murphy's loved ones& may she rest in peace....She was a great talent w/a beautiful soul xo"
Alyssa Milano: "Brittney Murphy and I did a USO Tour together in 2003. She was a sweet soul, with a lot of talent and heart."
Fred Durst: "RIP Brittany Murphy. What a sweet human being. My prayers are with her friends and family."
Alicia Silverstone: "I always felt connected to her as we shared a very special experience in our lives together. I feel love in my heart for her – and hope she is at peace. This is truly sad.... I'm so saddened to hear this news. I loved working with Brittany. She was so talented, so warm, and so sweet."
Eliza Dushku: "We were friends time-to-time thru the yrs. I always admired her pure spirit."
Simon Pegg: "Just heard about Brittany Murphy. How very sad. Met her briefly after Sin City. Seemed a great girl. My sympathy to her friends and family."
Finally, her father stated: "She was just an absolute doll since she was born. Her personality was always outward. Everybody loved her — people that made movies with her, people on a cruise — they all loved her." Rest in peace, Brittany.