Australia's Got Talent and The X Factor Judges 2013
More Updates on Australia's Got Talent and The X Factor Judging Panels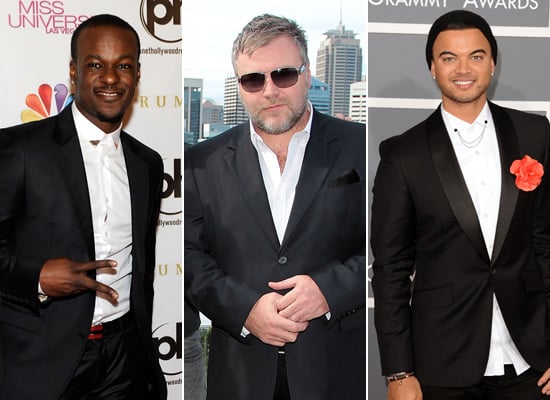 Over the past few days we've been keeping track of the reality TV musical chairs concerning the judging panels for two popular Aussie shows: Australia's Got Talent and The X Factor. Earlier this week it was confirmed that Channel Nine had signed UK stars Mel B and Dawn French for AGT, which it poached from Channel Seven last year, and last night they unveiled the promos for their third judge — Timomatic (real name Tim Omaji), who was runner-up on the 2011 series of AGT on Seven. It's expected that Kyle Sandilands will be announced as the fourth judge on the extended panel today, making him the only judge to move with the show between the networks.
For the latest news on The X Factor, keep reading.
So what does this mean for The X Factor? Mel B is definitely out, and yesterday Guy Sebastian confirmed rumours that he won't be returning for a fourth series during an interview with Mix 106.5. He took to Twitter this morning to pass the news onto his fans, writing, "Hey guys I know there have been some articles about me not doing X factor this year. I have LOVED my time on the show and can't even tell U how great it feels to have helped the likes of Reece, Johnny, Sammi etc reach their dream. However, for a few months now I have felt I need to get back to writing and being creative behind the scenes and making a new album, not to mention this tour. Channel 7 & Fremantle have been so good to me and I am so proud to have been part of a show that genuinely nurtures talent. It wasn't an easy decision and I'll miss it dearly. I'm excited to get back to the studio but also to embark on this massive tour!! Can't wait. Much Love."
Natalie Bassingthwaighte, who's pregnant with her second child, has expressed her enthusiasm for doing The X Factor again in 2013, while Ronan Keating is also expected to return. As for the two remaining seats, Dannii Minogue has reportedly been signed to replace Mel B, while former LMFAO musician Stefan 'Redfoo' Gordy is tipped to take Guy's place.