Australia's Next Top Model 2013 Controversial Episode
Australia's Next Top Model Controversy: Taylah Asked to Leave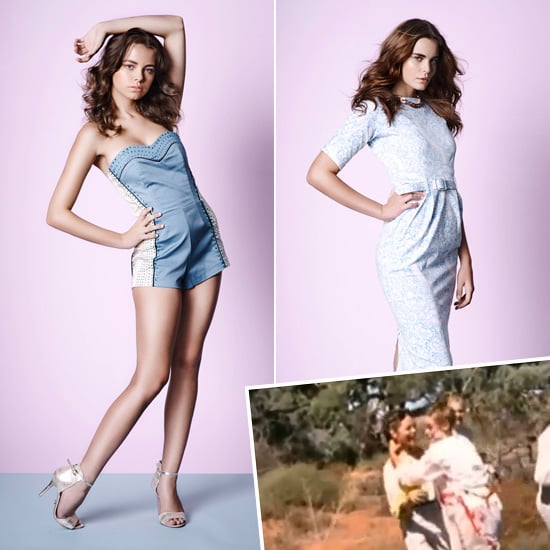 Model hopefuls Taylah Roberts and Ashley Pogmore, both 18, are at the centre of the controversial Australia's Next Top Model episode that airs tonight. Since the show's premiere a few weeks ago, it's been teased that one of the contestants would be asked to leave the series following a violent altercation — but host Jennifer Hawkins is adamant that it wasn't another case of bullying, which was an issue during the show's fourth cycle in 2008. Jennifer told The Sunday Telegraph, "It is not bullying as such, it is more like a violence matter. Some people might think it is really bad, it depends on people's perception of it but Foxtel doesn't tolerate it in any way, shape or form so I had to be the one to give them [the contestants] the news. I didn't like being in the middle."
The actual incident came to light last night on A Current Affair, which aired interviews with the two girls involved. The remaining contestants were filming an art challenge in Broken Hill, NSW, when Ashley started throwing paint around. She apparently got some on Taylah's top, which caused Taylah to snap, "I'm gonna strangle you!" Vision of the incident shows Taylah with her hands around Ashley's neck, and while it appears to be playful, a tearful Ashley talked about how she could feel Taylah's hands getting tighter around her neck.
More when you keep reading.
In her interview, Taylah said, "It is hard to watch it back because I know that's not how I would normally react. Just because we were in such a pressured situation I just snapped." Asked what she was thinking at the time, Taylah responded, "Honestly, I couldn't tell you now. It's just one of those things that just happened so quickly. And once I'd done it I knew it was the wrong thing to do. Violence is never the answer and it never solves anything." She also revealed that she's since had a peace sign tattooed on her hand "to make me realise I'm at peace with it now," but that she's worried about how the incident will affect her future career as a model. Ashley also expressed remorse over what happened and the consequences, saying, I'm not defending what she's done, I'm defending who she is as a person . . . I don't want her career to be jeopardised over something that was a complete misunderstanding."
Judge Charlotte Dawson weighed in on the situation on A Current Affair as well and said she wasn't on set when it occurred. "It was a surprise when I saw the vision. I think it's very polarising," she said of the footage. But she added that there was a takeaway lesson: "It doesn't matter how beautiful you are on the outside, you've gotta behave and be beautiful on the inside. And that was the lesson we learned from this."
Australia's Next Top Model airs Tuesday nights at 7:30 p.m. on Fox8.