Australian Viewers Angry at My Kitchen Rules 2012 Winner Result of Leigh and Jennifer Beating Nic and Rocco
Viewers Upset at My Kitchen Rules Winners Result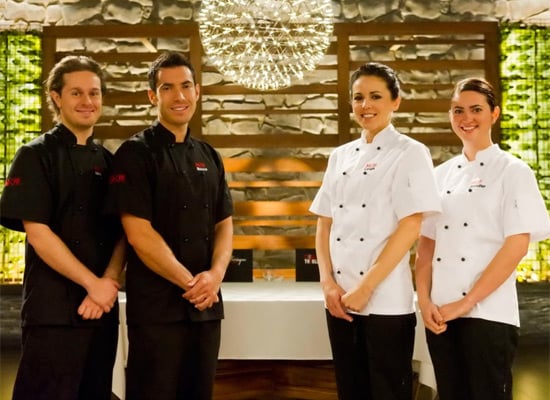 The grand final of My Kitchen Rules attracted 2.81 million viewers for the winners announcement, and averaged around 2.19 million for the whole episode, so it's no surprise so many people have been vocal about the result. Florist Leigh Sexton and Jennifer "Princess" Evans defeated South Australian childhood friends Nic Mazzone and Rocco La Bella for the title — and $250,000 prize — and viewers jumped on Twitter and lots of other online mediums to express how they felt about the judges' decision.
Read more after the break.
The general consensus seems to be frustration at how Nic and Rocco didn't win despite lots of praise and positive comments from the judges on all of their dishes (their third course wasn't plated up well, though). Leigh and Jennifer's first course of crab congee was described by the judges to have "delicate" flavour, with the implication it was almost bland, and the absence of tempered white chocolate with their dessert also added to viewers questioning how they scored four perfect marks of 10. One of the keywords so far is that the show is "rigged," but host/judge Pete Evans went on his Facebook page to clarify how the judges came to their decision:
The show took the viewers on a journey right up until the scores were revealed, it was the best food of the competition by far and the girls food was exceptional, their 5 courses took us on a journey and overall they produced, hands down, the most amazing dishes last night of the whole competition! The boys did a great job too and should be very proud! I am sorry you only get to see maybe 10% of what we actually say about each dish as it arrives, otherwise the show would have aired for 5 hours or more last night.
The editing seemed to suggest a Nic and Rocco victory, but as Pete points out a whole day's worth of cooking was condensed into a two-hour show. As other commenters have mentioned, it all comes down to the taste, which only Pete, Manu Feildel and the guest judges had an opinion on.
Fans of Nic and Rocco shouldn't despair — they've since launched their own website and appear to be offering cooking classes. They're also taking dessert offers. And in non-food-related cooking news, they're also both in the running to be Cleo Bachelor of the Year, and Rocco is in a relationship with fellow semi-finalist Carly Cheung.