Australian Weekly Magazine Round Up for February 20th 2012 With Who, Woman's Day, New Idea and Famous
Which Magazine Will You Be Picking Up This Week?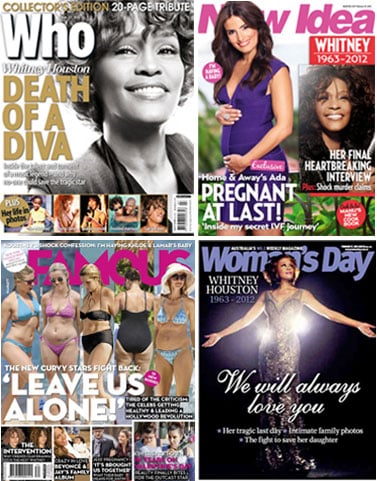 We're kicking off Monday morning by taking a look at the celebrity and entertainment news featured in the latest weekly magazines, all on sale now. Who magazine reports on the death of Whitney Houston, providing a glimpse of her life through pictures, while New Idea shares the exciting news that Home and Away's Ada Nicodemou is pregnant with her first baby, with an interview detailing her IVF journey. Famous has celebs — including Heidi Klum and Reese Witherspoon — fighting back against weight gain claims on their cover and Woman's Day also pays tribute to Whitney, revealing how she spent her final days. Which magazine will you be buying?