Australian Weekly Magazine Round Up for February 6th 2012 With Grazia Australia, Who, Woman's Day and New Idea
Which Magazine Will You Be Picking Up This Week?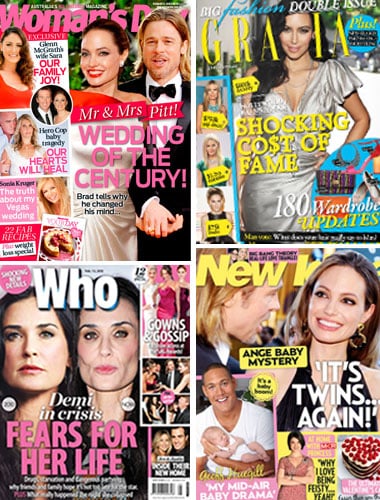 It's about that time on a Monday morning where we catch up on all the latest celebrity and entertainment news, so we're taking a look through the weekly magazines that have hit the newsstands. Woman's Day reports on news that Brad Pitt has changed his mind and is ready to finally tie the knot with Angelina Jolie, while Grazia talks about Kim Kardashian and the price of being famous. Who zones in on Demi Moore, who is entering a treatment facility after her recent hospital stay, and New Idea gives us the first look Geoff and Sara Huegill's gorgeous baby girl Mila, as well reports that Brad and Ange are having twins. Which magazine will you be picking up?