Australian Weekly Magazine Round Up for March 12th 2012 With New Idea, Famous, Woman's Day and Who
Which Magazine Will You Be Picking Up This Week?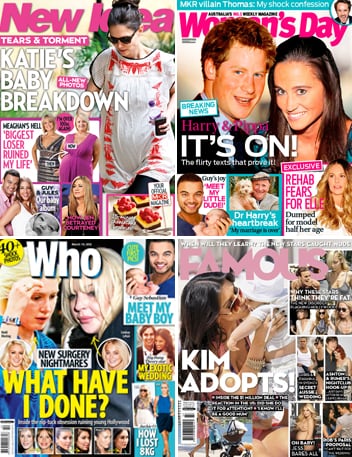 This morning we're taking a flick through the weekly magazines on sale now so we can catch up on all the latest celebrity and entertainment news. It's baby mania over at New Idea, with reports that Katie Holmes is pregnant with her second bub — much to Tom's delight — as well as snaps of Guy Sebastian's bundle of joy Hudson, while Woman's Day reveals that Pippa Middleton and Prince Harry have been sending flirtatious text messages! Who zeroes in on a slew of young celebrities who are believed to have undergone plastic surgery and Famous magazine gives us the lowdown on Kim Kardashian, who is rumoured to be adopting a child. Which magazine will you be picking up this week?