An Average Guy Reviews The Bachelor Episode 3
What an Average Guy Thinks While Watching The Bachelor For the First Time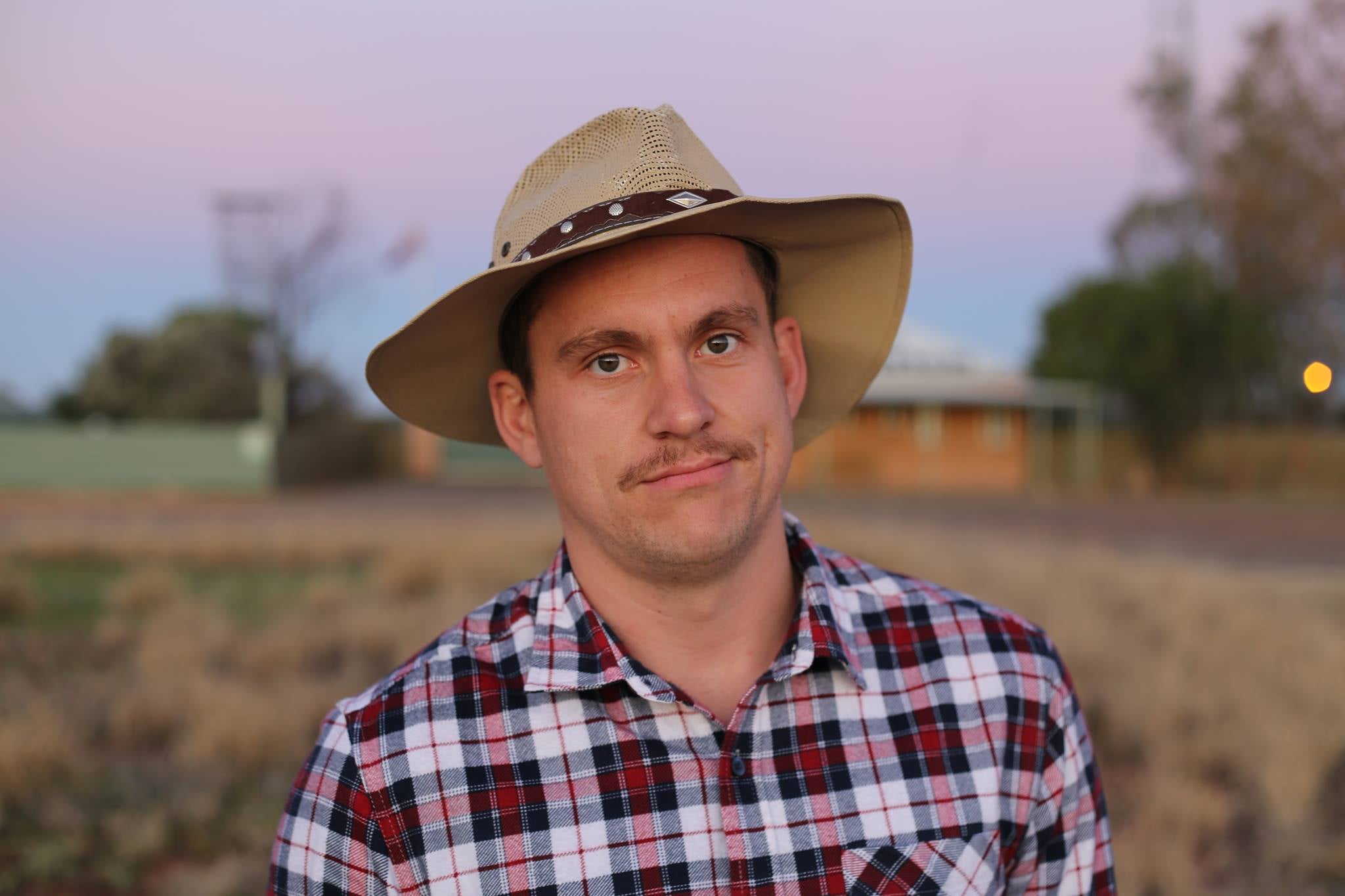 Everybody meet Kyle.
He's an average 26-year-old guy (or bloke, I mean, look at that hat) who plays basketball with the boys and thinks he can play the ukulele. His greatest achievement is eating three large pizzas in one sitting and he has managed to keep a girlfriend for seven years. Last night was the first time he watched The Bachelor, so naturally we thought it would be a good idea to note down his every thought. This is The Bachelor episode three through his eyes. Warning: blokeisms ahead.
As the opening credits roll:
"Now, I have an idea. This show should be about the Bachelor trying to impress 12 chicks, like how it is in real life. I've seen plenty of my single mates on the prowl and this is not how it happens. In real life guys definitely don't have 12 girls obsessed with them, this situation is a dude's dream."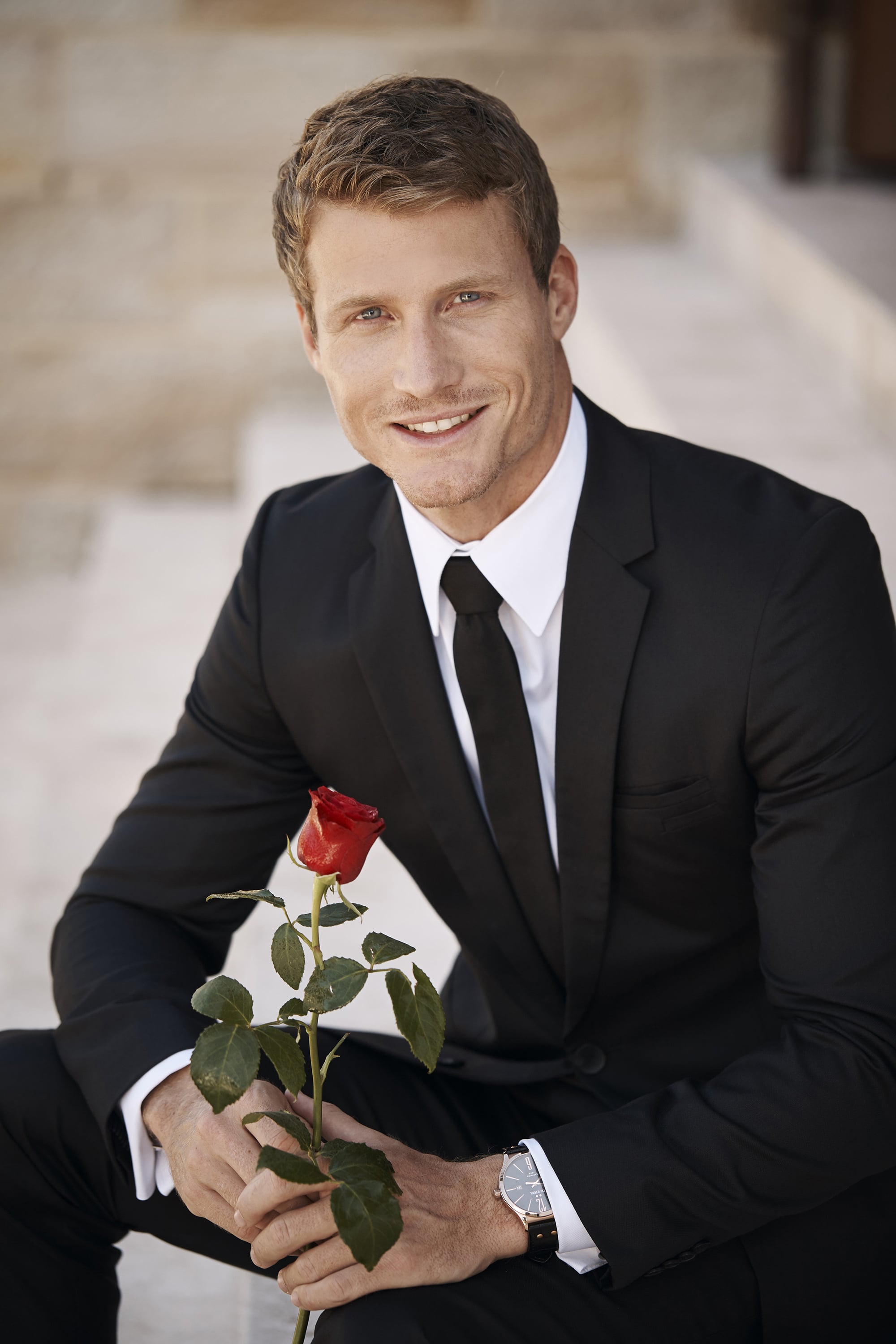 The first time Richie appears on screen:
"He doesn't look like a Richie. He looks like a James who'd be friends with a lot of accountants and guys who play rugby. He wouldn't play though, he'd just go along and watch."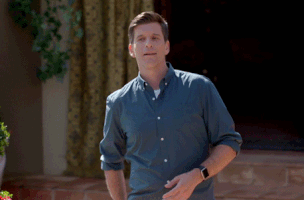 On Osher, when he enters the room:
"Why doesn't he be the Bachelor. Girls love him!"
"He's wearing an Apple Watch and a Fitbit? Good plug!"
"I know so many bachelors and they never get treated like this. Girls would never gaggle over my bachelor friends like this — maybe they need Fitbits?"
The screen cuts to a three-second beach location shot of people surfing:

"Choooob!!!"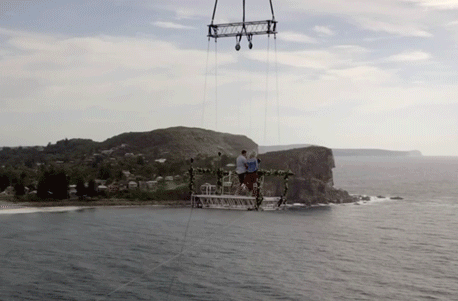 On Richie's high-flying date with Megan:
"Hey, isn't that that girl who was on Neighbours?"

[No.]
"That voodoo child singer, y'know, what's that band?"
[Rogue Traders?]
"Yeah, Natalie Bass-is-late!"
[Bassingthwaighte?]
When Richie and Megan hug for the first time:
"He put his hands out a good five metres to avoid the awkward intro, he's been practicing that — he's got some good early-hug hands. See? He's set the tone early with that move, there shouldn't be any awkwardness from here on."
"Look at Richie's subtle flex! Well done, he has mastered the cheeky flex stance, it makes his arms look big. I've done it hundreds of times. [Stands up to demonstrate.]
When Megan looks surprised to see the date location:
"C'mon, how did she not notice the massive crane?!"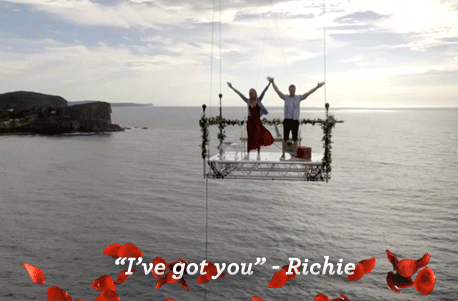 When Richie says, "I've got you. You aren't gonna fall.":
"Yeah right mate, you and the two-tonne cable. Pfft."
"I bet she's regretting wearing that flowy dress."
"Where's the hang-gliding waiter? How did they get the strawberries and juice? They managed to leave that important detail out."
"It's looking awkward up there. He has got to have a question card in his pocket, surely."
"If I was Richie I'd be worried, what if he's got to go to the toilet? Although I'd have no qualms farting. It would be a great place to cart. I've done it hundreds of times."
[Cart?]
"Yeah, veteran guys move, the cough fart?! It would be very risky, especially one-on-one, because if she catches wind there's no one else to blame. It'd be a guaranteed no-roser."
When the group-date envelope arrives:
"Listen to them, they're all woo girls!"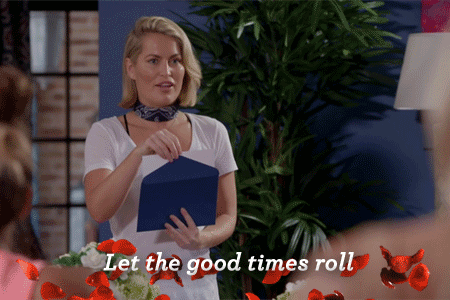 As Keira reads out the details of the date:
"She looks like Lara Bingle's older, jaded sister. Or like those old, rich ladies that sip martinis and judge people . . . actually she's like a young Lucille Bluth from Arrested Development. That neck scarf makes me worried because there might be something she's hiding under there, it implies that she's got a secret, not as in a blemish, but like she might be evil inside. Like in Game of Thrones, she'd take the scarf off and she's actually 1,000 years old."
As each of the names are called out:
"Why are they wooing?!"
"Can they please save the wooing until the end?"
Back to the date with Megan. Richie says, "I like the little things, like texting in the morning to say, 'Hey'.":
"As if. Little things stink."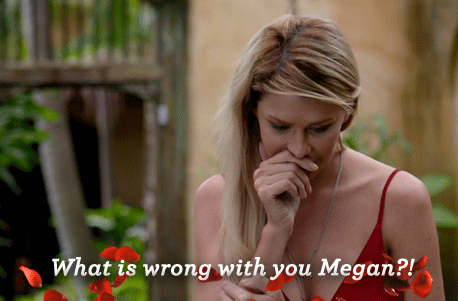 When Megan is talking:
"'Don't look at her boobs, don't look at her boobs, don't look at her boobs,' is what he's saying in his head. I guarantee it!"
"I also guarantee he has no clue what she said then, because I have no idea what she just said then — and I know heaps of words."
"See? That shoes-off thing is good because she's not playing those silly girl games, like wearing high-heeled shoes. That's a silly game."
When Richie says, "It's easy to say a woman looks beautiful, I like to show them that they look beautiful.":

"How do you show a woman she's beautiful, mate?"
During the "almost kiss" between Megan and Richie:
"He put his hand up to be a mad romance dawg, y'know, be a legend and he blew it. Actually, they both blew it, and they knew it. It was a team blowing."
Post-"almost kiss":
"Can she stop yabbering? Just give him a big ol' kiss."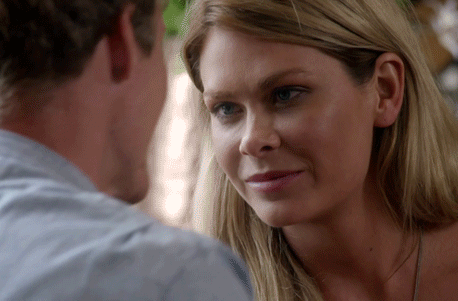 During the actual kiss:
"See? He just had to go for it. Turn the fan on, it's heating up."
Inside the velodrome:
"Stop wooing!"
"I want to have thoughts about Osher's hair but I have no thoughts about Osher's hair."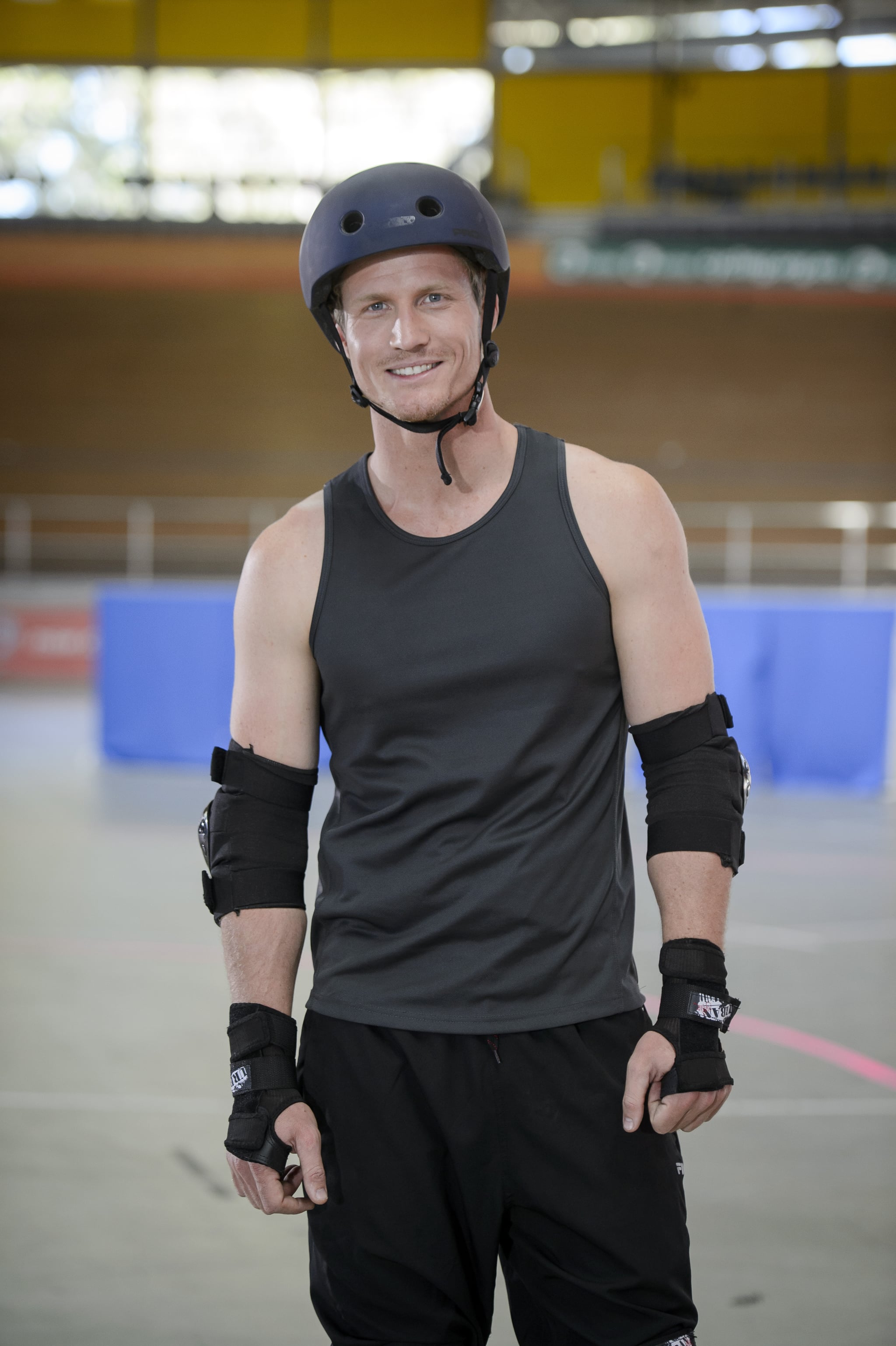 "Richie, mate, ditch all that safety equipment and show them how gnarly you are. Girls dig guys that have no regard for their safety. It's what girls like. They also like a man who can rollerblade, he needs to ditch the skates for blades. A true blader would ditch all safety equipment and get the girl. Every time."
"Why is he wearing a back brace, is he 60?"
"How old is this guy?"
[30]
"That's a fantastic age, he's in the prime of his life."
When Richie skates off to get "the surprise":
"What was that little turn? He should have jumped the barrier!"
"Keira is getting a lot of screen time."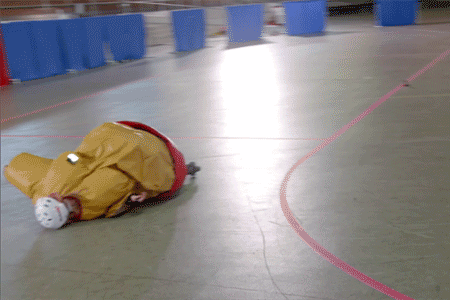 "I want Marja to win."
Camera cuts to her falling:
"Aww, she stinks."
"This scenario is so awkward for him. He's just gotta sit there and pretend to care about this game."
"The only way you could get his attention in this situation is to sneak off and eat wings or chips on the side . . . wings are hot. That would be a good move. It would be better than playing this weird game."
"Keira is getting meaner and meaner as this goes on. She could be the villain."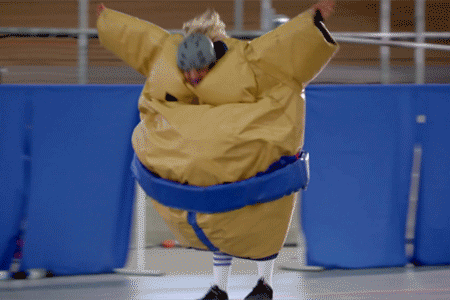 "I think PMS would be a huge advantage in this game."
"I think the bitchiness/competitiveness would be a turn off for me. You just gotta be nice, it's better than being really good in a sumo suit."
During the post-game group date:
"Getting the first shout was the worst thing he could ever do. If this was a real-life situation, that's a horrible shout. He's just drinking a simple beer and they've all got these fancy cocktail drinks. He'd never remember that."
During Richie's chat with Tiffany:
"Go-od vom talk! I don't know if it's legit or if she's trying too hard to be different."
During Richie's chat with Tolyna:
"She looks like she'd be really into horses. She's got crazy eyes."
As Tolyna tries to cut the chat short:
"Ahh, nooo! She blew it! That's worse than vom talk."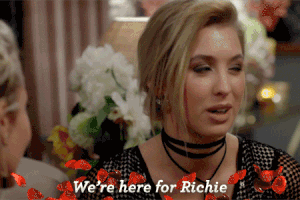 During the cocktail party:
"What's with the neck things?"
"Keira gets more air time than Ol' Thick Hair. Who's that guy again. Tandy?"
[Osher?]
"Oh."
Keira talks about Richie's kiss with Megan, "I don't her want sloppy seconds.":
"Then why did you go on the show with 46 other girls?"
When Richie takes Alex to their secret spot:
"Taking her up to the secret spot isn't a tough decision. Of course you would!"
"Now watch as this blows out of proportion. Girls, hey?"
Camera cuts to Georgia:
"Another neck thing!"
At the Rose Ceremony when Osher announces that three will be eliminated, and the voice-over announces there's triple trouble:
"Trip troub, woof!"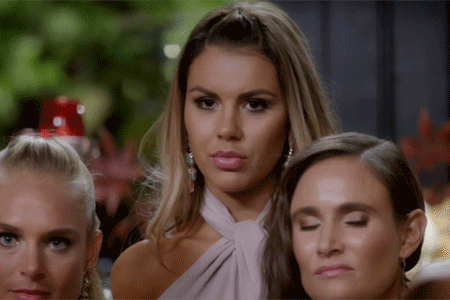 Before Richie gives the first rose:
"Good luck, man!"
"The hardest thing he'd be going through right now would be remembering their names."
When Noni got the first rose:
"Noni?! But she sucked at rollerskating."
When two brunettes received roses in a row:
"Ooo big fella's down with the brown, I see a pattern here."
"Why don't the girls just be themselves and see what happens? They're trying to be what he wants instead of just hanging out, that's gotta be pressure."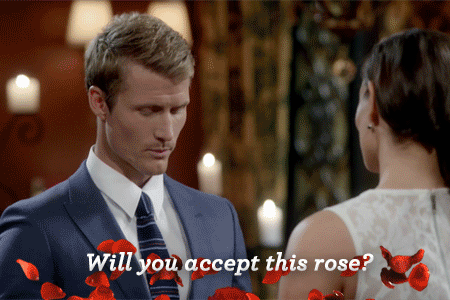 When Eliza receives the last rose:
"Wouldn't she still be mad because she got the last rose? If I picked 10 girls before my girlfriend she wouldn't talk to me for weeks. Trust me."
"Vom girl is gone! That convo is going to haunt her forever. That other girl got no air time at all, of course she's gone."
Janey's piece-to-camera in the car:
"Why doesn't she just get Tinder? Isn't that how you find love these days? I know plenty of bachelors on Tinder. I could hook her up."
During the promo for Thursday night's episode:
"Oh look, they've dressed Keira like Cruella de Vil. Fitting."