The Bachelor 2017 Episode 1 Recap
Holy Sh*t, The Bachelor Is Finally Back! Here's Our Full Recap of Episode 1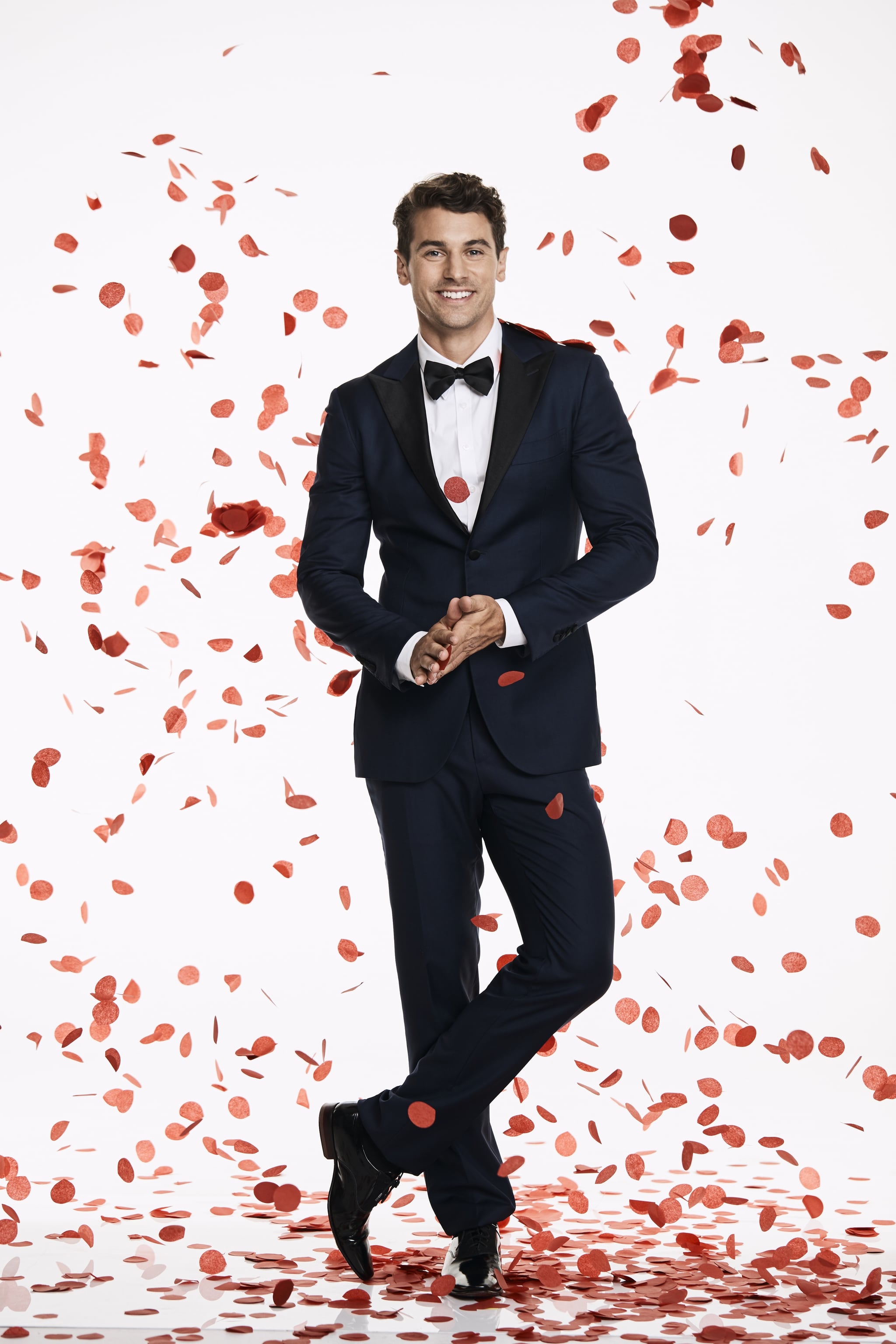 The Bachelor is back and we are here for it — we're live-blogging below, keep reading to stay up to date!
7:32 p.m. Ahhh, Osher's voice, how we've missed thee.

7:33 p.m. We're thinking back to the first time we took notice of Matty J in The Bachelorette. It was when he pointed his toes on the trapeze with Georgia Love! Do you remember? OMG, best.
7:35 p.m. Oh, it's sh*thouse reliving his heartbreak :( Poor Matty. We've loved you all along, buddy. Come to us.
7:36 p.m. HIIII NEPHEWWWW! We love that little guy.
7:40 p.m. There's that "I believe in love at first conversation," comment. Which woman's words will win him over, hmm? WE JUST DON'T KNOW!
7:41 p.m. Can we just say, Matty is BEAUTIFUL in real life. We would probs fall up those stairs at first glance.

7:42 p.m. We got the first "Wow." The first few wows, actually — he met Alix and he seemed into her . . . but also nervous. CUTE.
7:45 p.m. Tara is here now and they are getting along REALLY well. He's checking out the tattoo behind her left ear, so they're getting up close and personal. Then, she calls him mate, he calls her buddy and they're having a laugh as they separate. I think they're nervous so it might not be friend-zoning . . . but it could be?

7:54 p.m. Soooo Laura, the jewellery designer, seems like an immediate frontrunner. She's from Rushcutter's Bay in Sydney (win), she's funny and personable (win) and Matty J's really attracted to her (triple win). He's kind of taken by her! Cobie arrives and is super cute. They suck in helium and talk funny and laugh together but he keeps calling her sweet and "one of a kind" and we're just not sure how to read it.
7:57 p.m. The funniest things that've have happened so far: Matty talking with helium voice and Laura-Ann telling Matty she wants someone "who makes her ovaries tingle."
7:58 p.m. Natalie has arrived and she is CLEARLY the new Eliza.
8:00 p.m. Holy sh*t, I've laughed about 20 times since Natalie's been on. What a loose cannon. She told him she's been Insta-stalking him for six months, lololol. He describes her as "unique" and loved their conversation. Can we just quickly side-note that Matty is doing really well and we reckon people are going to looove him this season.
8:16 p.m. OK, lots of girls have come through and the stand-outs are Lisa and Laura so far. Matty is completely blown away by Lisa. She's followed by Leah, who immediately positions herself as the confident, feather-ruffling sex bomb. We likey?
8:24 p.m. The girls are already a bit taken aback by Leah. She's not going out of her way to be friendly and it is thro-wing them. When Osher arrives, the bachelorettes get super excited, like they've all just realised where they are and what they're doing.
8:27 p.m. Of course, Osher is there to tell the women what's up this time around — there's a secret garden on the property, which is where Matty will invite any girls he's really clicked with. Obviously that's now the goal for the evening. Straight afterwards, Matty asks Laura for a private chat. She's just been elevated to "definite threat" status. Oh, but wait! The lights go off and . . . suddenly there's a fire-thrower in their midst. Elora has arrived! And the women aren't loving it. But Matty looks like he is!
8:39 p.m. Woah, woah, woaaaah! Elora comes back in a sexy silver dress and she immediately walks over to interrupt Matty's chat with Sharlene. He seems not unhappy to be interrupted, and they move away from the crowd to get some privacy. Before long, Jen interrupts them . . . and from here on out, everyone just interrupts everyone.
8:43 p.m. Oh, and here's the drama. Elizabeth (we'll call her Liz) calls Jennifer's dress "putrid." Jen hears her and . . . there are tears. Already. IT'S NIGHT ONE. But the drama turned out to be . . . not so dramatic after all. You can read all about it here. Liz tried to explain herself but Jen didn't want a bar of it.
8:55 p.m. More importantly, MATTY TAKES LISA TO THE SECRET GARDEN. She's gonna win, surely. They chat, they get along, he's dazzled by her. Frontrunner FOR SURE.
9:03 p.m. Jen goes in for the kill for the second time, but it's totally uneventful. Then, they wrap up the chats and Matty walks in to give someone a rose. It goes to . . . Michelle! The cop! That kinda came out of nowhere but we LOVE it. She seems so nice and normal, whereas some of the others seem a little bit too nasty this early in the game.
9:13 p.m. Bloody hell, it's already time for the rose ceremony! Michelle's obviously got the first one . . . then Lisa got one, then Laura, Alix, Elora, Cobie, Elise, Tara, Simone, Laura-Ann, Akoulina, Leah, Florence, Stephanie, Natalie, Belinda, Jennifer, Sharlene, Elizabeth.
9:17 p.m. Poor Monica and Stacey are out on the first night! And that's it for another launch episode! Welcome back, Matty!