The Bachelor 2017 Finale Live Recap and Winner
Every Big Moment From The Bachelor Finale, as It Happened!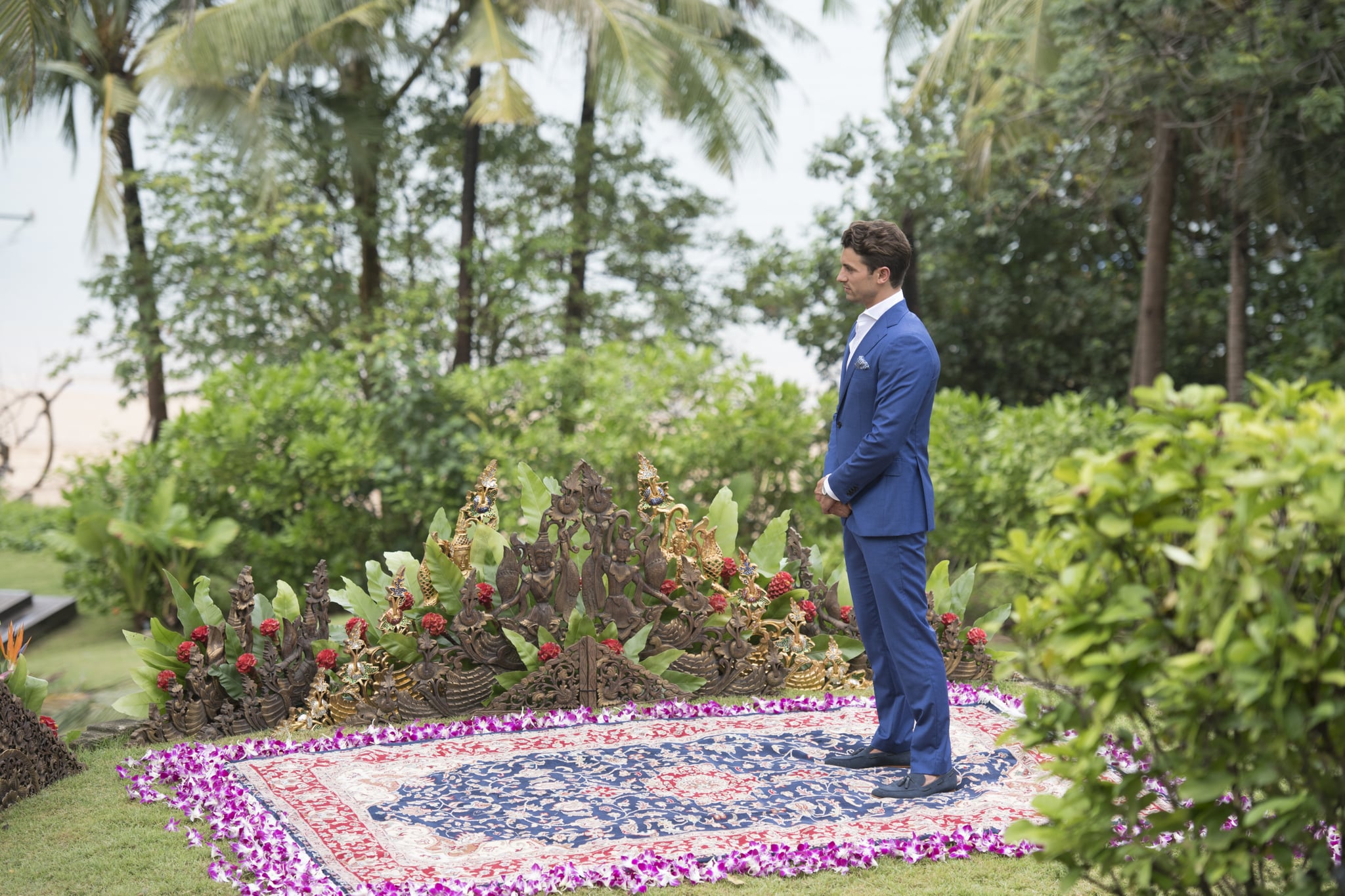 After beginning his journey with 22 women, Matty's search for love came to a close on Thursday night. Want to know what went down? Below are all the biggest moments as they happened.
7:31 p.m. It begins! We are in a beautiful place in Thailand that I cannot pronounce.
7:36 p.m. Laura thinks back about the first night she met Matty and says her feelings have only grown since then. "He makes me feel important and the only girl in the world," she says. She loves his zest for life. Cue plenty of shots of her checking her gate at the airport.
7:38 p.m. Elise says both her and Matty are passionate about the same things and really does feel like she's in love with him. Meanwhile, she enjoys a drink at the lounge.
7:40 p.m. Suddenly, we see Matty on this incredible jetty towards a very lush hotel, and he goes on to see his family! His three brothers and mother are here with him in Thailand. Sadly, no Kate or baby George.
7:41 p.m. Matty's mum says she was worried about him putting himself out there like this again and hopes both girls are "here for the right intentions."
7:44 p.m. First up to meet the family is Elise. They start off with some small talk about travel, and Matty's mum asks her about her hockey background. Matty already can't believe "how well this is going."
7:50 p.m. Tom takes Elise aside for a chat. He asks about her past relationships, why Matty would want to be with her, what she thinks of Laura, whether marriage is on the line . . . Elise says she doesn't fall for people for very often, but Matty and her want the same things in life and share a lot of commonalities. Tom tells the camera he's "sold" from what he's gathered so far.
7:52 p.m. Matty's mum says what we're all thinking, that she's concerned this is all just an "illusion". She asks Elise about her family and is so impressed that the closeness she feels with her mirrors their own. But what about her feelings? Elise tells Matty's mum that IT'S LOVE, MAMA.
7:56 p.m. Matty's mum makes the joke that if Elise and Matty don't work out, she's got three other sons. LOL.
7:58 p.m Next up, Laura, who's very nervous. Matty's mum launches straight into what Laura does for work. Laura launches into a looooong speel about her career history. A little bit of word vomit happening . . . There's lots and lots of "Sorry, I'm so excited."
8:00 p.m. Laura gets asked about her hobbies and freaks out. Who has hobbies? What are hobbies? I totally relate. Her brothers don't think he's fully compatible with her yet, at least from what they've seen . . .
8:05 p.m. One of the brothers pulls Laura aside for a chat and holds nothing back. He goes back to the whole hobbies thing and compares Elise to Laura, referencing Elise's love of the outdoors, camping etc. Laura fires back with a great response and explained that she was just nervous, and that her and Matty are compatible in many other ways.
8:07 p.m. When Laura talks to Matty's mum, she's a lot more calm. "It's been worth the risk," Laura says. Mama J thinks she's very articulate and can sense that she's scared it isn't going to go her way. Laura is on the verge of tears explaining that it's hard because Matty simply cannot say anything back. She's really laying it all out there. You can tell she really cares about him.
8:10 p.m. The Johnsons debrief on the two girls. They're split on their opinions, and both can see why either of them would be a good match for Matty. SO HELPFUL.
8:12 p.m. Side note: Is Mama J media trained? She's nailing this.
8:22 p.m. Both of the girls have one last single date to win Matty's heart. Elise is first. They're on a cruise ship sailing through the Andaman Sea, with plenty of amazing limestone cliffs around them. Elise tells Matty about her chat with his mum. "She asked me if I love her son," Elise said. "I was like, yeah, I do!" BOOM. There's our first L-Bomb of the night.
8:24 p.m. Elise says she's super proud of herself that she's managed to open up to Matty. The fact that this could be the last time she's together with Matty begins to weigh on her mind. Matty cannot get enough of her honesty and how lucky he's been to find someone so much like him.
8:32 p.m. It's Laura's turn! They go on a chopper ride over some incredibly picturesque scenery.
8:35 p.m. They go to an elephant camp and get up close and personal with an elephant called Fasai(?). I'm not gunna lie, this is a pretty great date. I mean, ELEPHANTS.
8:39 p.m. They go from washing an elephant to taking a ride on a Thai gondola. It starts raining, Notebook-style. Laura is literally laughing at every single one of Matty's statements and having the best time ever. "I just adore him, and I want him to know that."
8:41 p.m. Laura tells him that he manages to surprise her every single time. "I want this to be the beginning of this," she says. "That's what I really want." At this point, she doesn't care if she gets heartbroken. She admits that she's in love with him, even though it is completely petrifying.
8:44 p.m. Laura starts crying mid-way through her piece to camera and the fourth wall is broken once again. We hear the producers ask, "You okay?"
8:50 p.m. We're almost at the final reveal! The girls are getting ready and will soon step into their respective water taxis. Of course, for good measure, we get shots of Matty getting dressed, too.
8:52 p.m. Laura is dressed in white while Elise is in a metallic strapless number. Could this be a sign?!
8:54 p.m. Matty tells Osher he is "in love right now"!
8:59 p.m. Elise is the first one to exit her water taxi (!!!!!!). Our hearts are already hurting for her. UGH.
9:01 p.m. Matty is looking crushed. Elise can't stop talking about how in love she is with him on her way up to meet him. Matty tells her that the more he has gotten to know her, the more he's realised how much they have in common. "We have come so far in such a short time, and that's because every time we're together, you've been so genuine. You are so worthy of being happy and finding true love, but I am so sorry that it's not with me." OMG.
9:03 p.m. Elise looks so crestfallen. Matty says he hopes that she understands. She says, "I do." She thanks him for the journey. WE ARE WEEPING.
9:05 p.m. We see a shot of Elise literally squatting down by the stairs, trying to gather herself. "I feel sad because I lost something that makes me happy." She says she's confused as to whether it was worth it. My heart is breaking.
9:07 p.m. Ergh, Elise's run has exactly mirrored Matty's own. Both started as the underdog, and came so close.
9:13 p.m. Laura is walking up to Matty and he literally cannot wipe the smile of his face. "I didn't really know what to expect when I decided to come back here. I didn't know if I'd fall in love again and if anyone would fall in love with me," he says. "I've replayed this moment in my mind so many times, and it's really hard to get the right words out. I think about you every single day, the only way I can describe how I feel towards you is, Laura, I love you. I think you are so perfect." She starts crying and says, "I was so ready for you to break my heart."
9:16 p.m. He gives her a ring for her right hand as a sign of how much he cares about her. Congrats to Matty and Laura!