The Bachelor Australia 2015 Episode 7 Recap: Jasmin Leaves
The Bachelor Episode 7: Another Kiss, Some Side-Eye and One Smooth Sam Wood
It's our favourite time of week again and as we farewell another woman from season three of The Bachelor, we're realising how fast it's going. Can you believe we're down to nine girls from the original 19?! Bachelor Sam Wood certainly has his favourites ('ello, Heather) but there was no telling which way he'll go in the seventh episode of the season. Scroll to get up to speed!
Opening question: Is it even worth watching if Jacinda's not there? She was so adorable, and funny. Why, Sam? Why.
The preview shows us it's finally time for Emily's first date with Sam. This is going to be great. Finally we'll get to see a bit more of her in the right light. The girls are all sitting around in the lounge when Osher walks in with a date card. Emily reiterates that she never approaches a man — "If he's not interested in me then I don't want to be with him anyway." LOVE IT.
Sarah's reading out the date card. I like the way she speaks, it's purposeful.
We already know Emily's getting the date (thanx, preview) so there's no suspense here. But Emily's reaction makes it all worthwhile . . . Mainly because she doesn't have one. LOLOL. I mean, she smiles, but then she plays it cool. We like this girl.
Nina on Emily's reaction: "Emily seemed . . . Not really moved by it." Time for the date and, yep, you guessed it: they're near water. Lucky we live on the coast here in Sydney, Bachelor Sam would have no date ideas up his sleeve if we had no waterways.
Cut to Heather. "I would love to be a fly on the wall at that date and see if she's as particular with him as she is with us," she says. Would she? Really?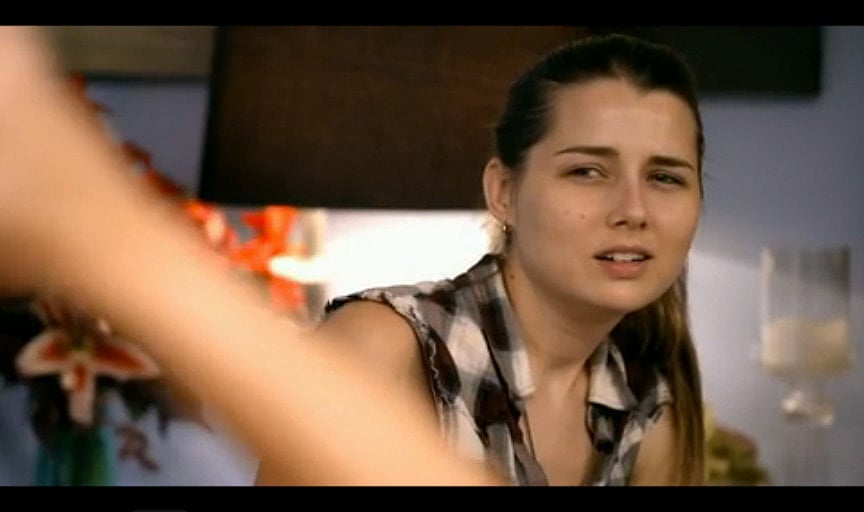 Nina and Heather are wondering if Emily's a princess or just "really proper." "A princess," says Nina, with all the confidence in the world.
Emily and Sam are going on a treasure hunt, which incorporates stand-up paddleboarding and some cute clues. And GUESS WHAT? She uncovers the first piece of jewellery of the season! It's a beautiful diamond bracelet and Emily looks very pleased. Also, it's 15 times too big for her but oh wells. 
Sam's take on Emily's reaction is kinda funny, in a "should she be offended?" way: "It was a really special moment," he says. "Once she saw the bracelet Emily had a big smile, her face definitely lit up and she seemed to come to life." Most girls like jewellery, OK Sam? Let the poor girl live.
Back at the house, Jasmin's making sorta snarky comments as per usual. Bec thinks Emily has a real physical chemistry with Sam, just the way Snezana does. NOTE: We like it much better when the girls say nice things about each other in this show.
Snezana whips out a yellow date card — group date, obvs — and proceeds to tantalise the group with who will be going on the date. The card's clue "Let's live the simple life" leads the girls to thinking they're going to milk cows or something similar. It's here we learn something fantastic: Jasmin doesn't like animals. She also doesn't like bad smells or not being able to wear heels so . . . Things don't look good for Jasmin. She looks physically sick, actually. As for who's going on the date, Snez reads out:
Ebru
Heather
Sarah
Snezana
Jasmin
Bec
and Nina
Oh wait, so it's all of them. This WILL be interesting.
"Bring on a day in the country, that's where I belong," says Heather. GAME ON, GIRLS.
Back to Sam and Emily, and they're still getting cosy on the beach together. Ooooh, romance. "I'm really attracted to you and you're incredibly beautiful," Sam gushes. We think he might be into her looks? Not sure.
Sam dives straight in with a "Did you think you'd be married by now?" question. HOLD UP, SAMUEL. Cool it on the jets. They're bonding over a shared situation, what with all their own pregnant/married/loved-up friends.
He's struggling to get to Emily's core . . . She's holding off more than the other girls but she can because he's so much more into her than the other girls he's been on dates with lately. Ie, Madeleine and Sandra. Repeat: SO into her. Out comes the red rose — Emily's safe for another round of rose ceremonies! No surprises here, he's a smitten kitten. They kiss (no tongue, you voyeurists) and then Emily reminds us she has both the bracelet and a rose, which is making her nervous about facing some of the other bachelorettes.
Meanwhile, the girls are headed out to Wilberforce for their group date. They rock up at The Australiana Pioneer Village (the sh*t you learn about our home city on this show . . . ) which is ca-ute. Also cute: Sam in a flannel shirt.
Sam tells the girls he grew up in a shack with an outside dunny. Pretttty different to the Bachelor mansion, eh?
First activity: apple bobbing. This is the funniest thing we've ever seen.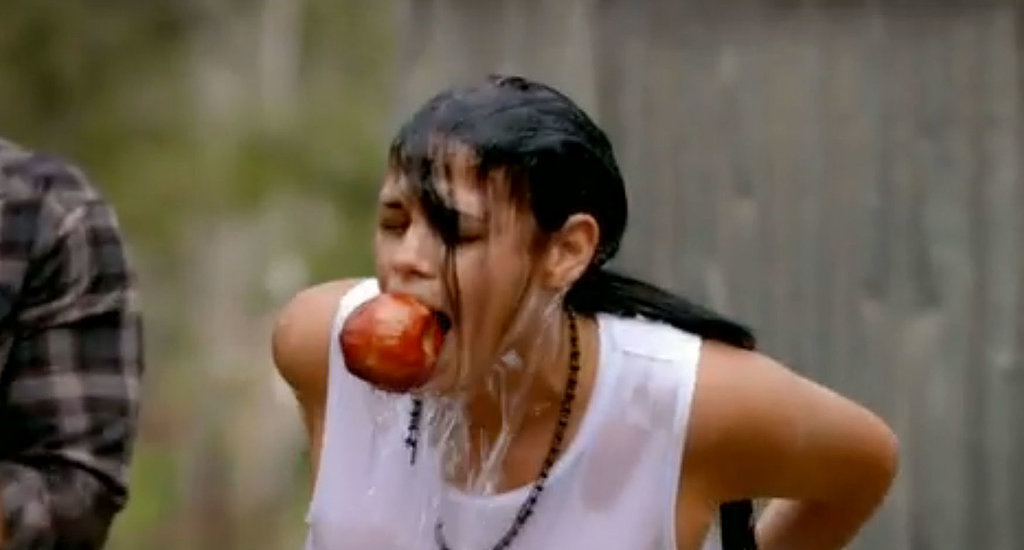 Heather wins the apple-bobbing game and says, "Turns out I'm the king of bobbing." Looks to camera. "That sounds dirty." *Wink* Well played, girl.
Now Heather gets "a victory chat" with Sam. "Happy that I won?" Heather asks. "I am," Sam replies. "Really?" presses Heather. "Yeah, gives me a chance to pull you away," Sam replies. OH, YOU TWO DEVILS. They're making homemade lemonade together which is very wholesome and sweet. Sam points out that they have great banter and they do — there's also some hardcore flirting going on.
Next stage of the date involves some sheep and the rounding up of them. YAAAS Jasmin is dying inside and Sam picks up on her lack of enthusiasm. Remove one point from Jasmin's tally.
Nina mentions that she's cold and literally before she's even finished her sentence Sam is unbuttoning his flanno to give to her, revealing ripped arms and a serious case for chivalry not being dead. Smooth.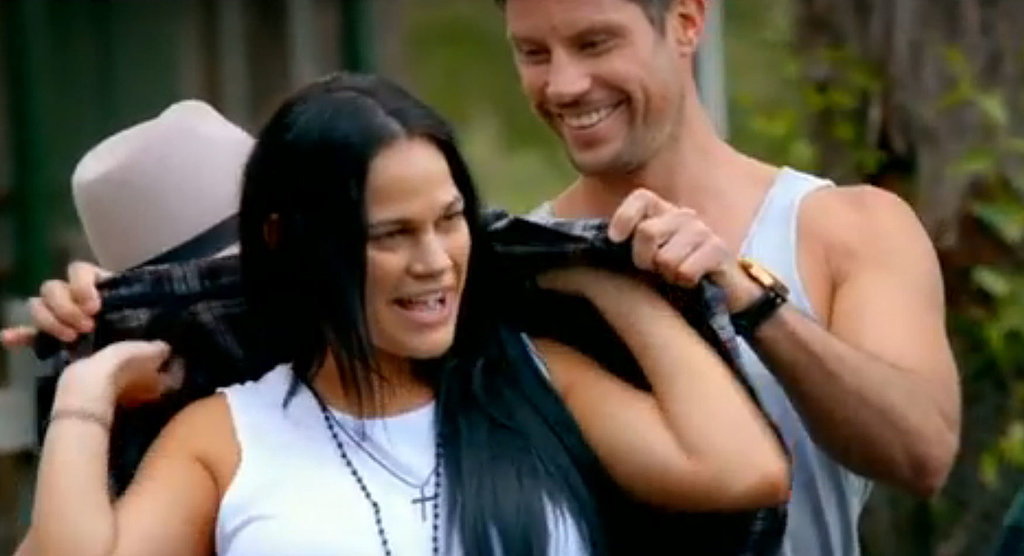 The girls have to catch a sheep and get it down on the ground. Bec nails it and hilariously quips that she's found her calling. We're starting to see her as the new Chantal from last year, whom we loved. Clever, funny, provides great commentary.
Sam has never looked manlier than when he wrestles the sheep to the floor. Never.
BARN DANCE TIME! The hall is adorable, is it available for weddings? Jasmin is more in her element here because she's a trained dancer. She's come alive a little bit and is busting some serious country-and-western moves.
HANG ABOUT. WHERE IS EMILY IN ALL THIS? Alone in the mansion? Surely not. 
Woah. So, they're all dancing and laughing and suddenly Sam grabs Heather and says, "I'm going to get some fresh air, wanna come?" They walk away holding hands and the mood in the room could not have dropped any faster. It seemed a bit weird, actually. Not Sam's smoothest moment. Jasmin is most upset . . . and she's very vocal about it. The girls are all discussing the fact that he's pulled Heather aside for a second time. Even Heather's surprised by it, but we know that he's pretty crazy about her.
Sam and Heather are having a deep and meaningful about each other's feelings and, at the end, Heather thanks him for talking to her. He tells her not to thank him because she's making it sound like talking to her is a chore. "It's not a chore," he says. "It's an absolute pleasure."
"He asked me to stop apoligising for my existence," Heather elaborates. "And that is a really big one for me. It's one of my biggest obstacles, feeling like I'm always in the way. My whole life." Oh, Heather. That's actually really sad to hear. Sam is really stepping up here, he may have just tipped the scales with this scene. He's very, very lovely.
Time for Sam to have a chat with Sarah, who we haven't seen nearly enough of since her first date with Sam. She mentions it's a combination of wine and being nervous that's making her a bit flustered, which she certainly seems. He's sitting with her body turned completely to him, knees touching, he's holding her hand . . . And we're reminded how damn crazy this show is. He was all over Heather a minute ago! Sheesh. He ends the conversation pretty suddenly . . . Doesn't seem like he's feeling it?
Heather tells Nina she needs to approach Sam because she's an awesome girl and deserves to be there, fighting for the guy Heather herself is interested in. Again. This show.
Sam grabs Snezana for a chat and Nina sums up what we're thinking: "It seems that it's always the same girls getting pulled away." Truth. Heather, Snez, Sarah. The only three he's really connected with.
In his chat with Sarah, she did most of the talking and questioning. In the chat with Snez, he's asking all the questions. It's a bit of role reversal — Snez seems to have the power here because Sam's reeeally into her.
He tells her there's such a good physical connection that they don't need to rush into their emotional connection. He totally seems to be more into her than she is him. KISSING! THEY'RE KISSING! On a group date, uh oh. Sam literally couldn't wait.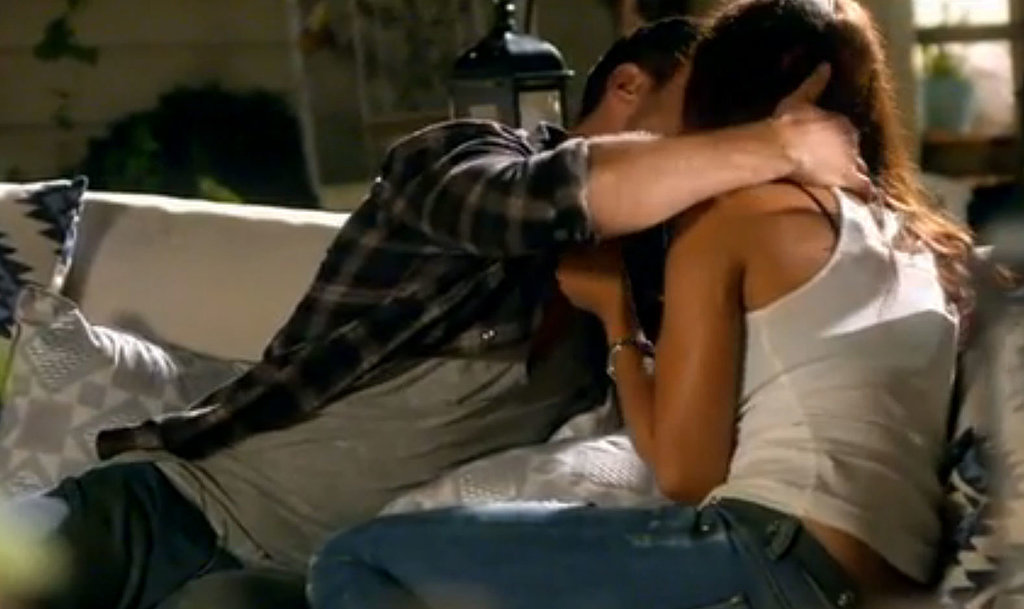 "Sometimes we don't need stupid words in our vocabulary," Sam says to Snez. "Sometimes you should just do this." KISSYKISSYKISSY. Boom! Nailed it, Sam. "I've been wanting to do that for ages," he says.
QUESTION: WHAT ABOUT HEATHER? Ughhhhh.
Sam says about Snez, "It feels right, it feels easy . . . And when we're apart I can't wait to see her. I think that's a pretty strong sign that you can't ignore." Indeed.
Time for the rose ceremony! Only nine girls remain from the original 19 . . . It feels like it's moving so fast.
Here's who gets a rose:
Emily got the first one on her date, of course.
Sarah
Bec
Ebru
Snezana
Heather
Rachel
Nina
Poor Jasmin is left without a rose and WE are left without entertainment for the next 22.5 hours. Rude. Tune in for episode eight at 7:30 p.m. Thursday on Network Ten!