The Bachelor Australia Episode 11 Recap
Episode 11 of The Bachelor: Why Does Sam Walk Out?!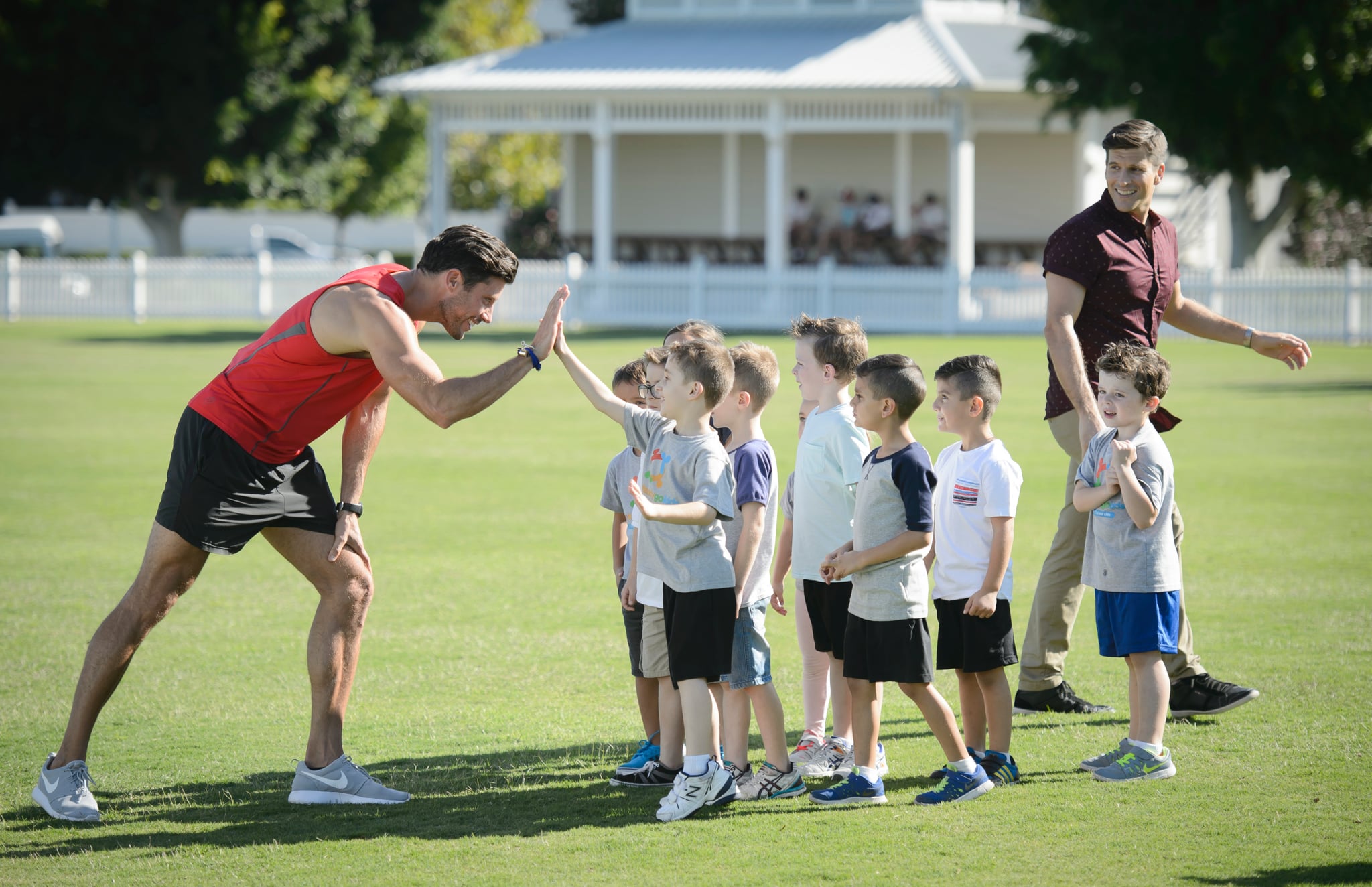 It's that time of week again and we are pumped — tonight's episode of The Bachelor looks like it's going to be a doozy! From the promos, we've seen that the girls and Sam head out on a sporty group date with kids and, later, Sam leaves the rose ceremony room in a rare moment of indecisiveness. What else goes down? Scroll for every detail!
We join the girls as they sit around the lounge mourning Ebru's departure. As he so loves to do, Osher surprises them with a dramatic entrance — he's so good at those! — and drops off a date card. The girls think it'll be a single date; Rachel lets them all know it's a group date involving Lana, herself, Snez, Heather, Nina and Sarah — all of them, then.
The girls head to an oval where a very buff Sam is waiting for them. Arm candy indeed! Treats for everyone. They're joined by a group of kids, and Sam's going to show the girls what his real-life job as a kids personal trainer is like. He's very good with children so obviously everyone's ovaries are on high alert.
Snez is nailing it 'cause she's a mum . . . but she's also a really sweet-natured person, so it seems like dealing with cute kids comes totally naturally to her. Watching Sarah with the kids, on the other hand, is SO. LOL. They're completely ignoring her, the poor thing. Heather's turn teaching the kids a sport is equally hilarious — she says, "Kids can be such jerks but they're so cool." Hahaha.
LOL, the kid with the glasses who threw himself on the ground during the soccer game. Our spirit animal! We've found you.
All we know from this whole group date is that we never want to be a kids personal trainer.
Sam, on the other hand, is a dream with children. They bloody love him! It's cute. You know who else loves him? Heather. She's frothing over the sight of Sam with children and it's pretty cute to see.
Lana, Nina and Snez are the biggest hits with this kids, which gives them legit brownie points in Sam's eyes. It's clear that one of those three women will get the next solo date — Snez really thinks Nina deserves it, which she does considering she's only had one date with him so far.
Date card! From the promos, we know it's Lana, which is kinda awkies for Nina. Poor Nina :( That's gotta sting.
Lana looks super cute in her blue patterned shorts and white tank. And Sam really likes her eyes. You'll all be relieved to know that this date does include water, as we've come to expect. Phew.
Sam and Lana are going parasailing, which looks like mad fun. Someone take us parasailing plzzz.
Sam just listed a bunch of Lana's traits and accomplishments. Then he tells her she has such beautiful eyes (again). He loves her. "It's like she's come out of nowhere," he says. "Who knows? We could be the ones who end up together at this really late stage of the game." Ooooooooh. Gosh!
Poor Nina is really upset about the fact that Sam chose Lana for the solo date. She feels like her opportunity with Sam has been stolen "by an intruder" and you can totally see how it would feel like that. But at the same time, Lana deserves the opportunity as well. Tricky situation, and we're glad we're not in Sam's shoes right now.
Oooh this is so romantic! Sam's taken her to Daniel San in Manly, where singer Jamie Lawson gives them a private performance of his hit song, "Wasn't Expecting That." It's super romantic and Sam and Lana slow dance in the breeze. Like, this is Nicholas Sparks stuff, you guys.
Sam mentions that Lana speaks fluent Spanish . . . again. He's certainly impressed by how cultured and worldly she is. Sam asks her how her friends would like him which kind of seems to be a BIG question. He's obviously thinking about a potential future with her. I don't recall him asking Heather or Snez that, but we could've missed it. She's got a rooooose!!
Cocktail party vibes be SOUR. Wait 'til Lana walks in with a rose, shieeet. There's literally silence in the room when Lana walks in. Nina's. Face. Is. Stone.
It would be tough seeing someone who's been there for a week already getting a rose BUT it's not exactly Lana's fault, is it? A connection is a connection.
Sam walks into the cocktail party room and instantly feels the tension — he pulls Sarah out for a bit of a catch-up, which is a good call. They rekindle their flame a little bit, which is nice 'cause we likey Sarah.
He takes Nina (who's so obviously hurting) for a chat but we don't get to see what they chat about so we go into the rose ceremony without really knowing how he feels.
Lana's got the first rose obviously, but who will get the remaining four roses? Sam addresses the girls and reminds them that this is a big deal for him. He's here to find the love of his life so he isn't messing around with them or their feelings.
Heather gets the second rose.
Snezana gets the third rose.
Sam starts getting sweaty (not metaphorically, literally). He pulls the second last rose off the platter but he kind of looks like he's going to pass out. He puts the rose back and tells the girls he needs a moment. He walks out of the room and, TBH, we're as confused as the bachelorettes are!
Sam rushes to find Osher in the house and spills his heart out. We're not sure what he's confused about, because he mentions that he hardly knows Rachel but has spent a lot of time with Nina and Sarah. It seems kind of odd that he's not saying sayonara to Rachel, but maybe he feels something for her?
Sam walks in and — gasp! — gives all three girls a rose. No offense, but we'd have thought Sarah ranked higher than the other two at this stage? Finding it odd that he didn't send her straight through.
And that's it! This show, siiiigh. It keeps us on our toes, that's for sure!