The Bachelor Australia Episode 15 Recap
Last Night's Rose Ceremony Took An Unexpected Turn When Brooke Walked Out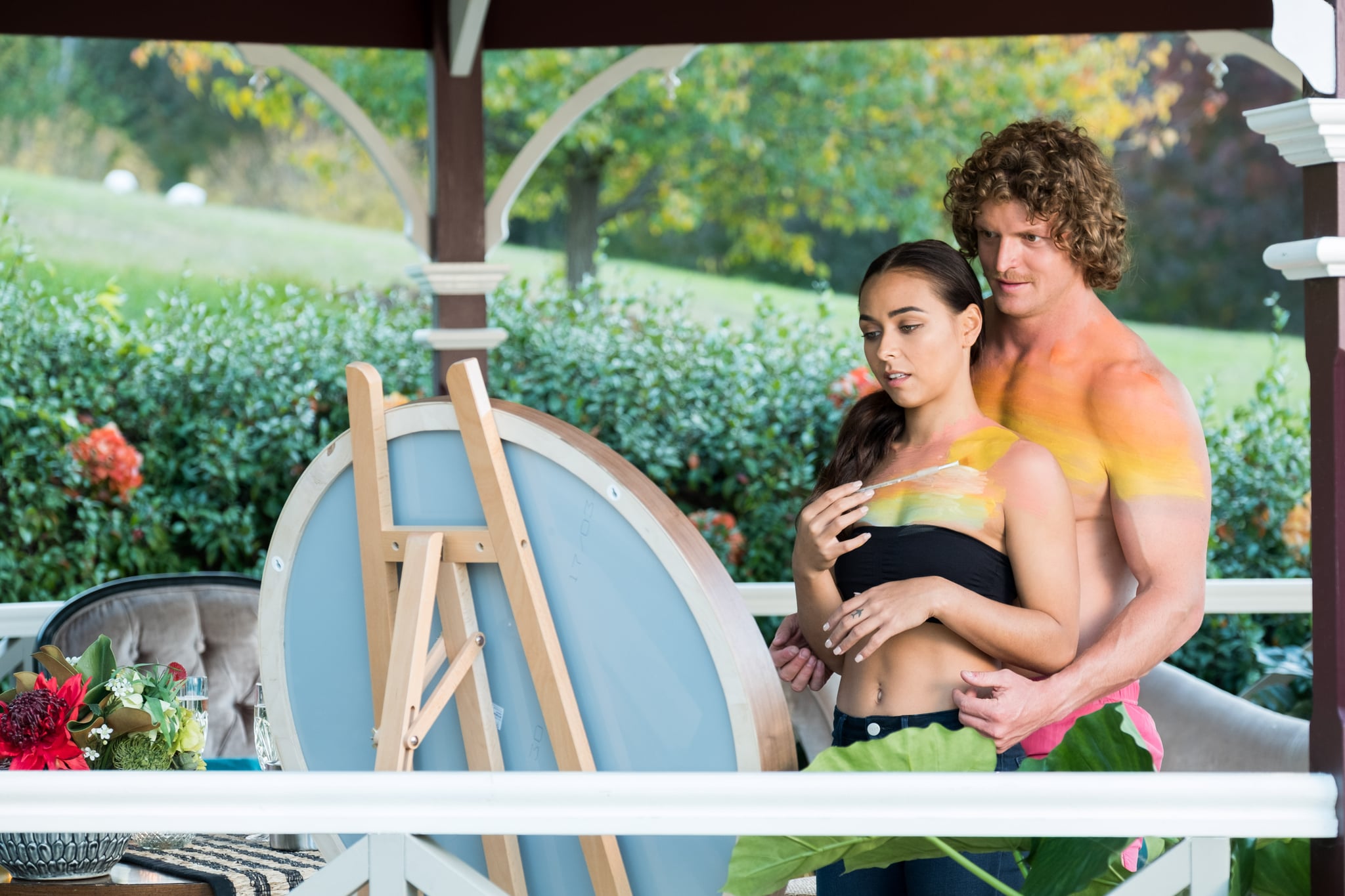 Last night's episode of The Bachelor officially marked the second last episode of the season and with the final three bachelorettes putting their hearts on the line, and emotions were running high. During what could have been their final single date with Nick, Sophie, Britt and Brooke all felt the pressure to express their feelings in one last bid to make an impression on the man of their dreams.
Sophie scored the first single date of the night and what a date it was. Forget the romance though, this one was all about the challenge. When the pair arrived on the tarmac hand in hand and surrounded by small planes clearly labelled 'Skydiving', it took Sophie sometime to realise they were in fact going skydiving. Cue the panic. Ascending into the sky, both overcome by nerves, the pair sat and waited praying for a happy ending. But just as Nick was about to take the plunge, the weather conditions took a turn preventing them from jumping. Phew! Nice one, Nick, we see what you did there. But for the the normally closed off Sophie, it was the next part of the date that had her feeling the most nervous. Knowing she had to confess her feelings to Nick if it meant sticking around, the 25-year-old somehow found the courage to open up admitting she was falling for Nick (I mean, you'd hope so at this point of the competition).
On the contrary, the always confident Britt has had no issue speaking her mind when it comes to her feelings. We saw it last week when she questioned Nick and Cassie about their past relationship and again this week when she sought more clarity on the matter. Clearly satisfied with Nick's explanation, Britt told Nick she was 'all in' as to solidify her feelings and commitment to him. It must have been the Messina ice cream truck Nick appeared in at the start of their date because, I mean, who doesn't like ice cream?
From jumping out of planes, to scenic walks, it was Brooke's final date that really heated things up. Remember that really intimate date that had Nick and Brooke stare into each other's eyes describing each other to a sketch artist? Yeah, forget that. This steamy date involved half naked body painting, a lot of kissing and a steamy hot shower . . . together . . . with lots of kissing and touching. Whoa! But when things began to get real, the teary eyed Brooke pleaded with Nick to reveal how he felt towards her. Desperate for some reassurance that she was the favourite girlfriend of the three, Brooke was left uncertain and emotional when Nick couldn't give her a straight answer.
In a shocking and unpredictable rose ceremony, the remaining three women stood patiently waiting for Nick when Brooke abruptly walked outside where she was quickly met by Osher. "Do you know where Nick is?", she asked with panic in her voice. Finally meeting with Nick she puts her feelings on the line one more time and proceeded to question Nick about the direction of their relationship trying once more to get the reassurance she felt she needed. "I need a guy who knows what he wants, and that's me", she declared. You tell him Brooke! "I need answers and I'm not getting them from you," to which Nick answered,"I need more time but I can't right now", and to that Brooke made the decision to walk away knowing she could not stay feeling the way she did. Nick, devastated and silenced, walked her to the car car where they shared a few final words and their final hug goodbye.
With Brooke now gone (sad face), Brittany and Sophie are left but with real feelings now on the line, we will never know who The Bachelor would have sent home in last night's rose ceremony if Brooke hadn't decided to leave. Was it meant to be? Tonight's finale will no doubt reveal where Nick's heart lies.