The Bachelorette 2018 Episode One Live Blog Recap
The Bachelorette Has Kicked Off, and Here's Every Major Moment From Episode One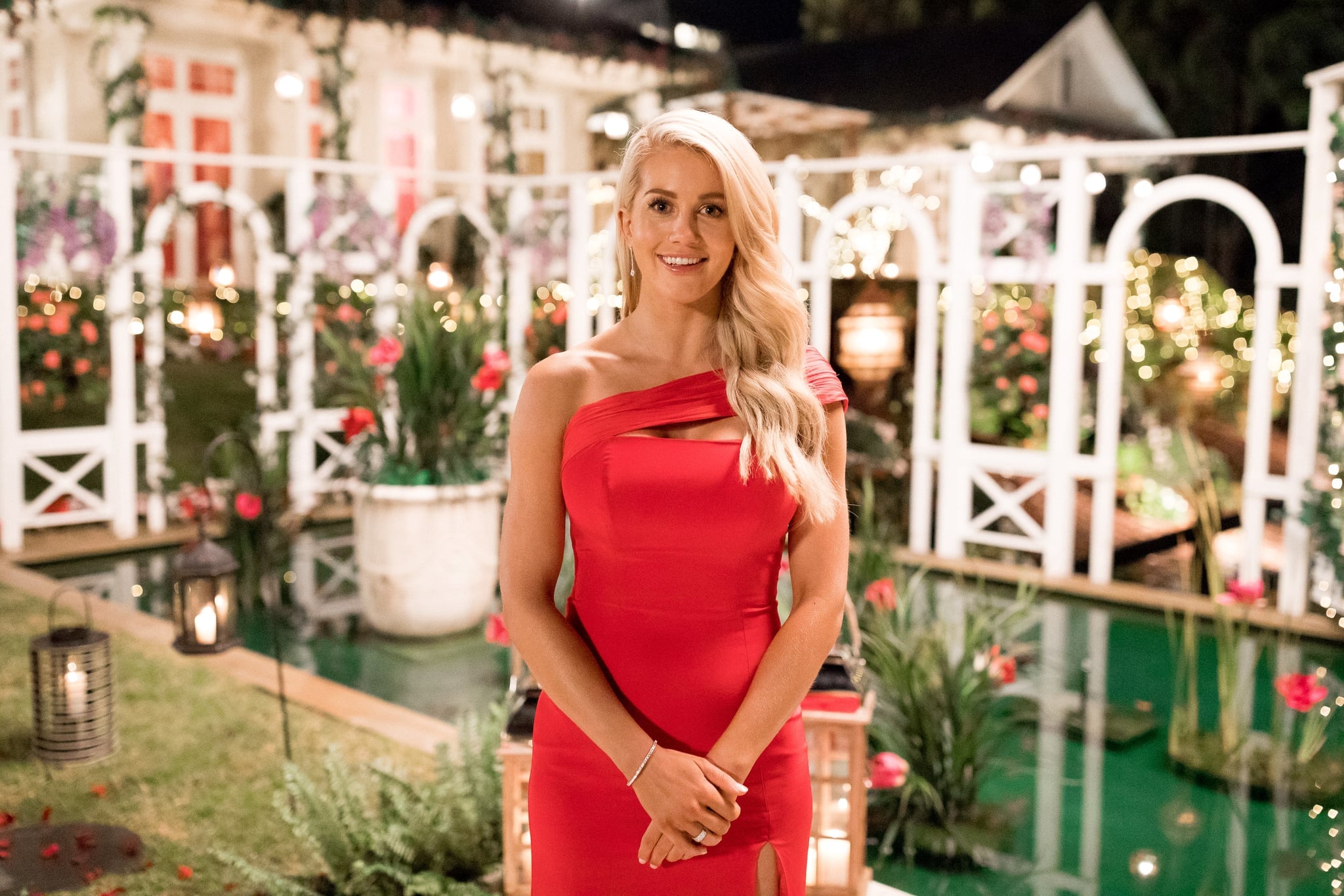 It's hard to believe it's that time of year again, but we've made it to the season premiere of The Bachelorette 2018. This year's leading lady is none other than Ali Oetjen, the first person to truly get her heart broken by a Bachelor in Aussie Bachie history. This season marks her third appearance on the franchise, and fingers crossed it will be third time lucky for her. Let's get ready to meet the 18 new contestants, who will no doubt bring the drama, the LOLs and most importantly of all, (hopefully) the love. Here's how it all went down.
7:32 p.m OMG, it's here! We start with a montage of Ali having her heart broken by Tim back in 2013. It may have been five years ago, but it still hurts to watch.
7:35 p.m Next, we are shown a flash-forward preview of the end of the season with the final two, where we see Ali crying. It's far too soon for this amount of drama, we haven't even gotten over the end of Honey Badger's season yet!
7:38 p.m Ali says she wants to take falling in love slowly this time, and she doesn't want to go after the bad boy anymore. I definitely wouldn't call Tim a bad boy, but her most recent Bachie love, Grant? Well, no comment.
7:39 p.m "I know I'm a strong woman who deserves love," says Ali. Yas Queen, a mantra we should all live by.
7:40 p.m Suddenly, the men have arrived! Charlie is the first cab off the rank, and we already know from the previews that he's a 10/10 front runner. We also know from the romantic music playing in the background RN.
7:41 p.m He presents her with a journal, and says he hopes to "have his name written on each and every page." Bit presumptuous I would have thought, but Ali says she has goosebumps.
7:49 p.m Next we have Robert, who, fun fact, dated Carly from this year's season of Married at First Sight. One of life's simple pleasures is when reality TV worlds collide. Ali calls him a "stallion." Not to his face, which is probably lucky. She does hand feed him tomatoes though, which he seems to dig.
7:51 p.m Uh oh, is that the designated villain music I hear? Just like the front runners, you can always tell who the villains will be by the soundtrack used for their entrance. His name is Nathan, and he's actually the youngest Bachelorette contestant ever, at 23. He can't wait to "party." An interesting motivation for entering you know, a dating show.

7:53 p.m Next we meet Bill. Oh wait, not Bill, apparently? He's about to tell Ali what name he was actually born with . . . and then we're hit with an ad break. Wouldn't be a Bachie premiere without a dramatic cliffhanger!
8:00 p.m "I was born David, but ever since I could remember, I've been known as Bill." Shortly after that statement, Bill/David follows up with "why the f*ck did I say that?" Ahh, the nervous word vomit feels. I can relate.
8:01 p.m The next few people to arrive are hit with the dreaded montage. In all of Australian Bach history, no one who has ever had their first meet and greet shown in a montage has won the show. So, maybe don't invest too heavily in any of these guys, sorry!
8:03 p.m Next up Paddy, who kinda doesn't let Ali get a word in edge-ways. It could just be nervous word vom as well, to be fair, but he ends with "are you looking at my bum?" Hmmm.
8:06 p.m Paddy has only been in the mansion approximately 0.25 seconds and has already made about three enemies, who don't appreciate his bragging and forwardness. I sense some drama a brewin'.
8:08 p.m Next we have Dan. Dan with the lamb. Anyone who brings an animal is a huge tick in my book, and it worked for Lee back in Georgia's season!
8:10 p.m Next up is Pete. "Everyone knows I love a nice ass," he says. Ahh, good to know chivalry isn't dead.
8:17 p.m We're back from an ad break, and transported back to Medieval times. "Well it's about time your knight in shining armour arrived," says the knight, also known as Todd. Ali certainly seems impressed. Todd's hoping this will be their fairy tale. Well, he's off to a flying start with the costume.
8:21 p.m Meanwhile, Paddy is going rogue and yelling out fairly incoherent and mildly offensive things at the cocktail party, seemingly into the void. "We're not on a footy trip Paddy, we're here to find love." Sage advice from Dan.
8:22 p.m Shh, Osher is here! Is it weird I'm always as excited for Osher's entrance as I am the contestants'?
8:23 p.m Osher reveals what the magic power of the 'wild rose' is this year. It's the ability to swap yourself into someone else's single date, essentially stealing it from them. Basically, it's a way of encouraging bulk drama. Keen!
8:25 p.m Ali makes her grand entrance, and proposes a toast to the chance of falling in love. Cheers to that!
8:32 p.m Bill/David really wants to "redeem" himself for his nervous rambling earlier, in the hopes of receiving the wild rose. He goes to approach Ali, but someone else swoops in first. It's a dog—eat—dog world out there.
8:35 p.m Nathan has his chat with Ali interrupted by Paddy. It seems like he might have messed with the wrong guy. Pete says he thinks Paddy knowing Nathan was complaining about him interrupting will lead to some "pretty good entertainment." Look, I have to agree with that one.
8:37 p.m Paddy and Nathan square off, which is juxtaposed with Ali telling Dan how genuine and gentlemanly all the guys are. Nathan begins to push Paddy away from him, but luckily some of the other blokes intervene before it turns into a full on biffo.
8:43 p.m We return to the show after the ad break with Jules showing Ali his bum tattoo.
8:45 p.m Bill has finally managed to steal Ali away for alone time! They bond over their families, their relationship values, and all of it is sans nervous word vomit from Bill. Phewf! Ali appreciates that he knows how to be vulnerable.
8:47 p.m Meanwhile, Paddy just can't stop . . . being Paddy. Damien considers taking Paddy aside to call him out for being disrespectful. Indeed, he does. "Some of the things you're saying when you're talking about Ali just aren't sitting right. You could say it just a little bit more respectfully." Paddy retorts with "jog on," which seems to be his catchphrase.
8:51 p.m Ivan decides he's going to try to break the tension, by making up a dance routine with Bill and Robert. It doesn't quite have the reception they might have been hoping for among the boys, but Ali seems to genuinely enjoy it.
8:56 p.m Charlie takes Ali aside for some quality chat. He tells Ali he's ready to take the step to settle down, and that he'd be prepared to move for love. Considering none of the contestants are from Ali's home state of Adelaide, this is an important thing to know off the bat. They low-key already seem like they're in love.
8:58 p.m It's time for Ali to give out the wild rose! Todd thinks it's for him, but unsurprisingly to us as the audience, it goes to Bill! Let this be a lesson kids, some times word vomit can be a good thing. Ali appreciated his humility in being nervous. Oh wow, they kiss on the lips! Just a peck, but still! It's taken five years, but we've now come full circle from when Ali tried to kiss Tim on the first night and was turned down.
9:05 p.m Rose ceremony time! Osher announces that tonight, two people will leave the mansion. Paddy is confident Nathan won't get a rose, Nathan is confident Paddy won't get a rose. We'll soon see if either of them are right.
9:09 p.m Paddy gets a rose! The villain lives to see another episode, of course.
9:10 p.m So does Nathan! This means that Brendan and Ben didn't receive a rose. Farewell, fellas. Wonder who will receive the coveted first single date tomorrow night?