The Bachelorette 2018 Episode Seven Recap
The Bachelorette Episode Seven: The Elimination That Has Us Shook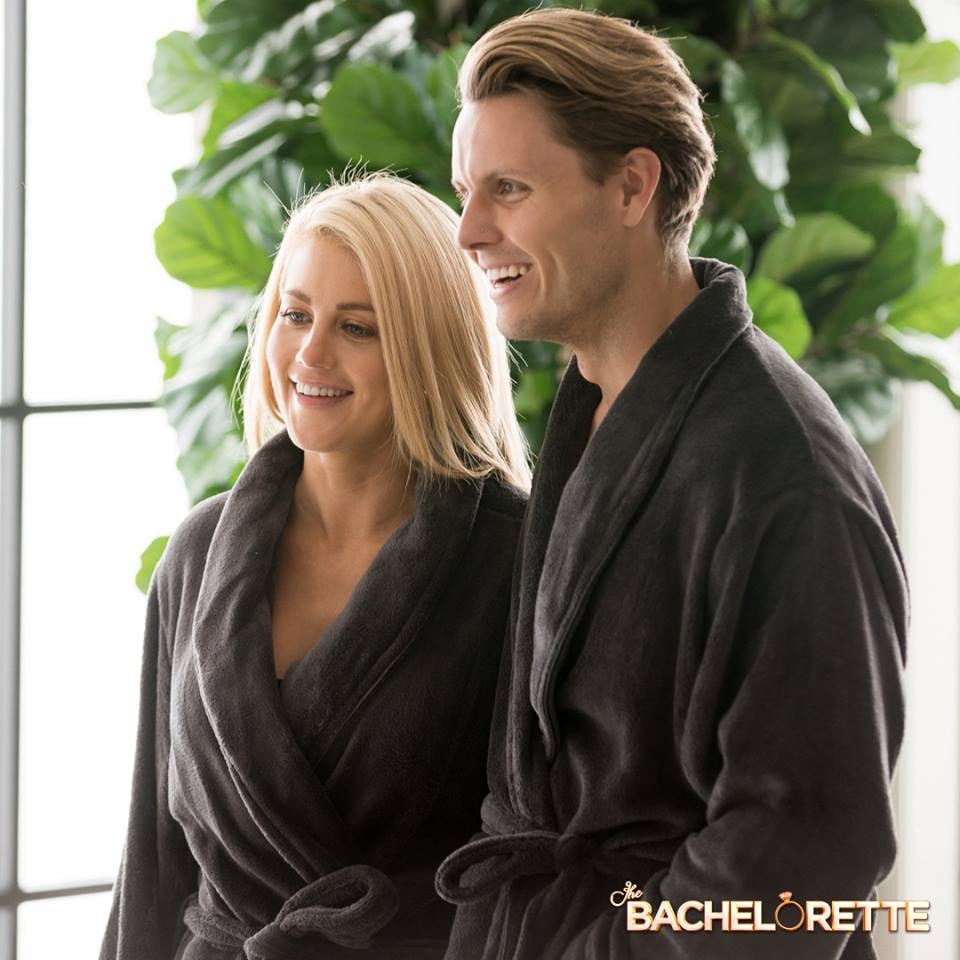 It's episode seven of The Bachelorette and we get stuck into things straight away with Ali making an emergency dash for a D and M with Robert prior to the group date. She says she and Robert have hit a hurdle over her friends last week revealing their disapproval for him, and she's hoping they can move on from them well, kinda hating him.
Robert says he's struggling with not knowing how Ali's feeling, to which Ali says she understands, but also points out he needs to be his own "strong, independent man" and to get over it basically. They quite literally kiss and make up and it's on to the group date. . . or so it seems, until Robert casually drops the bomb that he had packed his bags and prepared to quit the show after being in the bottom two at the last rose ceremony. This is certainly news to Ali, who is now clearly regretting the whole kissing and making up thing.
Now it's actually time for the group date, and they arrive at a movie-set-store-house thing, as Charlie puts it. In this movie-set-store-house thing they're going to be dancing and starring in their own music video. Daniel pipes up and says he's "literally shitting himself" over the thought of dancing, and this is literally the first time we've heard him speak in the whole season. Meanwhile, Paddy describes his dancing as a "mix between Channing Tatum and Jesus," which is surely at least a slight exaggeration.
Throughout the date the guys take turns in learning some dance moves, and the most interesting thing that happens is Ali accidentally copping an elbow to the head from an uncoordinated Dan.
It's then time to shoot the music video, and Ali outright asks Paddy why he is glaring at her mid-scene, to which he replies, "because you're beautiful," and she double-downs with "then why are you glaring at me?", and it's clear Paddy hasn't exactly managed to nail the sexy-smouldering look. Meanwhile, Robert appears to be skulking in the background, not participating in the routine, which Ali takes note of.
Apparently despite Daniel's earlier proclamation he managed to rise to the dancing challenge, as Ali chooses him to spend some one on one time with her after the date. During their alone time, he decides to point out the elephant in the room of his sweaty hands, which surprisingly pays off when Ali laps the sweat talk up. He further redeems himself by revealing he only applied for the show once he knew Ali was the bachelorette, and she says she likes that he's a bit goofy and awkward, as she's had enough cocky and arrogant guys to "last a life time." He nabs a rose and it's all quite sweet, if not a bit awks.
It's now time for the single date, and Ali straight-up reveals she'd had Robert in mind for this date originally, but she's switched her choice to Todd. The date involves meeting the fashion designer Daniel Avakian and designing their outfits for the next cocktail party, which is a unique date that Todd seems impressed with too. Speaking of impressed, turns out Todd has solid fashion knowledge, and helps to design a dress that will perfectly suit Ali. The rest of the date just consists of them being super cute together and Todd of course receiving a rose.
At the cocktail party Charlie decides to confront Ali about how she should, in his mind, be focusing on just a couple of people by now, rather than continuing to go on dates with new guys. Todd sums the whole thing up well by explaining Charlie feels like he has the right to speak on Ali's behalf and that he knows her best due to having received the first single date. "The writing's on the wall she's going to make the wrong decision again," says Charlie, and it seems he thinks anyone other than him is the wrong decision.
Charlie chooses to confront Ali about how "spread out" she is, and seems to not-so-subtly hint he's itching for a second date. Ali picks up on him lecturing her, which probably won't help his cause. He refers to them as having once been a "power couple," which isn't entirely possible when she's dating ten other guys, but anyway.
It's now time for the rose ceremony, and Robert doesn't receive a rose. I have to say that I for one am pretty shook, as although they'd had issues recently, he still seemed like a front-runner. It clearly wasn't an easy decision for Ali, however, as she tears up when saying goodbye, even though he takes it well. Ergh, the goodbyes are only going to get harder from here! We're getting down to the wire.
Until next episode!