The Bachelorette Australia Episode 5 Recap
The Bachelorette Episode 5: Intruder Alert!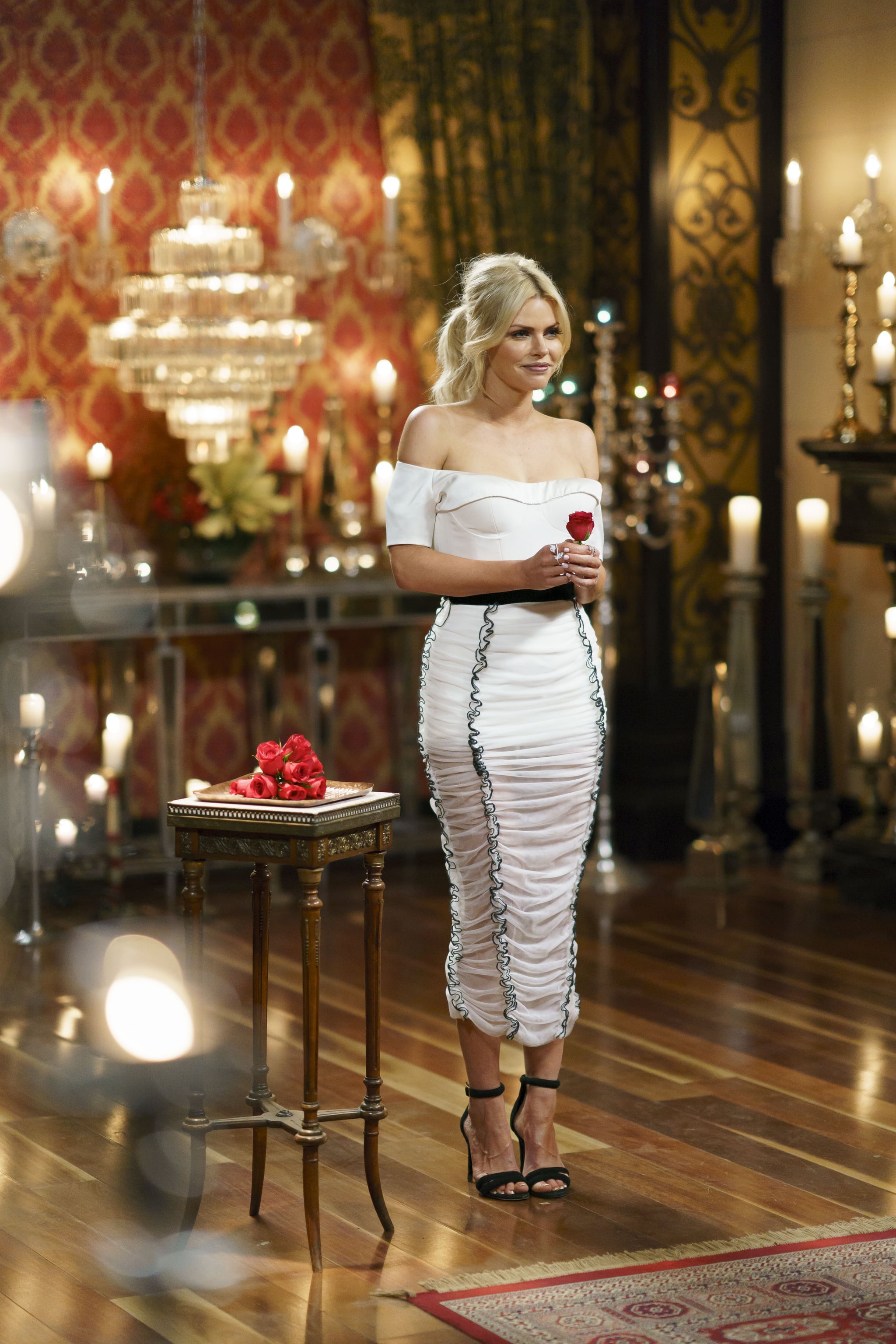 7:31 p.m. It's intruder night and we're more than ready for this. Everyone's been talking about Stu Laundy going far in the show for months and tonight we get to meet him! Keeping eyes peeled for sparks.
7:34 p.m. We kick things off with a single date and Apollo's getting so much time on air we assume it's gonna be him. And . . . bingo! Apollo is pumped and off and running.
7:38 p.m. Sophie and Apollo (who might be cutest person on the planet) are getting romantic on an old-fashioned date tonight. Apollo's excited because he says he's ALL about vintage stuff. Apollo, stahp.
7:40 p.m. They get all dressed up and take weird photos — that's pretty much what you need to know about the first portion of their date. Then, before we know it, Apollo's got his foot up on Sophie's lap and she's massaging it. Well played, Apollo, well played.
7:42 p.m. Their date is super tame and sweet, lots of little gimmicks and games (juggling, asking each other get-to-know-you questions, etc.) and Sophie's starting to feel a spark which is awesome. She has only lovely things to say about Apollo, and we know she's attracted to him — his young age (he's only 24!) is something she's questioning though. May we remind you, Soph, that he's much more mature than most of the other guys in the house!
7:45 p.m. We cut away from their date and back to the guys at the mansion — Sam's making a lot of noise while he pretends to exercise and then Blake walks out with a group date card. Guess who's going? EVERYONE! Jarrod is relieved, excited and ready to fight to the death.
7:50 p.m. Back to more important viewing and oh my God, Apollo is such a lovely old soul. He teaches Sophie how to slow dance and it's so sweet and romantic. He's a top three contender, I reckon.
7:52 p.m. Woah, woah, WOAH Apollo is dropping some FACTS. Sophie asks why he's so mature and he reveals he's been through a fair bit. His mum had breast cancer when he was younger and Apollo himself has had a heart attack, after which his kidneys failed. No wonder he's so grown-up about everything — poor guy's been through the ringer! He and Sophie bond over their shared experiences, she gives him a rose and then . . . kiss time. It's a good one.
7:58 p.m. YESSSS it's intruder time! Sophie is LOL — she's so surprised to hear that four new guys will be joining them tonight. She tells the guys, "I feel like I'm cheating on you." Lol.
8:03 p.m. Guy is first, he sounds English, he's 37, very suave and softly-spoken.
8:04 p.m. Can we please all stop for a minute and realise how awkward this would be? Each intruder has to hop out of the helicopter and meet Sophie in front of all the other guys. It's . . . tense.
8:05 p.m. AJ is next and Sophie's immediately taken by his smile. He's 37, a chef and he cleverly presents Sophie with a menu. Smartie pants. AJ forms an instant bromance with all the guys.
8:08 p.m. Paul is next and you can tell he's not the one by the music they play when he gets out the helicopter. It's quirky. He seems like a nice guy: 39, law student, a bit nervous, friendly. But we're not getting THE vibe from him.
8:14 p.m. Stu emerges and he and Sophie know each other. They're already cracking personal jokes and he's getting the Serious Contender music. THREAT. About Stu: he's 44, a third-generation publican and he and Sophie met briefly last year. OoooOoOoOoh.
8:18 p.m. Osher drops the desperately unwanted news that four men must go to make room for the four newbies. Before that awkwardness ensues, the guys have to play polo on BIKES. Jarrod goes hell for leather and we are terrified.
8:22 p.m. Before long, Jarrod has knocked Blake off his bike and Blake's got a cut lip. Can Jarrod pls relax.
8:27 p.m. Cocktail party will be fun with four of the guys' reality TV deaths looming over them. They all seem tense as.
8:29 p.m. Let us set the scene: Jarrod cannot take his eyes off Sophie chatting to the other guys — in particular, Stu. Four of the original guys are trying to guess who's going tonight. Sophie takes Hayden and AJ aside individually, for some private chats. Osher walks out and says, "Rose ceremony starts in 30 minutes." Every Adam's apple in the room bobs.
8:37 p.m. Eeek, it's time. How good would Apollo feel with that rose on his shirt! Luke gets the first rose of the ceremony. Stu gets the next! Then Guy! Blake's safe. So is Ryan. Mack gets one, James gets one, Sam gets one . . . Sophie puts Jarrod out of his misery and gives him one. Oh gosh and then Sophie starts crying when she gets to the last rose! Poor darling. Holy moley, AJ gets the last rose which means Paul (one of the intruders), Harry, Hayden and Brett are all outta here! Hard luck, guys.