Bad Teacher Movie Review Starring Cameron Diaz, Justin Timberlake and Jason Segal
Bad Teacher: A For Cameron Diaz, F For Effort
A foul-mouthed Cameron Diaz stars in Bad Teacher, a comedy that follows her selfish character Elizabeth as she tries to collect enough money for a breast enlargement while working at a high school. Elizabeth's plan is to use her new rack to net a wealthy man who will take care of her so she won't have to work. And truly, she shouldn't work; as the title implies, Elizabeth is a horrible educator. She shows movies in class while she sleeps off her hangovers, and when she does pay attention to her students, she's insulting them or cussing them out. The formula produces a bit of humour, but there aren't enough laughs or a sturdy enough plot to make the comedy memorable.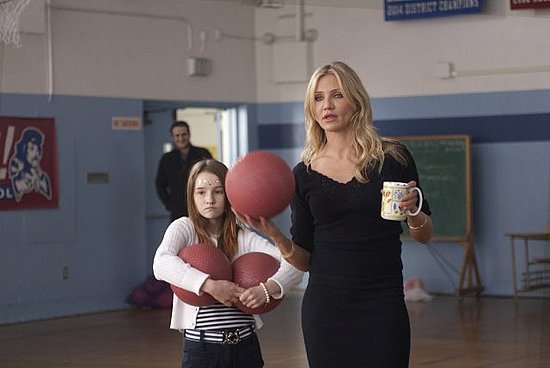 The movie's greatest strength is its leading lady; Diaz leaves behind the bubbly ditz characters we've seen her portray time and again to go in a new direction. Her Elizabeth is a cold shrew with an acid tongue, and Diaz nails the timing on each joke like she's been waiting to do this for years. Unfortunately, one good character doesn't compensate for the film's overall flimsiness. To see what I mean, just read more.
Keep reading for the rest of the review . . .
There's plenty to get stuck on: First off, there is never an explanation as to how Elizabeth ever ended up as a teacher. Or how she stays employed, for that matter. Or why someone with such a demented moral compass can't find any other methods of getting rich quick besides teaching or hosting car washes.
Next, the characterisation of Scott (Justin Timberlake), Elizabeth's romantic target, is completely lacking. He vacillates between dreamy dim bulb and conservative dork, never quite settling into a personality. Plus, Timberlake's lazy portrayal gives me less faith in his abilities as a comedian. In contrast, Jason Segel, as the gym teacher who has his eye on Elizabeth, brings his relaxed humour to the film and comes out on top.
Bad Teacher is plenty raunchy, but it feels like it's trying too hard. The metathrill we're supposed to get from Diaz and Timberlake's pairing flops, as does the dumb premise that everything is riding on. Forget Elizabeth's breasts — the script is the the thing that needs to be enhanced.