Beau Ryan Interview For Where You From Song
POPSUGAR Australia Knows . . . Beau Ryan a Lot Better After This Interview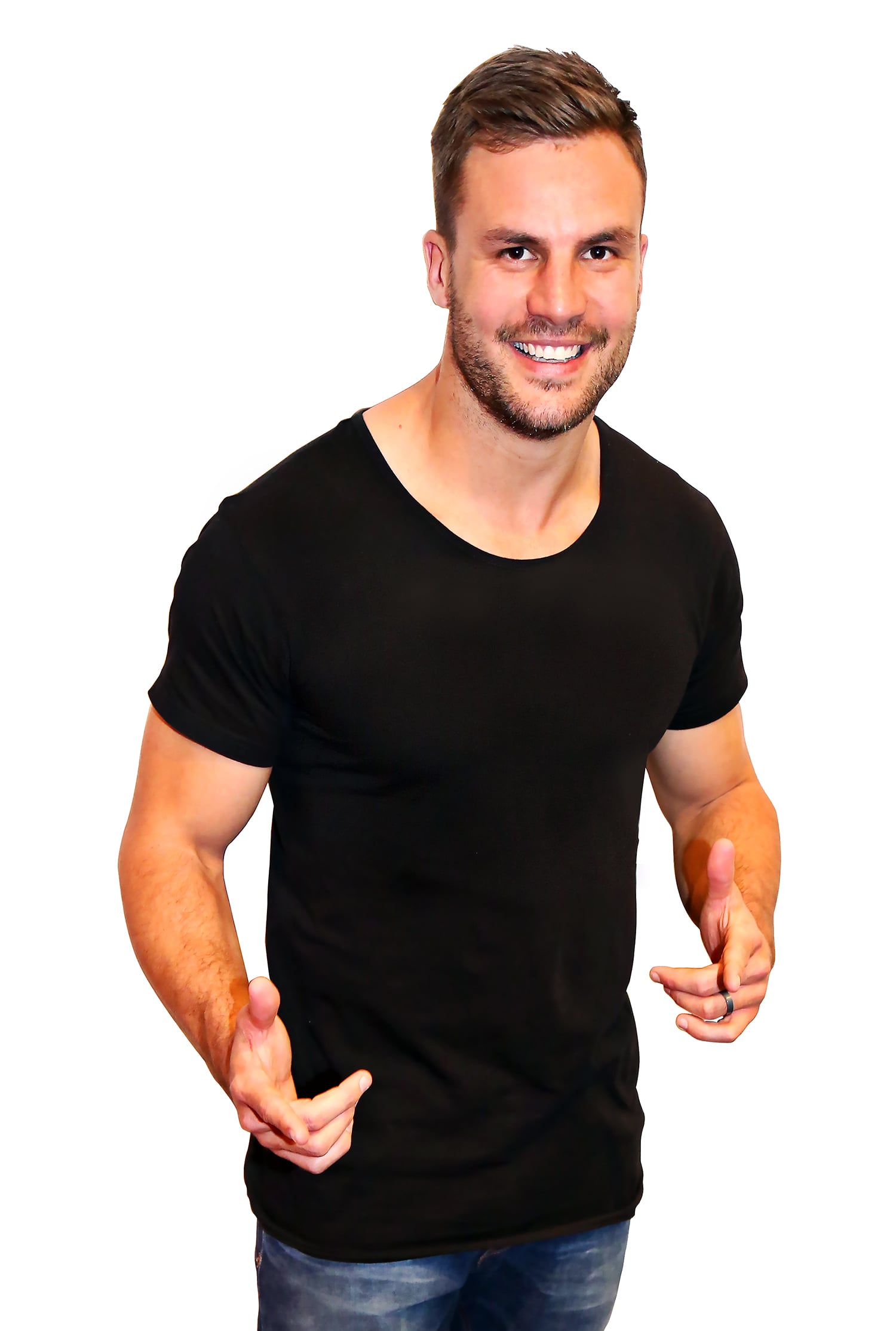 Beau Ryan has released a single. The footy player-turned-TV star — he retired from NRL earlier this year due to an ongoing neck injury — is using his popularity and love of exploring other cultures to (kind of) transition into a music career with the release of his single "Where You From," which is out now. Beau admits he's not really a singer, so the Footy Show favourite enlisted the boys from Justice Crew to help him this time. And now he's part of the Sony Music family, there's no shortage of stars he can call on for the next time he decides to release a single. We sat down with Beau earlier this week for a little POPSUGAR Australia Knows . . . Beau Ryan session to talk about his music aspirations, his bucket list, and his famous friends.
POPSUGAR Australia: How's it going?
Beau Ryan: How's what going? How's everything going? [Laughs] Nah it's been good. It's been . . . it's been a dream, I'd have to say. It feels like a dream.
PS: This whole music thing?
BR: The whole thing.
PS: Everything.
BR: Everything. The song thing has been a whirlwind, but it's been great.
PS: So how long have you had music aspirations for?
BR: Basically, you know when you're a kid and you're singing in front of the mirror, obviously you want to be a superstar. Realistically, ever since Denis [Handlin] from Sony and my manager Wayne got together, they basically went out and had a meeting and thought we'd have some fun with it. The guys from Channel Nine, Dave Gyngell and Glenn Pallister, who are a massive part of what I've achieved at Nine, approved of it, and we used some characters, and we had to make it like a light-hearted, fun song, celebrating basically where everyone's from in Australia. We had a few meetings and it got serious, and that's when it clicked in, because I didn't know which way it would go — like I'm not an actual singer, and I was in the deep end a bit [laughs]. I got with Pat, Denis' son Pat Handlin, and the meetings were fantastic. I wrote the lyrics, had some guys help me out — it was just great.
PS: How did Justice Crew get involved?
BR: Basically I thought I needed someone to help the profile of the song, give it some credibility — obviously I'm not a singer and things like that — and Justice Crew were going gangbusters with "Que Sera" and other stuff, so I mentioned it, and they made it happen. They've given me every opportunity — they've surrounded me with the best people in terms of producers, and now artists. I've left no stone unturned to succeeding in the music world [laughs].
PS: Did you always want to get into TV? Tell us how it happened for you – why were you different to all the other guest stars on the show?
BR: To be honest, I didn't really think about it. TV, I never really thought I had the opportunity. I've always wanted to play rugby league, and then I met guys from Channel Nine, and long story short, they gave me a microphone, an audio guy and a camera, and said, "Go out and film some stuff." From the day that I was in front of it, and doing some stuff and watching it back . . . Sometimes I still watch it back, and the first thing I did at Balmain, I got addicted to it. I loved it. I loved just having control and doing it.
PS: Where would you draw the line when it comes to entertaining people? Is there anything you wouldn't do?
BR: I've done a few full-on things. I bungee jumped last week in Auckland. I got nude in front of everyone in Australia. I wrestled my mate Matt Cooper, who's a professional wrestler. But in saying that, we do have — it sounds funny, but we do have standards. The thing I like about what I do, is a lot of people come to me — kids, women, old men, grandpas, grandmas, everyone — what I do appeals to everyone. I'm not just trying to make my mates laugh, or certain people laugh, I'm trying to entertain everyone. So whether it be bungee jumping or getting naked, it's all about making people entertained, and that's what my job is on the show. And now at Sony.
PS: What's your favourite part of what you do? Is it the fame, the funny things, interviewing people?
BR: It's not work. When people say, "What do you do?" . . . I've worked before and played footy, things like that — this isn't work. Technically, what I'm doing, what I'm doing with you right now, is meant to be work, but this isn't work, meeting different people. I've met 50 people today, I'll meet 50 people tomorrow. Basically I'll talk about myself, I'll talk about the song. I just love meeting different people, and I think that's why the show goes so well, because I go out and meet different people all the time. That's why the film clip works, because we're out filming, and a lot of people jumped on board, and by the end of it there were 100 people at a house party in St Clair shooting a video! [Laughs] To answer your question, the best thing is basically having a job that isn't a job. This is surreal, the whole thing. Like I said, it's a dream.
PS: Do you like being interviewed?
BR: Yeah. [Laughs] I'm gonna be honest, I don't mind it. Sometimes I put on a professional voice and a face, and sometimes I sound a bit American, I don't know why.
PS: Are you really friends with The Rock?
BR: Yes. 100 percent.
PS: Legit friends?
BR: We tweet each other. Come on, look at our Twitter feeds.
PS: I know, but is it just a social media friendship?
BR: Not really, like I've met him three times, interviewed him three times, hosted the premiere of Hercules and then did some stuff for G.I. Joe last year, and now obviously, I met him at the Park Hyatt, and he's gonna come back and we're gonna connect up.
PS: So you just catch up whenever he's here?
BR: His schedule is like ridiculous — I think I'm busy, but he's crazy. He's in Toronto one day, the next he's in France. But I'd say we're mates, 100 percent, if people ask. I don't know what he's saying, but I'm saying yes! [Laughs]
PS: What about other big interviews you've done, any favourites?
BR: Ricky Martin was great, he's a gentleman — my wife was there and she was sitting on the ground listening to it, and he offered his chair to her. [Taylor Henderson walks past; Beau says hi.] Sorry, that's Taylor Henderson. That's the thing I'm talking about, about it being a dream! I'm here and everyone's just coming in; I was just talking to Jai Waetford, and now Taylor, a guy from The Collective — I touched him [laughs]. But what was the question? Oh, Mark Wahlberg — I always love Mark Wahlberg. My bucket list is nearly full! With the song, the people I've interviewed, being married and having a baby.
PS: What else is on the bucket list?
BR: I don't know. I bungeed, that was up there. I don't know why, but I want to go to Croatia. Don't ask me why. That's on the bucket list. Can you make it happen?
PS: I don't know if I can make it happen . . .
BR: I'm sure there will be some people around us that can make it happen [laughs]. Someone from Croatia or someone from here will get us to Croatia.
PS: You just have to tweet it.
BR: I've been offered a few times, but the people who have offered have been a bit sketchy [laughs]. I'll still probably end up going with them! So that's on the bucket list.
PS: Do you have a favourite alter-ego?
BR: Nah, I don't. I can't say I do. I love playing a lot of different characters, and I love pretending I come from a lot of different cultures. I'm Australian, but I often wish sometimes I was Islander, or Lebanese, or Kiwi. I wish I had a little more culture in me and my family, because I see our diversities. When we did the song, people just came, and it was great being around these people, and different cultures and upbringings.
PS: What do your mum and wife think of what you do?
BR: I know my wife and daughter are really proud — well, my daughter pretty much does anything I say, she's only 18 months! [Laughs] My mum and dad and sister are proud. It's funny, what I do, no one's really done it before. Obviously there's been people who played and have been on the show and stuff like that, but we're sort of making our own paths, so there's been no rules, and that was the same with the song and what I do on TV — we just have fun. I think the [preview] video's got 80,000 or 100,000 hits or something, and I think 70,000 of them were my daughter — she just keeps watching the song, she loves saying, "Daddy, Daddy." She loves what we do, and I think, or hopefully, when she's older she'll be proud of what we do.
PS: Who's Beau Ryan when he's at home? You seem quite guarded and shy when you aren't performing — is that to keep your personal live private or are you really just shy?
BR: I'm not shy. I love to keep my personal life private, but it's hard to, especially living up here in Sydney now. My happy place, and the place where I'm at ease, and the place when I think about it, it makes me smile, is my wife and my daughter sitting on the lounge, without my phone. Because my phone does not stop. So when I think about that . . . Sometimes one of my mates will ring me if they've got nothing on, do this or do that, and I'm flat out, sometimes I envy them, being at home doing nothing. But at the same time, I can't sit still [laughs]. That's the thing about what I do — it's not work, the hours are random, I get to go home. I have plenty of time with my family. I've got time off in three weeks, so I'm counting down the days.
PS: What would you ask us if you did a Beau Knows . . . POPSUGAR Australia?
BR: I'd ask you first, "Who tweeted me?" because I saw it . . . And I'd ask you how to fix my phone, because my 'favourite' button doesn't work, like on Twitter. And some of the letters when I text, I have to turn the phone side-on, so I'd ask you to put me in contact with someone who can fix my phone.
PS: If we did POPSUGAR Knows . . . Beau Ryan, how would you sum yourself, and your life so far, up in a few sentences?
BR: In a few sentences, my life's been a dream come true. It's been a blur, especially the last 10 years, and it's been fun. Everything I've done is fun, whether it's been on TV, doing the song, or being at home watching my daughter be crazy. Everything is fun.
Want more? Follow us on Facebook, Twitter, Instagram and Pinterest!