Ben Borsht MasterChef 2018 Interview
Ben on the MasterChef Tipping Points That Boosted His Confidence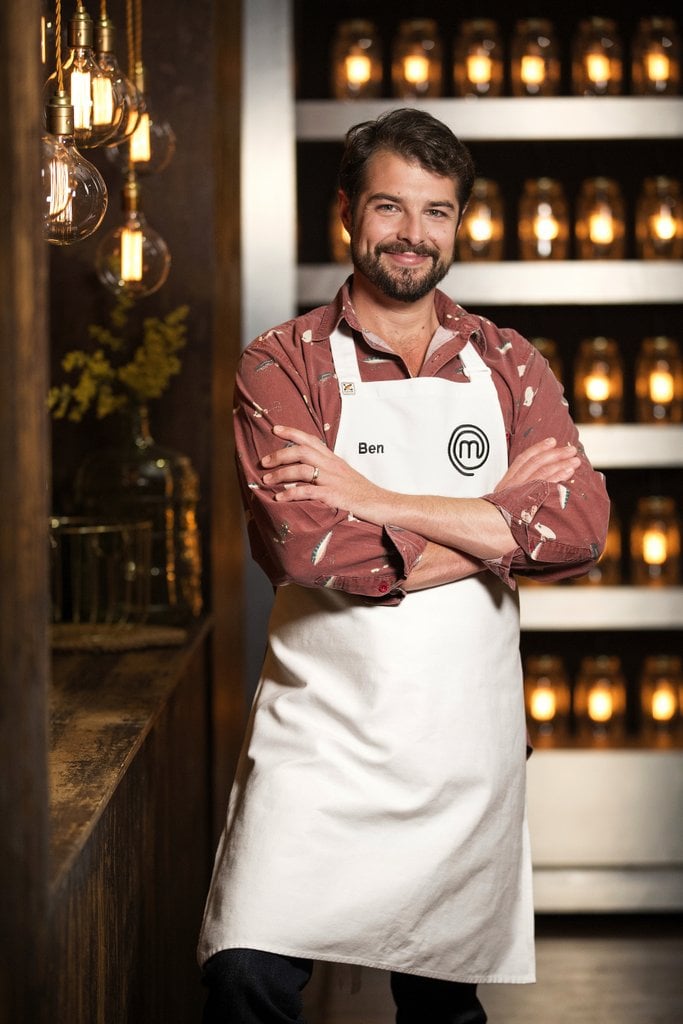 There's something to be said about someone who manages to nail MasterChef Pressure Tests the majority of the time. I mean, from Peter Gilmore's Snow Egg to Saransh Goila's butter chicken, we've seen some pretty complex dishes this season. So even though Ben made up plenty of ground in the second round of the grand final, unfortunately his disappointing first round cost him the 2018 MasterChef title.
However, considering how much the Queenslander has blossomed over the last few weeks of the show, we're sure he's got a bright future in food ahead of him. Off the back of the finale, we caught up with Ben to chat about his last cook in the kitchen, his growth over the competition and more.
POPSUGAR Australia: Congratulations on how far you've come! How was the finale for you?
Ben: It was amazing, I couldn't believe that I was actually sitting there, for one. There was a lot of pressure and I had a good time, but obviously the result could've been better. That didn't affect me at all though, it was such an amazing experience.
PS: Do you think you did all you could?
Ben: Yeah, I did all I could, but I suppose I've had time now to reflect on the two dishes that kicked it all off and weren't up to scratch or as good as Sashi's. There are thing that I'd change, but I'm happy with what I did. There's no point dwelling on it!
PS: That's the beauty of hindsight, right? You can always change something!
Ben: That's right! There's no point getting angry or upset, it is what it is.
PS: Sashi had a fair lead on you after round one. Did you think it was over for you?
Ben: No, you can never think you're out of the race until the judges tell you that you are. Anything can happen in that kitchen, and we saw it all season when certain people went home and it was such a shock to see them actually going. You thought these people were going to win the competition, and sure enough, they didn't. So no, going into round two, I was very confident. Pressure Tests are my thing, they were a big part of my MasterChef experience, and by that time, I felt very confident going into one. Sashi and I knew each others' strengths and weaknesses from the word go, and he did amazingly in that Pressure Test too. He came up to par, considering he'd only done two [Pressure Tests] and I'd done seven or something.
PS: What went through your mind when you saw Heston walk in?
Ben: [Laughs] That was amazing. We were speculating on when we'd see Heston all season, and to come in at the finale was awesome. We knew he was going to bring a doozy of a Pressure Test. I was hoping for him, and we got it. I'm glad they didn't use anyone else, because that was a belter of a cook.
PS: You had a bit of a slow start to the competition but really skyrocketed. Was there a tipping point for you?
Ben: Yeah, the first one was in the cook-along with Gordon. The feedback that I got from him was fantastic, and that really made me want to do better. At the Cube in South Australia, I was so happy with the result of that Pressure Test that I found some real confidence and thought, they can throw anything at me and I'll at least give it a go.
PS: What do you attribute to your growth?
Ben: Keeping a cool head under pressure, trying to keep as calm as possible in those stressful situations. And staying focused, especially in those times when you do feel down and out and when you could be going home.
PS: Everyone can agree you've been a bit of a sponge on the show — soaking up everything. What's the biggest lesson you've learnt?
Ben: Flavour, flavour, flavour. That was all it came down to in the end. The judges would only judge on the food, and if you nailed the flavour, if you made something simple but delicious, they couldn't fault you. I found that if I could nail a few elements and absolutely knock them out of the park, then I'd be OK.
PS: What have been some of your favourite moments from the show?
Ben: I mean, a lot of people say meeting Prince Charles, but I have to say going to Katherine Gorge. Cooking there and having your food tasted on the boat was just one of the most amazing places I'd ever been in. Not a lot of people can say that they've cooked on the banks of Katherine Gorge and had their food tasted out on the water. That was amazing, just to see that land and our beautiful our country is.
PS: Going from a viewer to a finalist, what surprised you about being on the show?
Ben: I don't know if I should admit this, but I'd never really watched the show! I'm not really into reality TV, so I don't think I've ever sat through a season of MasterChef. That was the most exciting thing for me, everyone else on the show had watched it. Sashi was in a similar boat to me, I think his wife made him watch it occasionally as mine would. That's what made it so exciting, you didn't know what was coming, and everyone else was pulling their hair out trying to think of what had happened on previous seasons and this and that. The great thing for me was just going on and having that actual surprise and being a bit naive.
PS: Yeah it's good, you didn't have anything to compare it to.
Ben: Yeah that was it, it was just brand new every day and it got better and better every day.
PS: What would your advice be to future contestants?
Ben: You've got to give it a go. You've got to let yourself be absorbed into the process, don't say no to anything and try new things. Obviously you've got to study hard and cook a lot at home and practice, but don't be afraid of something new. Just get into it!
PS: What do you plan to do with food now?
Ben: I've got a website coming out tomorrow, and I'm really open to opportunities and suggestions. I'm thinking about some work experience here in Brisbane at the W Hotel with Three Blue Ducks. I want to learn and continue on, I'd love to get out there and do a whole heap of fishing and where my passions are.