Benjamin Is the Winner of Big Brother Australia 2012
Benjamin Wins Big Brother Australia 2012 — And Proposes to His Boyfriend, Ben!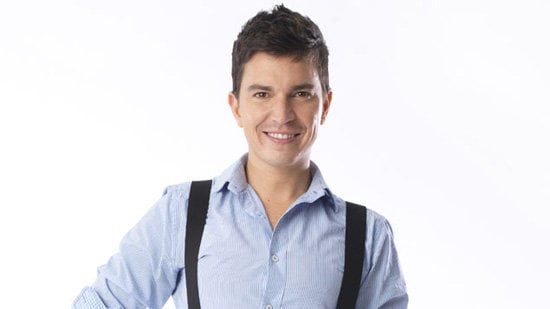 Benjamin has been announced as the winner of Big Brother 2012! The 32-year-old accounts manager from Victoria, this year's oldest Housemate, is taking home $250,000 in cash as well as a brand-new Holden Cruze SRI-V. He broke down in tears as host Sonia Kruger called out his name and was comforted by the show's runner-up, British bombshell Layla, who was then evicted from the house. Earlier in the evening law student Estelle was revealed as the second runner-up after receiving the lowest amount of votes to win. The girls didn't go home empty-handed though; Estelle was given $5,000 from KFC while Layla pocketed $10,000 on top of the car she won during a challenge in the series.
More from the Big Brother grand finale when you keep reading.
It was an event-filled grand finale that kicked off with a fun performance from the Big Brother Housemates — the first of quite a few! — as well as a taped introduction from "Gangnam Style" singer Psy. The Housemates then broke into the dance before busting out to "Party Rock Anthem." In groups, the Housemates returned to the stage to reminisce about their highlights in the Dreamworld complex, and footage from the past 87 days was shown. After Estelle's eviction, Channel Nine newsreader Peter Overton gave Benjamin and Layla an abridged news bulletin that tried to cover the biggest stories of the past three months, including Superstorm Sandy, President Barack Obama's re-election, the royal family's nude scandals and the release of the iPhone 5.
Just before his return to the real world, Benjamin — constantly clutching his case of $250,000 — had a joyful, tear-filled reunion with his mother, Jane, in the house. Then he was left to enjoy a few final moments in the house alone before Sonia emerged from the diary room and met him on the lounge to lead him to the live stage.
The voting breakdown was also revealed: Benjamin received 40 percent, Layla received 31 percent, and Estelle received 29 percent.
In the show's closing minutes, Benjamin was reunited with his partner, Ben, and provided a shock of his own when he got down on one knee and proposed live on stage! Benjamin didn't have a ring but has been carrying a diamond with him the whole time that has been passed down through his family.
Congratulations to Benjamin — for winning and on his engagement!